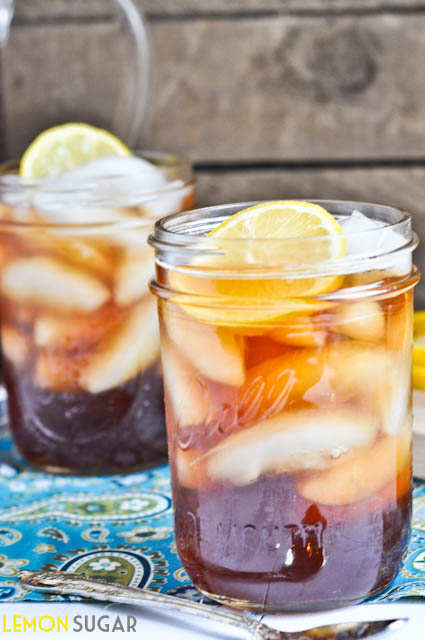 Today was a good day.  I was kind of expecting a quiet, boring day because it's cold and dreary outside and I had tons of work to do.  But as the day went along, it  just kept getting better and better.   A message out of the blue from an old friend.  A super-cuddly three-year-old.  Maddie brought home a kindness award from school. A late dinner with my family, at the table, talking about our day.   Easy bedtimes.  A clean house.   A cute picture of my brand-new niece on Facebook.  Knowing I get to sleep in tomorrow because my husband is on kid-duty in the morning.  It was a great day.
Oh, yeah…and SWEET TEA!  I got to drink sweet tea all day long, and it was amazing.  Besides the fact that I was freezing all day long because it's COLD outside and I was drinking an iced beverage all day, this sweet tea definitely made its contribution to my happy day.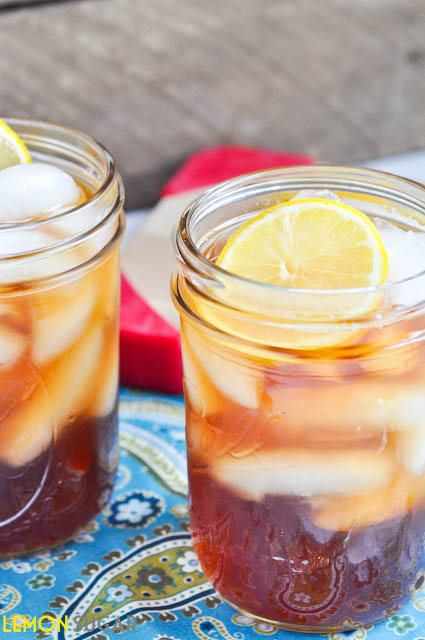 I've been drinking sweet tea as long as I can remember, my Grandma made amazing sweet tea for Sunday dinners when I was a kid, and my parents have always been tea-drinkers.  There are a million ways to make it, but this is my favorite.  The simple-syrup sweetener keeps it smooth, and the baking soda takes the bitterness out of the tea flavor .
It's fantastic.
Now, this recipe is VERY sweet, so if that's not your thing you can always reduce the amount of sugar you use.  You can also adjust the strength of the tea by simply reducing the amount of time you allow the teabags to steep, but sweet tea is usually best with a stronger tea flavor, otherwise you'll feel like you're just drinking sugar water.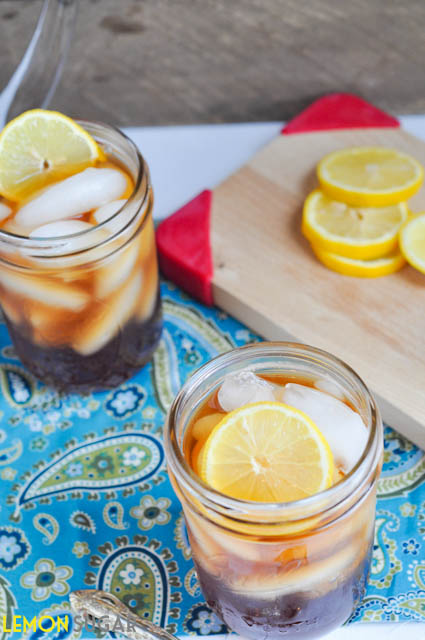 I would also like to insist that you drink your sweet tea out of mason jars, because it's cute and it just feels like it's the right thing to do.  Add lemon, don't add lemon, add ice, drink it warm, I don't care, just please make this today.
And don't forget, if you haven't yet, make sure you stop by at my Facebook page and follow along…you can also find me on Twitter, Instagram and Pinterest if Facebook isn't your thing.
Thanks for stopping by today!  Enjoy!
♥erin
Perfect Sweet Tea
This perfectly sweet, perfectly strong tea is made the old-fashioned way, with a simple syrup and a secret ingredient, baking soda! It'll knock your socks off!
Ingredients
Tea:
2 Pitcher-size, cold brew tea bags
12 cups water, slightly warmer than room temperature
Simple Syrup:
1 and ½ cups sugar
1 cup water
¼ teaspoon baking soda
Instructions
Fill a large pitcher with warm (but not hot) water.
Place 2-3 teabags into water, and allow to seep for 10 minutes.
Meanwhile, make the syrup.
In a small saucepan, combine water and sugar.
Bring to a boil, then turn heat off, and allow to cool for 5 minutes.
Stir in baking soda, then pour syrup into tea.
Remove teabags, then stir to combine.
Serve warm over ice (my favorite) or refrigerate, then serve chilled.
Enjoy!
1
leave a comment your way - using facebook or disqus: