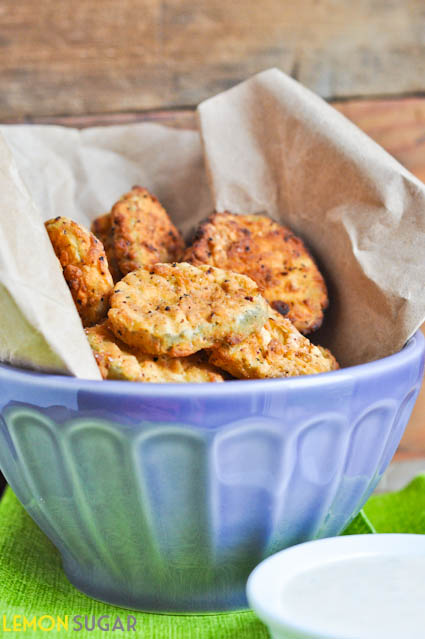 You know when you get a craving and it just won't go away?
Yep, you guessed it.  I've been craving fried pickles for about six months now.  I'm not really sure why.  I don't really crave fried foods, ever…but something about warm, battered pickles dipped in cool ranch dressing just does it for me, I guess.
I'm just exuding classiness, aren't I?
So, either you are totally on board with the whole fried-pickle thing, or you are scrunching up your face right now and thinking that this is the most disgusting thing you've ever heard of.
Trust me on this one.  If you love dill pickles, you're gonna love fried dill pickles.  It's a scientific fact, I think.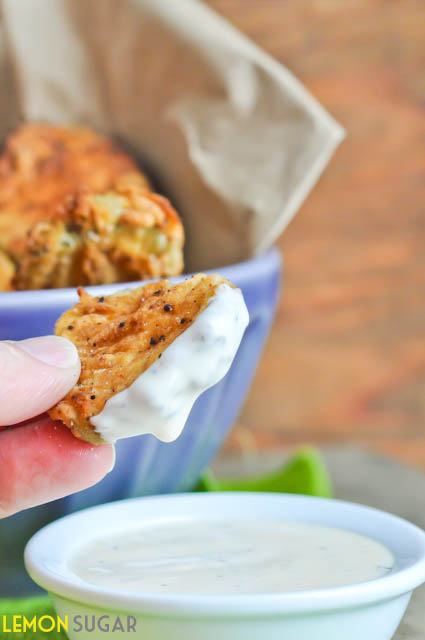 If I'm being super-duper honest, I made these today because the hubs and I are getting ready to do another juice fast.  I haven't written much about that here because it's new to us, but we've REALLY grown to like them, and especially how they make us feel.  More about that later, but today I had to get my craving out of the way before the juicing madness starts.
While I'm being honest, I really should tell you that these will stink up your house.  That's probably a good thing, because it might keep us all from making them all of the time.  I'd suggest you make these on a nice day, open up your house, turn on your vents and fans and light a candle or two.
I'm sorry but I'm not sorry.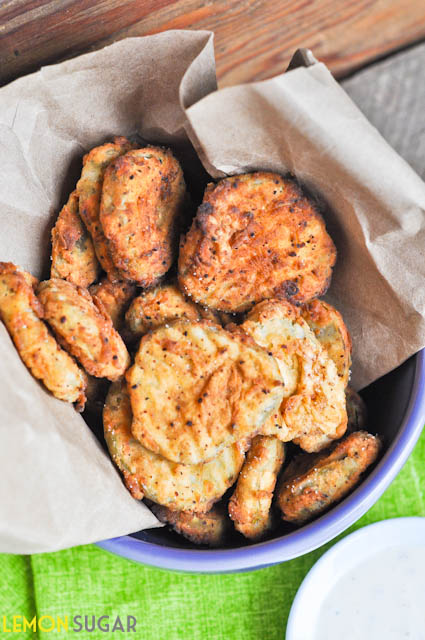 The spicy ranch is really just ranch dressing (I used homemade, from THIS recipe) with a bit of hot sauce added.  Start slow and add more to suit your tastes.
Don't let the pickles get cold, they are best warm.  But don't burn your mouth on the super-hot ones, either.  Oh, and don't forget to open your windows.
And don't forget, if you haven't yet, make sure you stop by at my Facebook page and follow along…you can also find me on Twitter, Instagram and Pinterest if Facebook isn't your thing.
Thanks for stopping by today!  Enjoy!
♥erin
Fried Pickles with Spicy Ranch
The ultimate guilty pleasure, fried pickles dipped in cool ranch dressing are different, fun and tasty!
Ingredients
Pickles:
1 small jar organic, thick-sliced dill pickles (hamburger slices)
1 cup flour
¼ teaspoon paprika
¼ teaspoon garlic powder
½ teaspoon pepper
1 egg
⅓ cup milk
1 teaspoon Worcestershire sauce
1 teaspoon hot sauce
½ teaspoon salt
Spicy Ranch:
⅓ cup Ranch dressing (use your favorite brand or make your own
1-2 teaspoons hot sauce
Instructions
In a heavy-bottomed pan, heat 1-inch of vegetable oil over medium heat. Heat oil to 365 degrees, or until a bread crumb dropped into oil floats to the top and sizzles.
Meanwhile, in a flat bowl, combine flour, paprika, garlic powder and pepper. Whisk to combine and set aside.
Then, in another flat bowl, whisk together egg, Worcestershire, hot sauce, milk and salt. Set aside.
Place a layer of paper towels on a plate, and lay pickles in a flat layer. Dab the moisture off the top of the pickles with another paper towel.
Prepare a dipping station. Line up your pickles, flour, egg mixture and another clean plate.
Dip a pickle into the flour,and flip it over several times to coat.
Dip the pickle into the egg wash quickly, just to moisten the flour.
Then, dip the pickle back into the flour, and flip several times to coat well with flour.
Lay dipped pickle on to the clean plate, and repeat with all pickles.
Move your dipped pickles over to the stove top. Prepare a draining station next to your stove by lining a plate with paper towels, or using a wire rack over a baking sheet (lined with paper towels.)
Open your windows and turn your vent fan on to avoid a stinky, post-pickle house. 🙂
Using tongs or a spider spoon, carefully place a few pickles into the hot oil. Don't overcrowd your pan, it will drop the temperature of your oil and you'll end up with soggy pickles!
Fry pickles until golden brown, then remove from oil and allow to drain on your draining station.
To prepare Spicy Ranch dressing, simply combine ranch dressing with hot sauce until desired heat is reached.
Eat pickles warm, and enjoy!
0
leave a comment your way - using facebook or disqus: