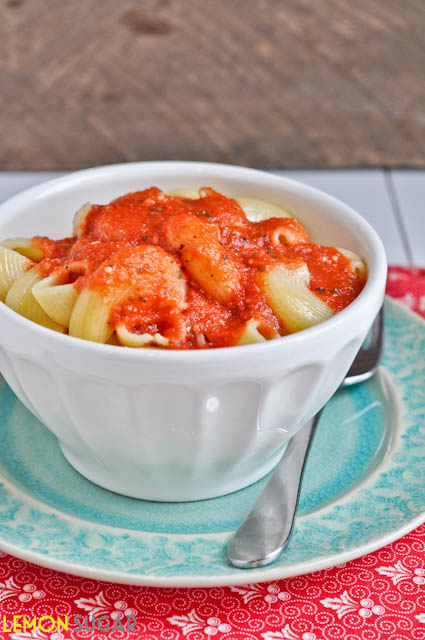 So, if a magic genie in a lantern gave me three wishes, I think mine might be for 1) money (duh), 2) more wishes (also duh) and 3) that pasta would become a health food.  As in, I could eat it all day every day and have the same results as if I lived on raw green veggies.
I'm really not kidding.  And don't try to tell me that you wouldn't wish for money or more wishes, because that's what makes the game fun.
Pasta has always been my ultimate comfort food – especially pasta with a sweet, buttery marinara sauce.  Now, in the middle of the summer, there's nothing better than garden-fresh marinara sauce, with homegrown tomatoes, fresh herbs and sweet onions, but we still have a few months to go before my tomatoes make an appearance.  So, this is my go-to marinara recipe for the other 9 months of the year.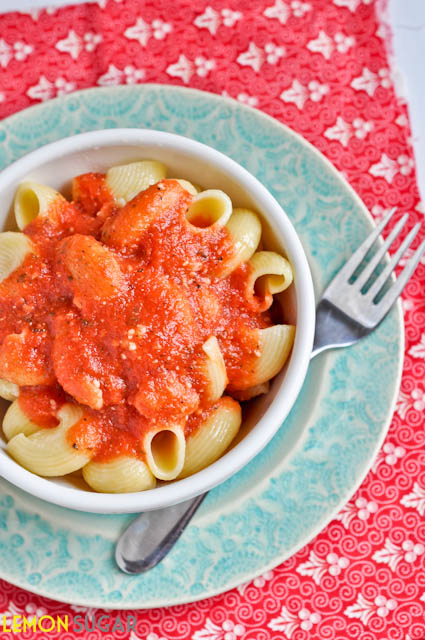 I'm pretty sure I've told you all before that my Dad has a huge garden, and during the summer he grows a LOT of tomatoes.  Then, at the end of the summer he cans them, so we get to reap the benefits of his garden all winter long.  I think I had 36 quart-jars of tomatoes when summer came to an end last year, and every time I grab one of them out of my pantry, I'm thankful to have them.
I do buy a lot of fresh herbs during the winter months, but they are expensive, so we try to reserve them for special occasions and entertaining.  That's why this sauces is perfect – it's made with ingredients that I always have in my pantry, and it takes little to no forethought to whip up a batch.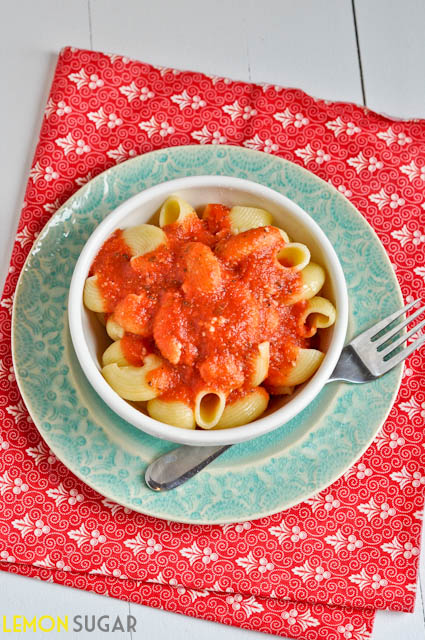 I should also mention that it was very difficult to actually write down a recipe for this marinara sauce, because I usually make it by tasting as I go and changing it up depending on my mood.  This version is slightly sweet, slightly buttery and has just a bit of heat from the red pepper flakes.
I start with whole tomatoes, and I do use my Dad's, but you can also use a large can from the grocery store.  Drain the juice from the tomatoes and throw them in the blender and puree them to your desired consistency – my husband and daughters like smooth tomato sauce, so I let mine whirl around in there for a few minutes.
Then, start adding!  I like my marinara sauce just a touch sweet, so I go a bit heavy on the sugar – when my husband is eating it, I cut the sugar in about half.  All of the ingredients are optional, and you can even adjust the health-factor by leaving out the butter, cream and cheese if you like.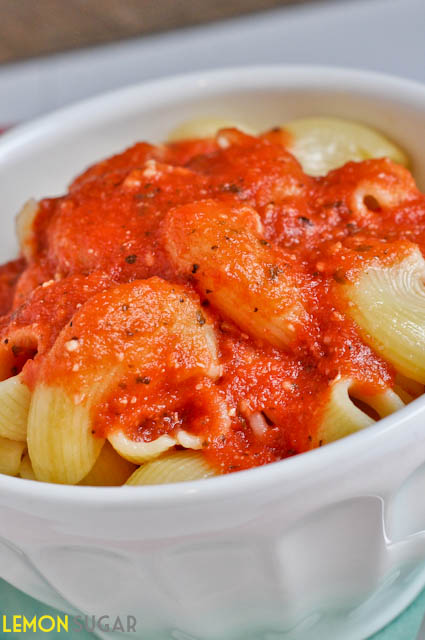 My favorite pasta of late is an organic Chiocciole pasta.  My girls love the shape, and it holds this sauce nicely.  I can make a batch early in the week and it's perfect for lunch with a small salad and maybe even a buttered slice of Italian bread.
So, hope you love it.  This sauce has saved us at dinnertime more times than I can count, so I hope you'll give it a try.  After you do, come back and let me know what you think!
And don't forget, if you haven't yet, make sure you stop by at my Facebook page and follow along…you can also find me on Twitter, Instagram and Pinterest if Facebook isn't your thing.
Thanks for stopping by today!  Enjoy!
♥erin
Easy Marinara Sauce
This quick and easy marinara sauce is buttery, slightly sweet and comes together in minutes with pantry staples. Enjoy! Recipe source: LS Original
Ingredients
1 quart canned, whole tomatoes (approx 32 ounces)
3 Tablespoons sugar
1 teaspoon dried basil
1 teaspoon dried oregano
½ teaspoon dried garlic with parsley flakes
¼ teaspoon red pepper flakes
½ teaspoon fresh ground black pepper
½ teaspoon salt
3-4 Tablespoons unsalted butter
3 Tablespoons heavy cream
1 Tablespoon Parmesan cheese
1 pound pasta, cooked according to package directions
4 Tablespoons melted butter (for pasta)
Instructions
Boil pasta according to package ingredients.
While pasta is cooking, pour tomatoes into a blender, and puree until smooth.
Pour pureed tomatoes into a medium/large, heavy-bottomed saucepan, and bring to a simmer over medium heat.
To tomatoes, add salt, pepper, garlic, basil, oregano, sugar and red-pepper flakes. Stir to combine.
Add cream, butter and Parmesan cheese, stir to combine and to melt butter.
Once butter is melted, turn off heat.
Drain pasta.
Pour melted butter over drained pasta.
Serve pasta with marinara sauce and a sprinkle of Parmesan cheese.
Enjoy!
0
leave a comment your way - using facebook or disqus: