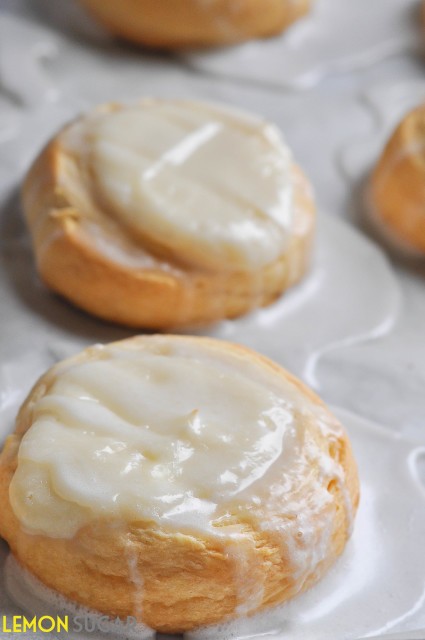 I've made exactly eleventy-bazillion things in the past couple of weeks that my darling children absolutely refuse to eat.  Now, some of the dishes – Coconut Curry Lentils over Jasmin Rice, and Bruschetta with Avocado and Garlic Tomato Salsa, and even a couple of new varieties of Hummus – ok, I can understand those might be a little much for their young taste palates.  But seriously, if I have to make one more peanut butter and jelly sandwich as a dinner time alternative, I might pull my hair out.
Oh wait.  Peanut Butter?  Yep, my seven-year-old doesn't like it anymore.  Like, all of a sudden.  Like, she liked it on Thursday and then Friday she didn't like it anymore.  *eyeroll*
So, imagine my surprise when my kids actually ate (and liked) these danishes.  I was tempted to just let them eat every single one of them, because they were actually eating SOMETHING, but I didn't.  But I sure thought about it.
Of all things, they like cheese danishes?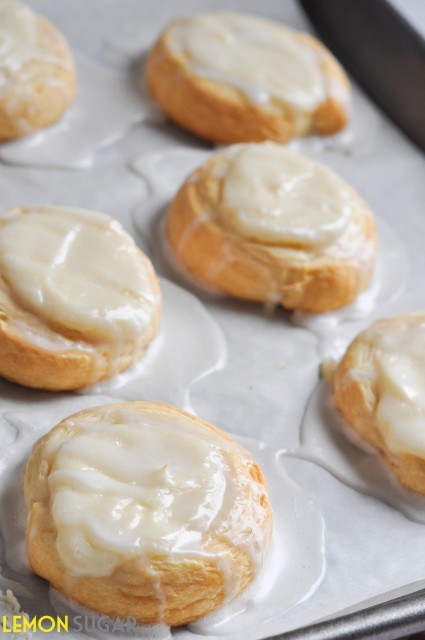 OK, this is not *technically* a real a cheese danish.  But I'm pretty sure that, aside from walking into a bakery and buying one, this is about the quickest way to make a cheese danish appear in your life.
I'm also not one to encourage using store-bought pastry dough; but flaky, buttery pastry dough isn't exactly the easiest or the fastest recipe known to man.  And if you're looking for a quick and easy dessert, well – it's not going to be a traditional cheese danish.  SO – store bought crescent roll dough it is.
Also, once you taste these, you won't care if they're authentic cheese danishes or not.  They're authentically good, so that's all that matters.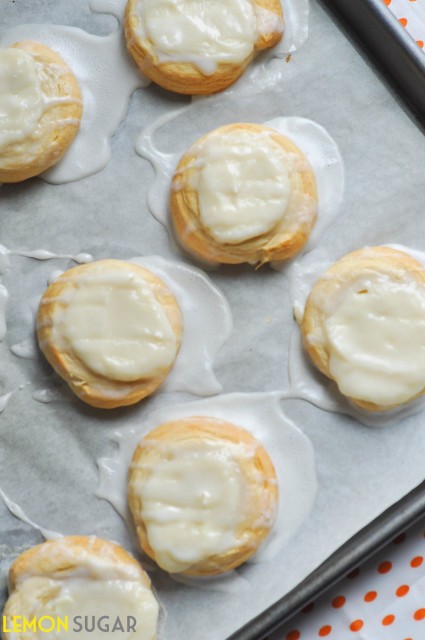 They also take just under 30 minutes from start to finish – and really just use one bowl and a baking sheet, so they're definitely quick, easy and no-fuss.  
So, while I'm busy figuring out how to puree vegetables and hide them in cheese danish filling,  I hope you'll give these a try.  Veggie-puree-free, of course.
And don't forget, if you haven't yet, make sure you stop by at my Facebook page and follow along…you can also find me on Twitter, Instagram and Pinterest if Facebook isn't your thing.
Thanks for stopping by today!  Enjoy!
♥erin
Easy (Like, Really Easy) Cheese Danish
These quick and easy cream cheese danishes start with store-bought crescent roll dough and can be made start to finish in under 30 minutes! Enjoy! Recipe source: Adapted from
The Country Cook
Ingredients
1 can refrigerated crescent rolls
4 ounces cream cheese, softened
¼ cup sugar
1 Tablespoon sour cream
½ teaspoon vanilla extract
2 teaspoons lemon juice
For glaze:
½ cup confectioners' sugar
4 Tablespoons milk
½ teaspoon vanilla extract
Instructions
Preheat oven to 350 degrees F.
Prepare a large cookie sheet with parchment paper or a Silpat mat.
Carefully remove the packaging from the crescent rolls. You do NOT want to unroll the "log" of dough.
Slice the log into ½ inch slices. Use your fingers to press an indention into the dough. This will hols the filling.
To make filling, combine cream cheese, sugar, vanilla, lemon juice and sour cream with a hand mixer until smooth and cream.
Spoon 1-2 teaspoons of filling into each crescent roll.
Bake for 12-15 minutes or until golden brown.
While the crescents are cooling, whisk together the confectioners sugar, milk and vanilla. (Add more sugar or more milk to reach desired consistency, it should be runny but still thick) and pour over the tops of each danish.
Store in an airtight container for up to 3 days.
Enjoy!
6
leave a comment your way - using facebook or disqus: