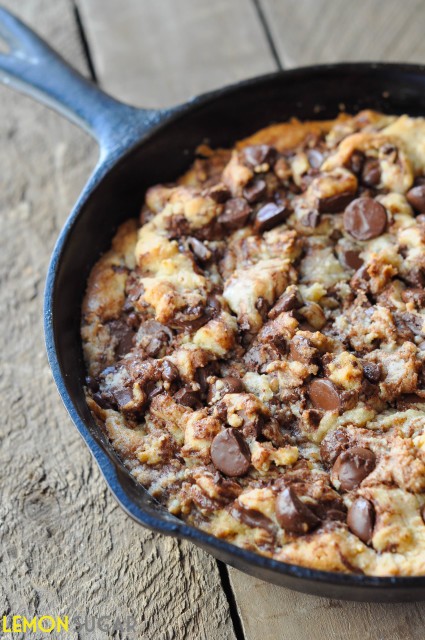 During the winter months, I turn into a pantry-hoarder.  I tend to over-stock my pantry on trips to the grocery store, buying one or two of every possible pantry staple, so I always have everything I need for all of my baking whims.  Then, when I use something, I just replace it and I can make it through the entire winter without having to run out for ingredients when I decide to bake.
It's great, for a while.  But then, I end up with way too many ingredients for way too many things that just need to be used up.
Last week, I counted.  There *may* have been 17 unopened bags of chocolate chips filling one of my pantry baskets.  That's excessive, even for me.  In all fairness, they aren't all the same, some are dark, milk, semi-sweet, white, peanut butter…
It's a problem.  Did you see the picture from my Instagram account?  Apparently, I have a sprinkle problem, too.  So, in an effort to start my spring-cleaning, it's time to start using up some of these ingredients.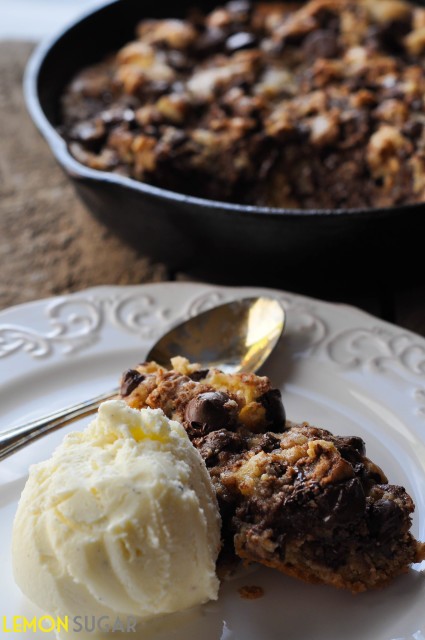 Knowing I needed to use some chocolate chips, this recipe immediately came to mind.  Lots of people call this a chocolate-chip cobbler, but to me, it's just a big, gooey chocolate chip cookie.  The chocolate melts, and with a scoop of vanilla ice-cream on top, you're going to be very, very happy.
The most awesome thing about this recipe is that you make it entirely in an 8-inch skillet.  You melt the butter, stir in the dry ingredients, fold in the chocolate and then pop the whole thing in the oven for 20 minutes or so.  Easy.  And really, there's just nothing better than serving it warm so that it melts all of the ice cream.
So, so good.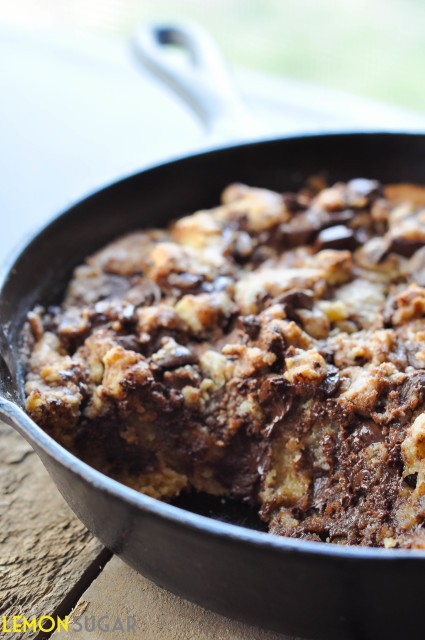 This recipe serves 4-6 people, but you can double it and bake it in a 15 inch skillet -just increase your cooking time by 10 minutes or so.  This would also be adorable in single serving sizes, and I know I've seen little 4-inch skillets somewhere.  How much fun would that be for a dinner party?
Hope you love these!  They're definitely a great way to feed your cookie-craving without making batch after batch of cookies!
And don't forget, if you haven't yet, make sure you stop by at my Facebook page and follow along…you can also find me on Twitter, Instagram and Pinterest if Facebook isn't your thing.
Thanks for coming by today!  Leave me a comment below to let me know you came by, I love to hear from you guys!
♥erin
Dark Chocolate Chip Skillet Cookie
A quick, no-fuss solution for those late night chocolate-chip cookie cravings, this one-pan skillet cookie is best served warm with a heaping scoop of vanilla ice-cream. Enjoy! ♥ Recipe source: Adapted from
Sophistomom
Ingredients
1 stick (8 tablespoons) unsalted butter
½ cup granulated sugar
½ cup brown sugar
1 teaspoon pure vanilla extract
1 egg, beaten
1 and ½ cups all-purpose flour
½ teaspoon baking soda
½ teaspoon kosher salt
1 cup chocolate dark choocolate chunks
Instructions
Preheat oven to 350 degrees (F).
In an 8-inch cast iron skillet, melt 1 stick of butter over medium heat.
When butter is melted, add the granulated sugar and brown sugar, and stir to combine. Remove from heat and allow to sit for 5 minutes.
Beat the egg, and add a small amount (about ¼ cup or so) of the melted sugar and butter to the egg mixture (to temper it) and whisk to combine.
Pour egg mixture back into the skillet, and stir until completely combined.
Add the flour, baking soda and salt. Using a wooden spoon, carefully stir to completely incorporate the dry ingredients.
Add vanilla and chocolate, and stir to combine.
Bake in preheated oven for 15-20 minutes or until edges are golden brown.
Serve warm.
Enjoy!
15
leave a comment your way - using facebook or disqus: