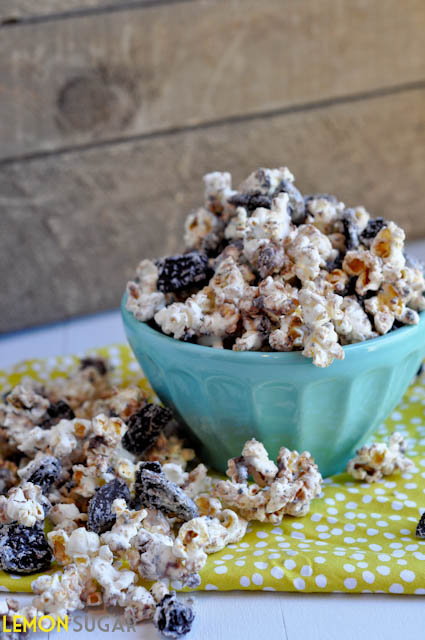 So, I made this popcorn today, mostly to use up a half-empty package of Oreo cookies from some cupcakes I made last week.  I brought a little bag of them for my daughter to snack on during the drive to gymnastics practice after school.
Do you know what she said to me?
And.  I .  Quote:  "Momma, ohmygosh, this popcorn is the BOMB DOT COM."
I just stared at her.  Ok you guys, she's seven years old.  SEVEN.  She just used a phrase on me that 1) I am not cool enough to pull off, and 2) I've never really heard anyone say out loud.  And, she used it like it was no big deal, like it was just part of her first-grade vernacular and why was I looking at her like that?
I said, "Uh, what did you just say?"
She said, "What?  It's the bomb dot com."
I said, "Uh, what?"
She rolled her eyes at me.  "It means that it's awesome, Mom."
So, apparently this popcorn is the bomb dot com awesome.  And while I totally agree, I'm pretty sure that I just aged about ten years and it's probably about time to start wearing Mom-jeans because my daughter officially thinks I'm uncool.
At least I have more popcorn, 'cause I've got some feelings to eat.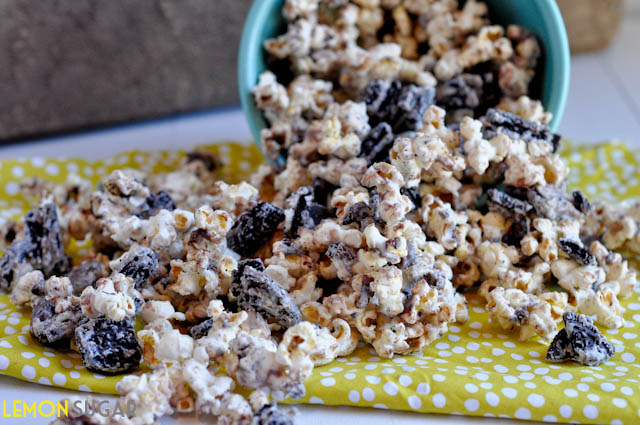 This snack couldn't be easier.  Pop your popcorn, chop your oreos and drizzle melted white chocolate over the top.  Stir it up, let it harden and enjoy!
I had a few mini chocolate chips that I needed to use up, so I sprinkled those in there too.
Hope you love it, enjoy!
And don't forget, if you haven't yet, make sure you stop by at my Facebook page and follow along…you can also find me on Twitter, Instagram and Pinterest if Facebook isn't your thing.
Thanks for stopping by today!
Cookies & Cream Popcorn
This quick and easy dessert is both simple and delicious. Perfect for a make-ahead treat, and kids love it! Recipe source: adapted from
Handle the Heat
Serves:
approximately 10-12 servings
Ingredients
4 cups popped popcorn (any flavor you like, I usually use plain)
8 ounces Almond Bark or white chocolate
¼ cup mini chocolate chips
15 Oreo cookies, coarsely chopped
Instructions
Pop the popcorn, and pour into a large bowl. Take care to remove unpopped kernels.
Chop the Oreo cookies into large pieces, and pour into the bowl with the popcorn. Mix well to combine.
Pour mixture on to a large cookie sheet lined with parchment paper.
Sprinkle chocolate chips over the top of the mixture.
Melt the white chocolate/almond bark according to package directions (heat in microwave for 30 seconds at a time, and stir until smooth. Don't over-heat or it will burn and sieze. You can also use a double boiler for this step.
Allow the melted chocolate to cool for a few minutes, but don't allow it to firm up again.
Pour melted chocolate over the top of the popcorn/cookie mixture.
Use two large spoons to stir the mixture until evenly coated with the melted chocolate. Spread into an even layer, and set aside for 15-20 minutes to allow the chocolate to harden.
Break into pieces, and serve.
Enjoy!
0
leave a comment your way - using facebook or disqus: