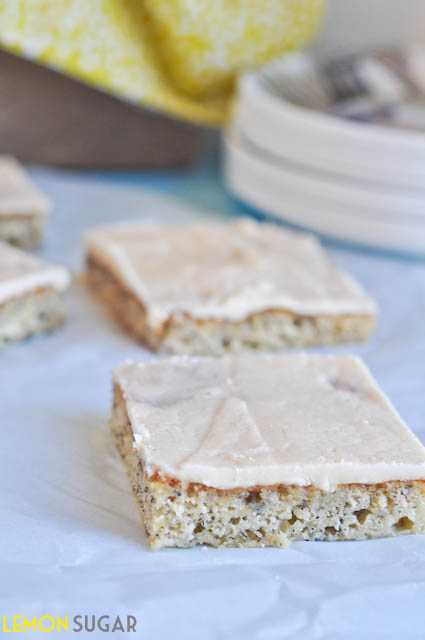 First of all, I have to apologize for these, because I know they aren't pretty.  They're very beige, kind of flat, the frosting has funky spatula-lines in it, but oh holy mother cow, these are so fantastically amazing that you have to make them right now.  Like, RIGHT. NOW.
Seriously, go.
I know there are a lot of things that you can do with old overripe bananas.  Most folks turn directly to banana bread, which is a fabulous choice, but if you want something different, this is it.  The cake is ÜBER-moist.  It's sweet, it's full of banana-flavor, which is a good thing, especially when you slather it with brown-butter frosting.
Let me repeat that so it sinks in a bit.  Brown.  Butter.  Frosting.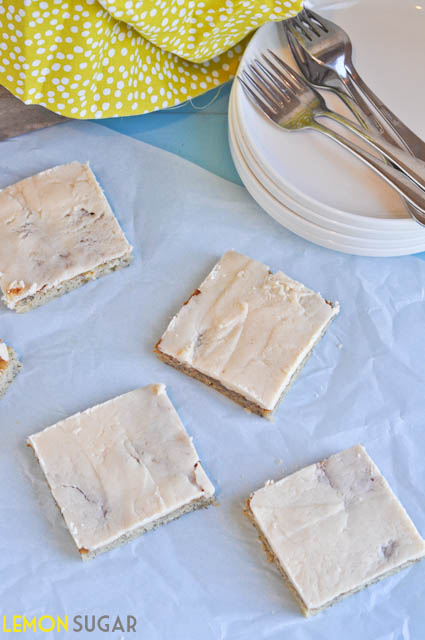 Have you ever tried anything made with brown butter?  Essentially, brown butter is just what it sounds like – browned butter.  You melt butter in a saucepan, then let it simmer until it turns just slightly golden brown.  The result is a warm, almost-nutty flavor, kind of like caramel without the sugar.  It's rich, comforting, and so it appears, fantastic as a frosting.
So, besides the need to use up old bananas and the fantastic brown butter frosting, this is also WAY easy to make.  It goes together in minutes, bakes for just about 20 minutes, and you frost it warm.  Seriously, easy.  Seriously, delicious.  And kind-of fancy and gourmet, in a brown-butter kind of way.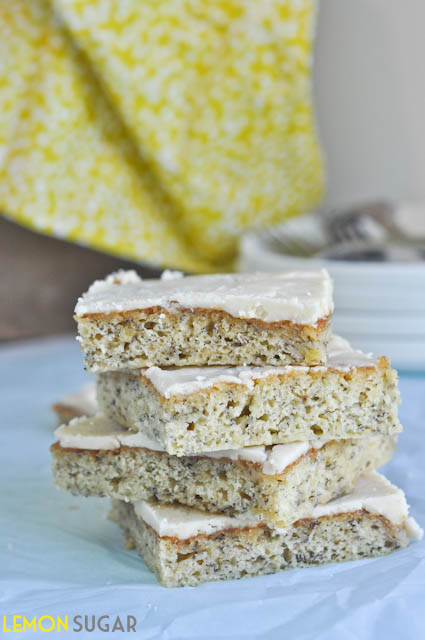 Now, pinky-promise that you'll try this, stat.  And then come back and let me know what you think.
And don't forget, if you haven't yet, make sure you stop by at my Facebook page and follow along…you can also find me on Twitter, Instagram and Pinterest if Facebook isn't your thing.
Thanks for stopping by today!
♥erin
Banana Bread Bars with Brown Butter Frosting
A twist on traditional banana bread, this recipe will still use your over-ripe bananas but takes it up a notch with easy brown-butter frosting. Recipe adapted from
Life's Simple Measures
Serves:
Approximately 24 bars
Ingredients
Banana Bread Bars:
1 and ½ cups sugar
1 cup sour cream
½ cup unsalted butter, softened
2 eggs
4 ripe bananas, mashed
2 teaspoons vanilla extract
2 cups all purpose flour
1 teaspoon baking soda
¾ teaspoon salt
Brown Butter Frosting:
½ cup (1 stick) unsalted butter
4 cups powdered sugar
2 teaspoons. vanilla extract
¼ cup milk
Instructions
Preheat oven to 375 degrees (F).
Grease a 15x10-inch jelly roll pan with cooking spray.
Mash bananas and set aside.
In a large bowl, beat together sugar, sour cream, butter, and eggs until creamy.
Mix in bananas and vanilla extract.
Add flour, baking soda, salt, and mix for 1 minute.
Spread batter evenly into pan.
Bake 20 to 25 minutes or until golden brown. (Mine only took 18 minutes, so watch it!)
Meanwhile, for frosting, heat butter in a large saucepan over medium heat until boiling. Let the butter turn a delicate brown and remove from heat immediately. Don't let it turn burn, take it off immediately when it turns light brown.
Add powdered sugar, vanilla extract and milk. Whisk together until smooth (it should be thicker than a glaze but thinner than frosting. Add more milk a Tablespoon at a time, if necessary to reach desired, spreadable consistency).
Using a spatula, spread the brown butter frosting over the warm bars (the frosting will be easier to spread while the bars are still warm).
Store refrigerated in an airtight container for up to 3 days.
Enjoy!
1
leave a comment your way - using facebook or disqus: