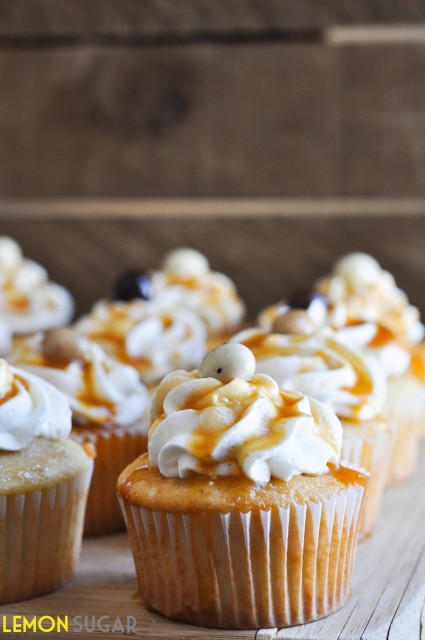 There are three things that make these super-star cupcakes.
One:  they're cupcakes.  Duh.  Two:  they are infused with a sweet-coffee reduction, and three:  they're topped with a sweet, stabilized whipped cream and homemade caramel sauce.
Wait, is that four things?  Doesn't matter.  If you love coffee, and heck, even if you don't – YOU. HAVE. GOT. TO. MAKE. THESE.
I'm not sure what it is about these cupcakes, (Um, actually yes I am.  They're cupcakes that taste like vanilla lattes…) but I really think I could eat an entire batch by myself.  Not even kidding.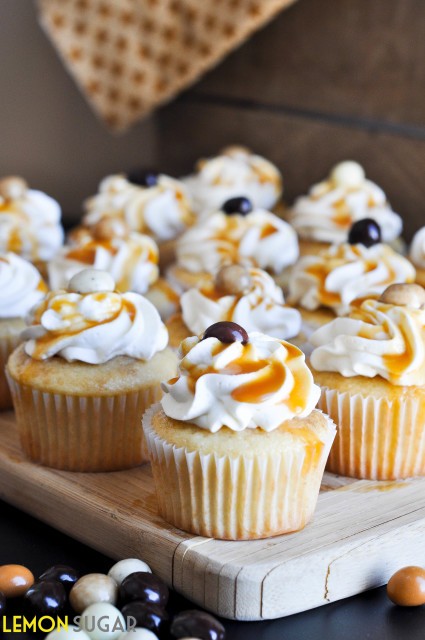 They start with an awesome French Vanilla cupcake – it's a bit spongy, but very soft with a strong vanilla flavor.  Then, you saturate them with a super-sweet coffee reduction.  The cake just absorbs all of the coffee flavor and while it's mild, there is no mistaking that this is a coffee-flavored treat.
The whipped cream is special too, because it's a stabilized whipped cream.  This means that you can make it in advance and the cream won't weep or  run over your dessert.   I've had these in the refrigerator for two days now, and they still look (and taste) as good as the minute I frosted them.
Finally, they're topped with homemade caramel sauce.
Heaven, I tell you.
Oh, and those little garnishes are chocolate-covered espresso beans from Dean and Deluca.  Adorable and way tasty.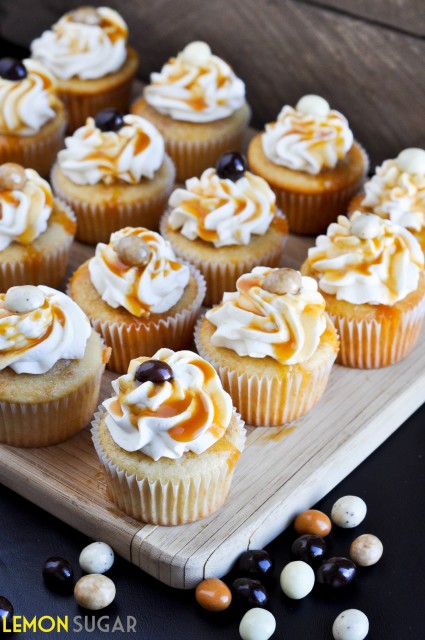 So, clearly I am a coffee-lover, but if you aren't I still think you'll love these.  They have a very tiramisu-like quality – and you can always tone down the coffee flavor by reducing the amount of syrup you use.
And if you have kids, it's really fun to watch them pop a chocolate-covered espresso bean in their mouth, especially after you tell them not to.  No kids, it's not a yogurt-raisin.  Nope, not a M&M, either.
Next time, they'll listen.
Since the whipped cream is stabilized, you can definitely use these for entertaining; they're perfect for an adult party, an office celebration or a grown-up treat at a kids party.  They'd also be adorable as mini-cupcakes, just don't forget to reduce your baking time by about half.  I'd also plan to store these in the refrigerator until about 30 minutes before serving.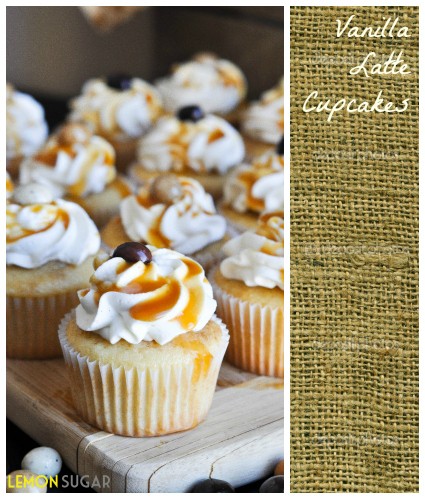 Think about the variations you could make with this cupcake, too – make it a mocha with a chocolate cupcake, or add some cinnamon, pumpkin-pie spice, sprinkle some salt over the caramel for a salted caramel latte cupcake…your options are endless.
Hope you love these!  And don't forget, if you haven't yet, make sure you stop by at my Facebook page and follow along…you can also find me on Twitter, Instagram and Pinterest if Facebook isn't your thing.
Enjoy!
♥erin
Vanilla Latte Cupcakes
Cupcakes inspired by a coffeehouse favorite - Vanilla Lattes! This French Vanilla cupcake is infused with a coffee syrup and topped with whipped cream. A garnish of homemade caramel sauce and a chocolate covered espresso bean make this cupcake something special. Enjoy! Recipe source: LS Original. Whipped Cream from
Baked Bree
, Caramel Sauce from
Annie's Eats
Ingredients
Cupcakes:
2 cups sugar
4 eggs
2 and ½ cups all-purpose flour
1 cup milk
¾ cup vegetable oil
2 and ¼ teaspoons baking powder
1 teaspoon vanilla
Seeds from 1 vanilla bean, optional (I added this.)
Coffee Syrup:
½ cup sugar
½ cup brewed, black coffee
Stabilized Whipped Cream:
2 teaspoons powdered gelatin
2 Tablespoons water
2 cups whipping cream
⅔ cup confectioners' sugar
2 teaspoons vanilla
Caramel Sauce Ingredients:
1 stick (8 Tablespoons) unsalted butter, cut into pieces
1 cup sugar
1 cup heavy cream
¼ teaspoon vanilla extract
Pinch of salt
Instructions
Cupcakes:
Preheat oven to 325 degrees F. Prepare two cupcake tins with paper liners and set aside.
Beat together eggs and sugar until slightly thickened, about 1 minute.
Add flour, milk, oil, baking powder, vanilla extract and vanilla bean seeds and beat for another minute.
Pour batter into lined cupcake tins, filling each tin ⅔ full.
Bake for 20 minutes, and allow to cool on a wire rack.
Coffee Syrup:
While the cupcakes are baking, combine sugar and brewed coffee in a small saucepan.
Over medium heat, bring mixture to a low boil, and stir until sugar completely dissolves.
Set aside. to cool slightly.
Once cupcakes have cooled for 10-15 minutes, generously brush each cupcake with the syrup, using a pastry brush. Apply 1 coat for a light coffee flavor, 3 coats for a mild coffee flavor, and 5 coats for a strong coffee flavor.
Prepare whipped cream.
Stabilized Whipped Cream:
In a small bowl, combine water and gelatin, and stir to moisten all of the gelatin.
Allow to sit for 2 minutes, then microwave for 30 seconds to 'melt' the gelatin. Set aside.
Pour cold cream into the clean bowl of a stand mixer fitted with the whisk attachment.
Beat on medium until the cream thickens and soft peaks form.
Add vanilla, gelatin and sugar. Beat until stiff peaks form.
Spoon whipped cream into a piping bag, and frost as desired.
Caramel Sauce:
Melt the butter in a heavy-bottomed saucepan over medium heat.
Add the sugar and cook, stirring occasionally, until the sugar begins to foam a bit.
It will look and smell like it's on the verge of burning.
Remove from the heat and add the heavy cream.
Stir until the sauce is smooth, returning to heat if necessary to smooth it out, then mix in the vanilla and salt.
Let cool. This can be stored in the refrigerator for up to 2 weeks.
Garnish cupcakes with caramel sauce and a chocolate covered espresso bean.
Enjoy!
2
leave a comment your way - using facebook or disqus: