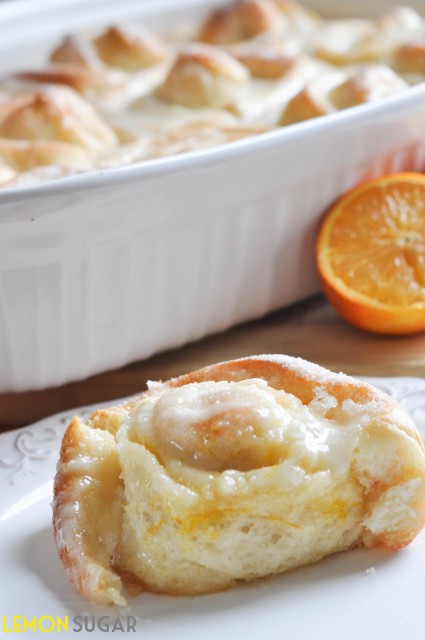 My to-do list today looked something like this:  clean the pantry for an upcoming photo-shoot.  Organize the mess on top of my desk.  Finish the laundry.  Go to the grocery store.  Decorate for Easter.  Put away the 2T clothes still in Mia's closet *sniff*.
See how productive I am in my head?
Know what I actually did?  Yup.  I made Orange Sweet Rolls.
I don't know why I was so intent on making these – I've never really been an orange-roll kind of girl.  I didn't like the store-bought version, I always preferred the cinnamon rolls – but lately I've been obsessed with making them.
And the verdict?  Pretty darn good.  Even for a non-orange-roll kind of girl.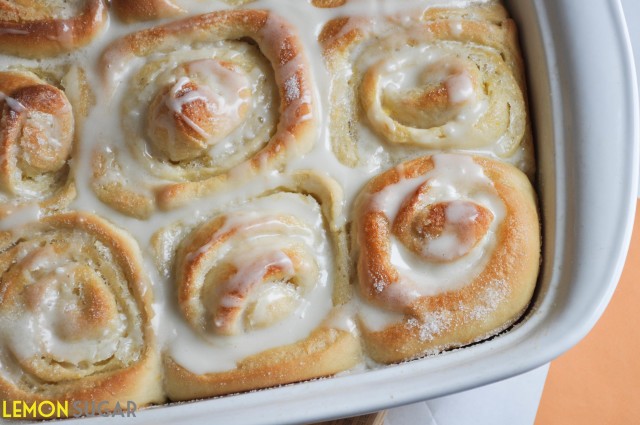 The best part about this recipe is the dough.  Not only is it easy to throw together, the end-result is a buttery, soft and slightly sweet dough.  If you're afraid of yeast, don't be.  Seriously.  There are a few things you need to know before you start a yeast recipe, and they really aren't scary at all.
Yeast needs a warm, draft-free place to do it's thing.  I always heat my oven up to 170 degrees, then turn it off.  I allow the dough to rise in the closed oven to prevent drafts, and it works like a charm.

Your yeast needs to be new.  New, as in less than 4 months old.  If you have a question about the new-ness of your yeast, buy new yeast.  Also, store your yeast in the refrigerator.  Keeps it fresh.
Yeast likes warm water.  Not hot, warm.  It also hates salt, so add it at the last possible moment.
It's ok if your dough is a little bit sticky.  Dry dough is usually dense dough, so go easy with the flour.  You want to add flour just until the dough is just pulling away from the sides of the bowl in your mixer.
When you let dough rise, make sure you generously coat your bowl with cooking spray, butter or oil.  If you cover it with plastic wrap, grease it as well.  This helps the dough rise.
Finally, after the dough has risen and you're ready to work with it, move quickly.  The more you touch the dough, the tougher it gets.
So, not so hard, right?  It's easy, folks.  If I can do it, anyone can.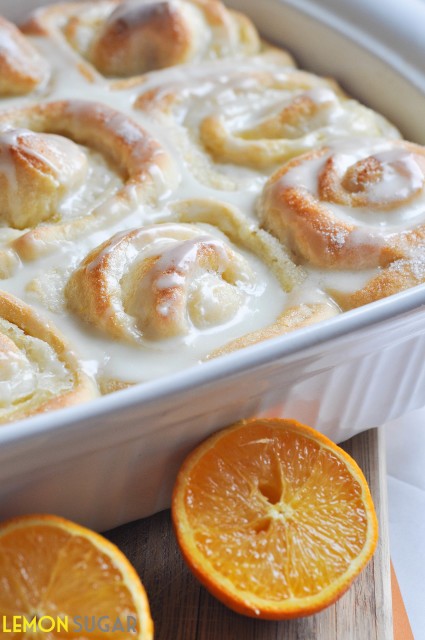 And if you're like me and not totally into the orange thing, this dough would make an amazing cinnamon roll instead.  Just eliminate the orange juice and extract, and sprinkle some brown sugar and cinnamon over the filling.
Now, I have a bazillion things to do since my orange sweet roll obsession has come to an end.  Thanks for stopping by today!
Don't forget, if you haven't yet, make sure you stop by at my Facebook page and follow along…you can also find me on Twitter, Instagram and Pinterest if Facebook isn't your thing.
Enjoy!
♥erin
Orange Sweet Rolls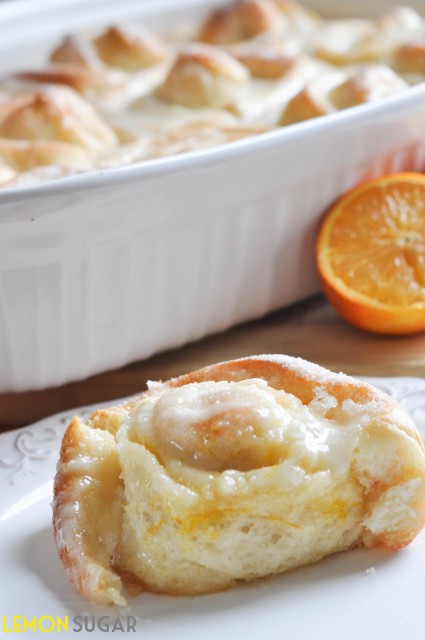 Sweet, citrus rolls are perfect for breakfast, brunch or dessert. Recipe source: Adapted from

Kelsey Nixon

Ingredients

For Dough:
3 (.25 ounce) packets active dry yeast (2 and ¼ Tablespoons)
1 and ¾ cups warm water (approximately 110 degrees)
½ cup honey
½ cup melted butter
2 teaspoons salt
2 large eggs, beaten
4 to 6 cups flour, plus more if needed
For filling:
½ cup (1 stick) butter, at room temperature
1 cup sugar
3 Tablespoons freshly squeezed orange juice
For glaze:
2 cups powdered sugar
3 Tablespoons freshly squeezed orange juice
½ cup heavy cream (more as needed to reach desired consistency)
1 teaspoon orange extract (optional)
Instructions
Preheat oven to 170 degrees, and then turn it off. You want a warm oven to help the dough proof.
In the bowl of a stand mixer, combine the warm water and yeast. Allow it to sit for 5 minutes until yeast begins to bubble.
Add the honey, melted butter, salt and eggs. Use a whisk to combine.
Using the dough hook on your stand mixer, slowly add 4 cups of flour and beat to combine. Mixture will be wet.
Then add ½ cup at a time until dough pulls away from sides of bowl but is still slightly sticky. This will be a wet dough, so don't add too much flour. Your finger should stick to the dough but shouldn't pull any dough away with it.
Move dough to a well-oiled or buttered bowl. Cover with plastic wrap and place in warm oven. (Make sure the oven is off now!)
Allow dough to double in bulk, which will take about 45 minutes.
After dough has risen, punch it down and roll it in to a large sheet, approximately 16x24 inches.
Spread filling (see below) over the dough, then tightly roll into a jellyroll shape, starting at the long end of the dough.
Using string, floss or a sharp knife, cut into 1-inch pieces and place into a buttered 9x13 pan.
Cover with a towel, and place back into warm oven. Allow to rise for a second time, about 20 minutes.
Preheat oven to 375 degrees, and bake for 20-25 minutes or until golden brown.
Drizzle glaze (see below) over the top of the warm rolls, and enjoy!
For filling:
Combine all ingredients in a small bowl. Spread evenly over rolled dough.
For glaze:
With a whisk, combine all ingredients until smooth. Glaze should be thin enough to pour, but thick enough to coat the back of a spoon. If necessary, add more cream or sugar to achieve desired consistency.
63
leave a comment your way - using facebook or disqus: