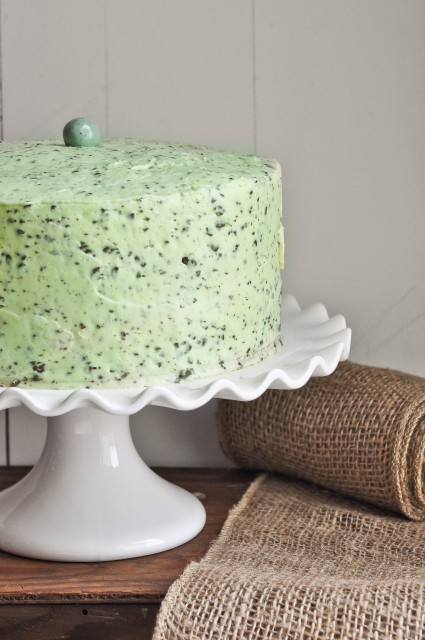 When I was growing up, our small town had an AMAZING little restaurant called the Old Ice Cream Shoppe.  It was in an old house that had been remodeled into a small-ish restaurant, with little wire tables and chairs, cute local decor on the walls and counter where you'd place your order for food or ice cream.  It was located just about two blocks from the elementary school, and stayed open late during the summers which made it the perfect spot for a treat after a baseball game, an ice-cream cone on a hot day, or a teenage hangout once we were able to drive.
I can still picture the menu – it was one of those old slat boards with individual, pegged letters that spelled out each menu item.  They had hamburgers, chicken sandwiches, fried mushrooms, big, thick-cut french fries – chicken strips, onion rings…and it was some of the food that my childhood was made of.
They had a pretty-good sized ice cream counter with several choices – my favorites being bubble-gum, butter brickle, and mint chocolate chip.  There are days that I would do just about anything for a mint-chocolate chip milkshake from the Old Ice Cream Shoppe, and it breaks my heart that they've gone out of business.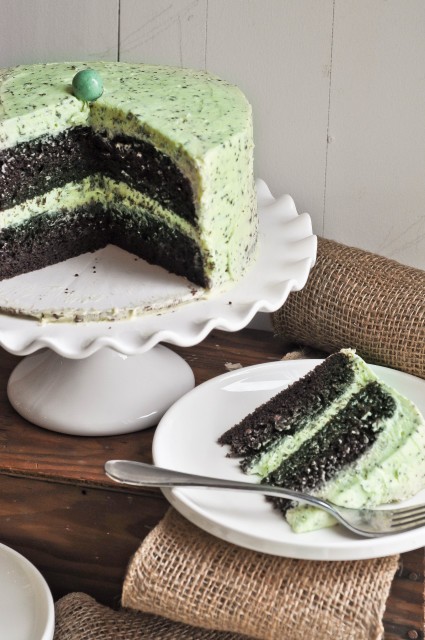 Now, I know you can go to pretty much any ice cream shop around and get a mint-chocolate chip shake, and heck, you can make them at home pretty easily, too.  But there's just something about those styrofoam cups and old-fashioned shake machines that just seemed to make them taste better.
I think that's why I've been drawn to this recipe since the moment I saw it.  The pale green color, flecks of chocolate and minty buttercream just speak to me.  I know that mint-chocolate chip will always take me back to my childhood, so perhaps there's just something comforting about these familiar flavors.
The cake recipe is from the amazing Ina Garten, and the buttercream is the result of several batches of trial and error.  It couldn't be too buttery, too minty or too dense – it had to be fluffy and light with tons of chocolate.  It really does taste like ice cream.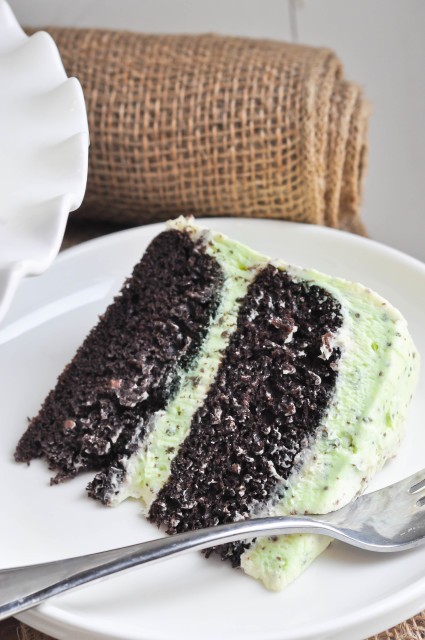 Any chocolate cake recipe will do, so feel free to use your favorite.  If you DO use this recipe, make sure you use deep cake pans – at least 2 inches deep because it will rise a lot.  If you don't have 2-inch deep pans, you can use 9-inch pans instead and it should be fine.
Hope you enjoy this one! And if you haven't yet, make sure you stop by at my Facebook page and follow along…you can also find me on Twitter, Instagram and Pinterest if Facebook isn't your thing.
Thanks for coming by today!  ♥erin
Mint Chocolate Chip Cake
Dark chocolate cake slathered in layers of chocolate chip peppermint butter cream will remind you of your favorite ice-cream shop milkshake! Recipe source: Cake from Ina Garten (2006 Barefoot Contessa at Home), Frosting is a LS Original
Serves:
Approximately 16 servings
Ingredients
Cake:
1 and ¾ cups all-purpose flour
2 cups sugar
¾ cups good cocoa powder
2 teaspoons baking soda
1 teaspoon baking powder
1 teaspoon kosher salt
1 cup buttermilk, shaken
½ cup vegetable oil
2 extra-large eggs, at room temperature
1 teaspoon pure vanilla extract
1 cup freshly brewed hot coffee
Frosting:
2 cups (4 sticks) unsalted butter at cool room temperature
6 cups powdered sugar
½ cup heavy cream
½ to ¾ teaspoon peppermint extract
6 ounces chocolate chips, chopped in food processor to fine chips
Instructions
Cake:
Preheat the oven to 350 degrees F.
Prepare two 8-inch x 2-inch round cake pans with cooking spray, and line with parchment paper, and spray the parchment with cooking spray as well.
Sift the flour, sugar, cocoa, baking soda, baking powder, and salt into the bowl of a stand mixer fitted with a paddle attachment and mix on low speed until combined.
In another bowl, combine the buttermilk, oil, eggs, and vanilla.
With the mixer on low speed, slowly add the wet ingredients to the dry.
With mixer still on low, add the coffee and stir just to combine, scraping the bottom of the bowl with a rubber spatula.
Pour the batter into the prepared pans and bake for 35 to 40 minutes, until a cake tester comes out clean.
Cool in the pans for 30 minutes, then turn them out onto a cooling rack and cool completely.
Frosting:
In the bowl of a stand mixer fitted with the paddle-scraper attachment, beat butter until smooth.
Add powdered sugar, cream and peppermint extract. Beat on low speed until completely incorporated.
Turn mixer up to medium, and beat frosting until light and fluffy.
Add food coloring and mix to combine.
Once desired color is achieved, add chocolate bits, and stir to combine.
Frost as desired.
Enjoy!
6
leave a comment your way - using facebook or disqus: