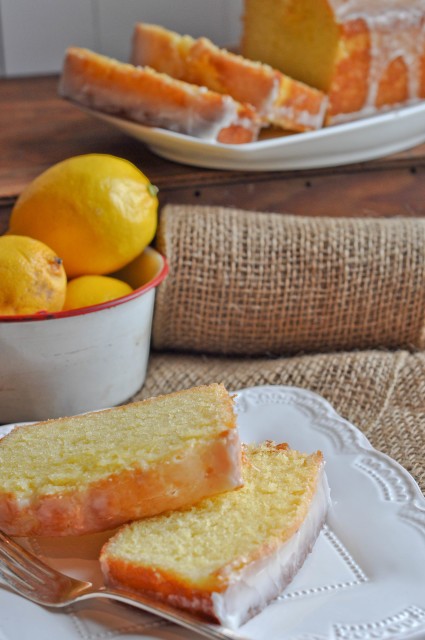 I'm back!  I didn't really go anywhere, but life just got busy.  I am definitely a creature of habit and need my routine to keep me in check – so four snow days, a bridal shower, a gymnastics meet, a sick kiddo (who is scheduled for tubes in her ears on Friday – insert Momma-panic attack here) – and a stressful few weeks at work really have me out-of-sorts.
Normally, I bake when things get stressful, but dang-it, I just haven't had time!  I think we've eaten more take-out, meals on the run and restaurant food in the past three weeks than we have in the past year.
Oh yeah, and daylight savings time?  In the midst of all of this chaos I LOSE an hour?  Seriously?
It was nearly two weeks ago that I bought a bag of Meyer Lemons, and I've been catching glimpses of them in my citrus bowl ever since.  Today was probably the last day I could have used them, so I put my foot down and spent a couple of hours in the kitchen.
And man, did it feel good.  I am such a kitchen-nerd, but I feel so much better now.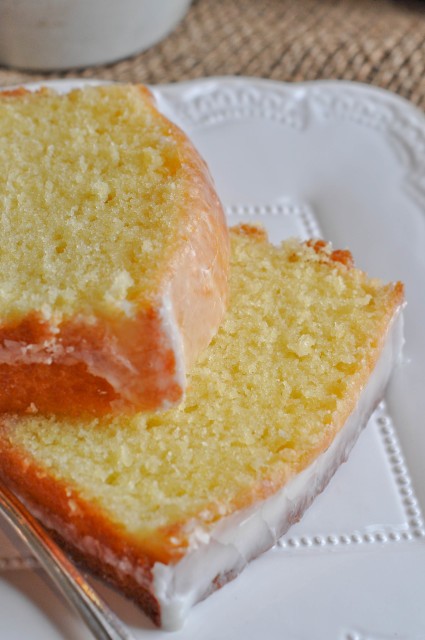 I have a very similar recipe to this on the blog already, but I've been meaning to try this one for quite some time.  The previous version claimed to be just like Starbuck's Lemon Pound Cake, and it was very similar in taste, but not texture.  This one is very similar in texture, but not so much in taste – but still fantastic.  The folks at Cook's never fail, so I just knew that this recipe would be a winner – and it is!
Pound cakes are tricky.  It's easy to dry them out, leaving them tasteless and unappetizing.  A good pound cake must be super-moist and it has to be full of flavor or it's just BLAH.  Most folks serve pound cake covered in macerated fruit and whipped topping, which is no surprise because otherwise, they're just nothing special.
This cake – special.  Moist, tart, perfectly spongy and tender.  If you love lemon, you must make it.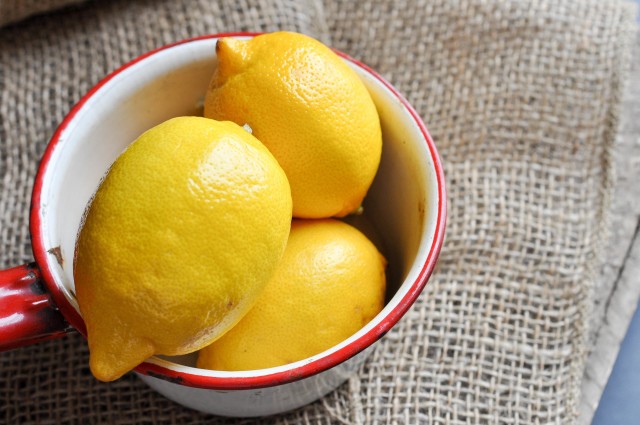 Although it takes a while from start to finish, it really doesn't take that much hands-on time.  You're supposed to let it cool for two hours before you glaze it and eat it, but who are we kidding – we both know that won't happen.  Mine made it exactly 1 hour and 10 minutes before I glazed it, cut it, photographed it and had a big slice of it.
Would've been worth the wait after two hours, but haven't you been paying attention?  It's busy around here!
If you can't find Meyer Lemons, don't fret.  You can use regular lemons, too.  Meyer Lemons have a slightly different flavor than regular lemons – they're a cross between a lemon and a mandarin orange, so they're a bit sweeter and not quite as intense.  They're a bit smaller than normal lemons and usually a rounder shape – you can tell in the picture above – the top lemon is a regular lemon, the one below is a Meyer Lemon.   If you've never tried one, it's definitely worth it to give them a try.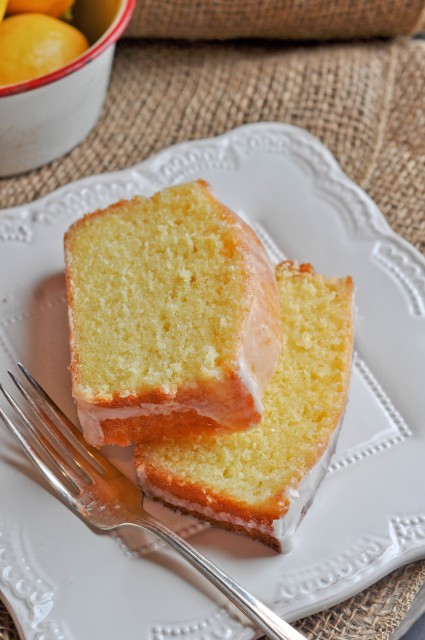 I'm happy to be back in the kitchen, and I'll do my best to make up for lost time.  In the meantime, make sure you come over to my Facebook page and follow along…you can also find me on Twitter, Instagram and Pinterest if Facebook isn't your thing.
Enjoy the pound cake, friends!  ♥
Meyer Lemon Sour Cream Pound Cake
This moist pound cake makes the best of your seasonal Meyer Lemons. It's easy to put together and perfect for breakfast or dessert! Recipe source: Cook's Country via
Tide and Thyme
, originially from
Tracey's Culinary Adventures
Serves:
Approximately 12 servings
Ingredients
Pound cake:
1 and ¾ cups all-purpose flour
½ teaspoon baking powder
½ teaspoon salt
¼ cup sour cream
1 and ½ Tablespoons fresh-squeezed Meyer lemon juice
1 and ½ tablespoons Meyer lemon zest
1 cup granulated sugar plus 2 additional Tablespoons
1 cup (2 sticks) unsalted butter, room temperature
5 large eggs, room temperature, lightly beaten
Lemon Syrup:
¼ cup granulated sugar
¼ cup Meyer lemon juice
Lemon Glaze:
1 cup confectioners' sugar
2 Tablespoon Meyer lemon juice
Instructions
Pound Cake Directions:
Preheat oven to 325 degrees F.
Prepare a loaf pan (approximately 9x5) with cooking spray and parchment paper. Set aside.
Bring eggs and butter to room temperature.
In a small bowl, sift together flour, salt and baking powder. Set aside.
Beat together sour cream and lemon juice. Set aside.
In the bowl of a stand mixer, combine sugar and lemon zest. Beat together for 1 minute, or until the zest is fully incorporated into the sugar.
Add the butter, and beat until light and fluffy, about 3 minutes.
Add the eggs one at a time, fully incorporating after each addition.
Add ⅓ of the flour mixture, and beat until just combined.
Add ½ of the sour cream mixture, and beat until just combined.
Add ½ of the remaining flour mixture, beat until just combined.
Add the rest of the sour cream mixture, beat until just combined.
Add the rest of the flour mixture, beat until just combined.
Pour batter into prepared loaf pan, and bake for 55-65 minutes or until a cake tester comes out mostly clean.
Allow to cool for 10 minutes in the pan. Then remove to cool completely on a wire rack. Meanwhile, prepare the lemon syrup.
Lemon Syrup Directions:
Combine sugar and lemon juice together in a small sauce pan.
Over medium-low heat, stir until sugar has completely dissolved.
Brush syrup over top and sides of cake. Use all of the syrup. This keeps the cake moist.
Allow cake to cool completely before glazing.
Lemon Glaze Directions:
Combine powdered sugar and lemon juice in a small bowl. Whisk to combine, until completely smooth. Pour over cooled cake.
Enjoy!
7
leave a comment your way - using facebook or disqus: