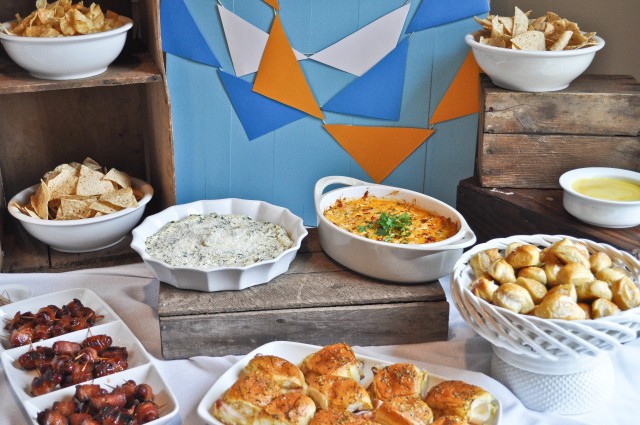 March Madness is here! It's my favorite holiday.
Yes. Basketball tournament time is a holiday around here. Everyone fills out brackets, skips work (or takes reaaallly long lunch-breaks) on Thursday and Friday during the first two weeks, and you can't go far without spotting someone sporting their team colors.
There's nothing worse than the disappointment when your team gets bumped, and there isn't much better than rooting for your team as they make it deeper into the tourney. My team won a few years ago, and it was simply awesome. There's something so fun about the friendly competition, the parties and the anticipation of it all. My husband and I love to host a group of friends at our house every year, but I'm as much of a fanatic about my team as the guys are, so I don't want to be stuck in the kitchen while entertaining. I want to watch the games!
These recipes are perfect for tourney-time – they can be prepared in advance and put in the oven right before your guests arrive – they're no-stress, make-ahead treats that will let you watch the big game, too.
Best of luck to your team this year, and if basketball isn't your thing? Host a party anyway just so you can try some of these recipes.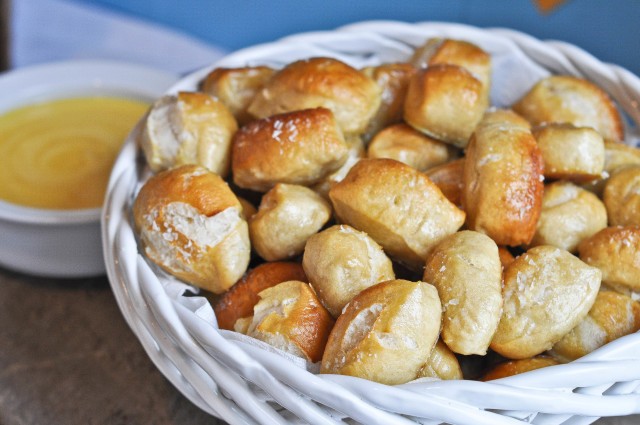 Soft-Pretzel "Dunkers" with Honey Mustard:
Ingredients:
1 packet rapid-rise yeast
1 Tablespoon sugar
4 and 1/2 cups all-purpose flour
1 and 1/2 cups warm water (about 110 degrees F)
2 teaspoons kosher salt
4 Tablespoons unsalted butter, melted
Cooking spray (to grease bowl)
2/3 cup baking soda
~10 cups water
1 egg yolk with 1 Tablespoon water
4 Tablespoons unsalted butter, melted
Flaked Sea Salt, Pretzel Salt or Kosher Salt
Directions:
In the bowl of a stand mixer, combine yeast, sugar, salt and water. Stir until yeast is dissolved. Using the dough hook attachment, add melted butter and flour and knead/mix until the dough comes together and pulls cleanly away from the sides of the bowl. If dough continues to stick, add flour 1 teaspoon at a time until dough becomes smooth. Once dough is smooth, knead with dough hook on medium-low speed for about 5 minutes. Form dough into a ball and place in a large bowl sprayed with cooking spray. Cover with plastic wrap and place in a warm spot to rise for about 1 hour or until doubled in bulk.
Line two cooking sheets with parchment paper or silpat mat and set aside (near stovetop…this is where you'll place the pretzels immediately after boiling. Bring 10 cups of water to a boil in a large stock pan, and add 2/3 cups of baking soda. Reduce heat to maintain a low simmering boil.
Flour a working surface, then separate dough into eight equal sized balls. Roll each ball into 22-inch long strips. Form each strip into a pretzel shape. Preheat oven to 450 degrees F.
Working one at a time, drop pretzels carefully into boiling water. Allow to boil for 30 seconds. Remove from water using a large slotted spoon and place onto parchment covered cooking sheet. Repeat with remaining pretzels.
In a small bowl, whisk together 1 egg yolk and 1 Tablespoon of water. Use a pastry brush to brush boiled pretzels with the egg wash. Bake for 12-15 minutes or until dark golden brown. Remove from oven and move pretzels to a wire rack.
Melt 4 Tablespoons of unsalted butter and liberally brush each pretzel with butter, then sprinkle with salt. Store in an air-tight container until serving time. Can be made 12 hours in advance.
Yield: about 60 pretzel bites and approximately 1 cup of honey mustard.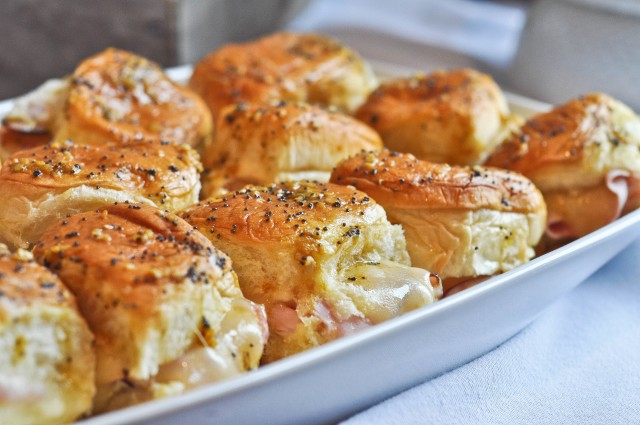 Ham & Cheese Sliders:
Ingredients: (adjust quantities to meet your needs)
12 Egg & Butter rolls
12 slices Virginia Ham, thinly sliced (approximately 1/2 pound of deli-ham)
8 slices Provolone Cheese, quartered
3/4 cup Mayonnaise
Topping:
1/2 stick unsalted butter
1 teaspoon dried onions
2 Tablespoons Worcestershire
1 Tablespoon Mustard
1/2 teaspoon poppy seeds
Slice rolls in half. Spread Mayo on the top and bottom of the roll. (don't be stingy, folks. This is clearly not health-food.) Place a slice of ham on the bottom of the roll, and top with cheese, then replace the top of the roll. Place sandwiches on a large, aluminum foil or silpat-mat lined cookie sheet.
If you are making these ahead, cover with foil and store in refrigerator for up to 24 hours before serving. 30 minutes before party-time, remove foil and apply the topping:
To prepare topping, melt butter in microwave in a small dish. (I use my measuring cup.) Whisk in onions, Worcestershire, mustard and poppy seeds. Using a pastry brush, generously brush each sandwich with butter mixture. Re-cover with foil, and bake for 12 minutes at 350 degrees. Remove foil and bake another 2 minutes, or until cheese is melted.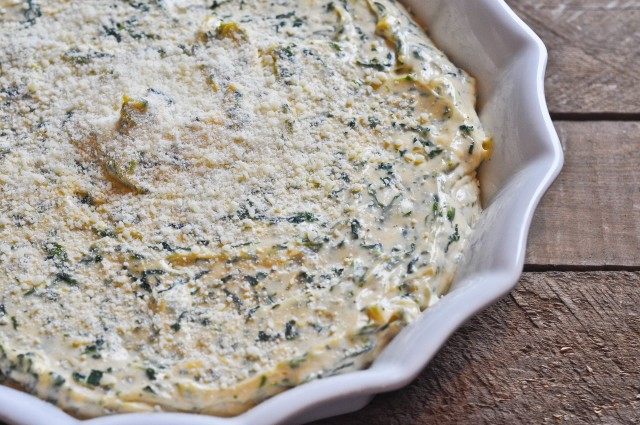 Spinach Dip
Ingredients:
16 ounces cream cheese, at room temperature
4 ounces Velveeta cheese
8 ounces sour cream
1 box frozen spinach, defrosted and squeezed dry
1 packet ranch dip seasoning
In a large bowl, melt cream cheese and Velveeta together in the microwave. Stir to combine. Add sour cream and ranch dip seasoning, and stir. Add dry, defrosted spinach and stir until well-incorporated. Pour into a microwave-safe serving dish, and cover with foil.
10 minutes before serving time, remove foil and warm dip in the microwave for about 4 minutes (or until warmed through). Serve warm with chips or crackers.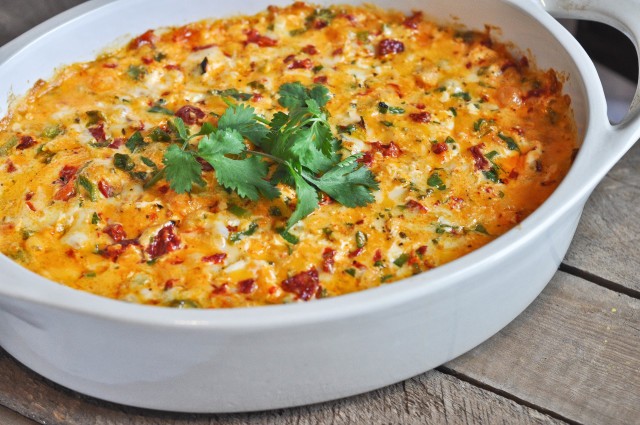 Baked Tex-Mex Cheese Dip
Ingredients:
1/2 cup mayonnaise
8 ounces cream cheese, at room temperature
3/4 cup chopped roasted red peppers (I used jarred peppers)
1/3 cup chopped cilantro
2-3 green onions, finely chopped
2 jalapenos, seeded and chopped
1/4 teaspoon red pepper flakes
8oz extra sharp cheddar cheese, grated
8oz pepperjack cheese, grated
salt, to taste
pepper, to taste
Preheat oven to 350 degrees (F). Grate cheese into a large bowl. Add remaining ingredients, and stir until completely combined. Make sure the cream cheese is completely combined, you don't want any big pieces of cream cheese in the final dish. Pour mixture into a small, oven-safe dish. If making ahead, cover with foil and refrigerate until 45 minutes before serving time. Then, remove foil and bake as directed. Can be made and refrigerated 24 hours in advance.
Bake for 20-25 minutes. Garnish with additional cilantro and serve warm with tortilla chips, pita chips, or toasted bread pieces.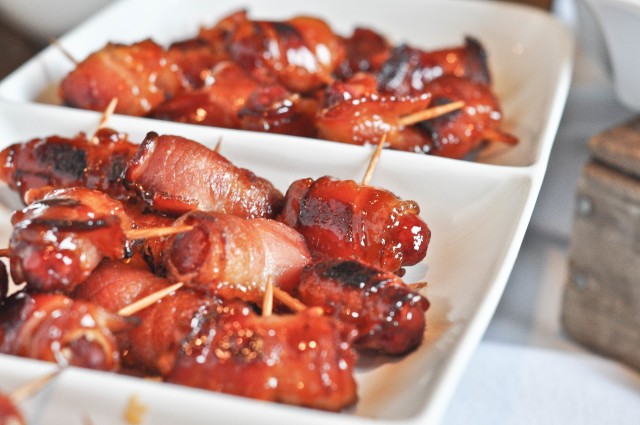 Bacon-Wrapped Maple Smokies
Ingredients:
1 package beef smokies
1 pound honey-maple flavored bacon
1 cup brown sugar
1/4 cup maple syrup
toothpicks
Prepare a large baking sheet with several layers of foil. Spray foil with cooking spray. Preheat oven to 450 degrees F.
Open package of bacon, and cut all of the bacon strips in half (lengthwise). Roll a piece of bacon around each sausage, and secure with a toothpick. Place on baking sheet, and repeat for all sausages. If making ahead, cover with foil and refrigerate for up to 24 hours in advance. 40 minutes before serving time, remove foil and continue: generously sprinkle wrapped smokies with brown sugar, and then drizzle with maple syrup.
Bake for 20-30 minutes or until bacon is crispy and sugar is carmelized. Use tongs to place on a serving platter, taking extreme care as the sugar will be hot.
Serve warm. Makes approximately 30 sausages.
This post is part of BlogHer's March Madness Game Day Eats editorial series, made possible by Kettle Brand Chips.

0
leave a comment your way - using facebook or disqus: