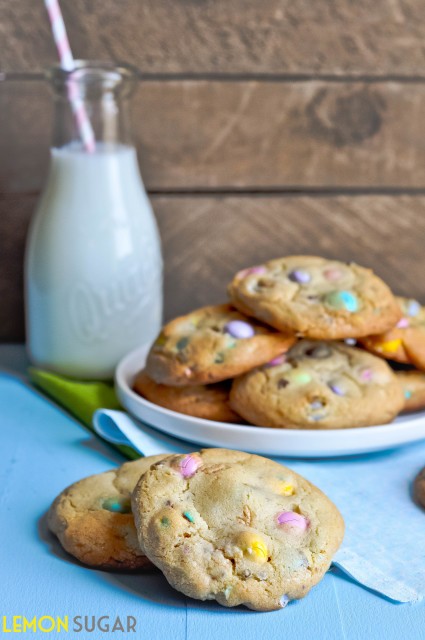 My girls have been begging me to make chocolate chip cookies for a few weeks now, but my dessert menu has taken me in other directions.  With Valentine's Day, St. Patrick's Day and now Easter, it always seems like there's been something else to make.
Then, when browsing my Pinterest boards, I found these cookies that I've wanted to make for a LONG time, so I decided I'd made them wait long enough.  Easter candy cookies!  Basically, they're really big, chewy, fat chocolate chip cookies with Easter candy instead of chips.
Kind of a brilliant way to use up all of that chocolate candy that the Easter Bunny is bringing tomorrow, eh?  I used Easter-colored M&M's, both white chocolate, peanut butter and milk chocolate.
They're yummy.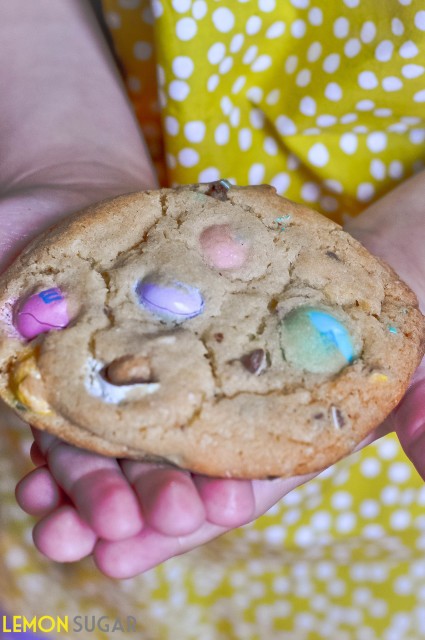 They're also huge.  Bigger than my 3-year-old's hands, and that makes little girls really, really happy.
Really, these are, or can be, kitchen-sink cookies.  The dough recipe is sturdy and versatile, so you can throw anything you like in there.  For these, I used two bags of chocolate candies, which were about 9 ounces each, so plan to *about* two cups of candy pieces, nuts, chips…whatever you like.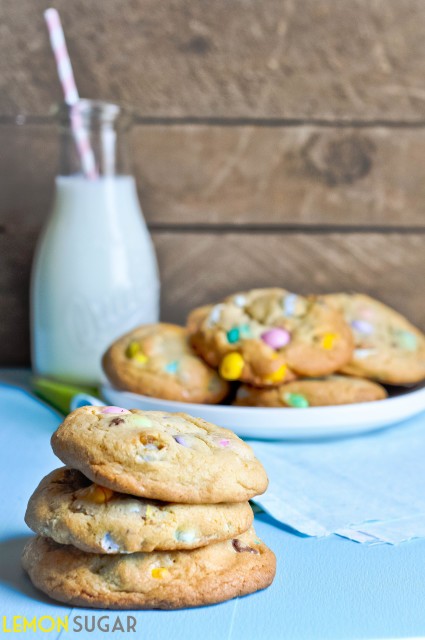 Next week, we are going to have tons of leftover candy, so I'm sure we'll make these again.  The best thing is that they're quick, easy, and perfect to send as a treat in a lunch box, enjoy for an after-school snack, or hide them in secret place in your pantry so your kids (and husband) don't eat them all before you get one.
If you have such a place.
I don't.  Really.
Hope you love these!  And don't forget, if you haven't yet, make sure you stop by at my Facebook page and follow along…you can also find me on Twitter, Instagram and Pinterest if Facebook isn't your thing.
Enjoy!
♥erin
Easter Candy Cookies
These huge cookies are thick and chewy, and can accommodate any mix-ins you desire - from the basic chocolate chips to your leftover Easter candy! Enjoy! Recipe source:
Vanilla Sugar Blog
Serves:
Approximately 18 cookies
Ingredients
2 sticks (16 Tablespoons) unsalted butter, cold
¾ cup granulated sugar
¾ cup packed brown sugar
2 large eggs
1 teaspoon vanilla
3 cups all-purpose flour
¾ teaspoon salt
1 teaspoon baking powder
½ teaspoon baking soda
2 cups candy pieces or chocolate chips
Instructions
Preheat oven to 350 degrees F.
Prepare a large cookie sheet with parchment paper, and set aside.
Beat butter and sugars (both brown and white) together until just creamy.
Add the eggs and vanilla, beat on medium speed until just incorporated.
Add flour, baking soda, baking powder and salt. Beat until just incorporated, do not overbeat at this step.
Stir in candy pieces.
Form dough into six 2-inch balls. Put the rest of the batter into the refrigerator.
Place dough on prepared cookie sheet, and flatten just slightly.
Bake for 15-17 minutes or until just golden brown.
Immediately place on a wire cooling rack, and repeat process until all dough is used.
Store in an air-tight container, and enjoy!
0
leave a comment your way - using facebook or disqus: