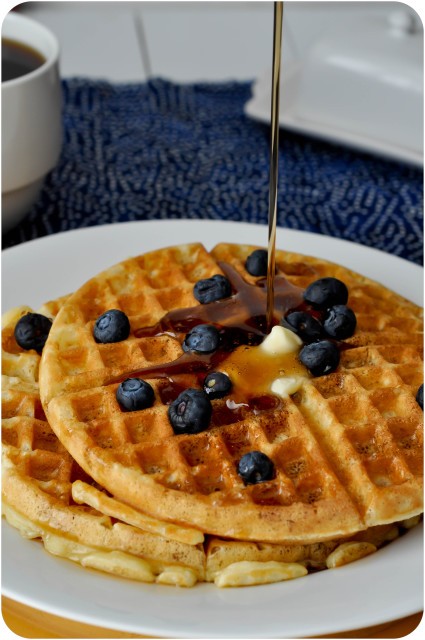 I'm kind of not kidding.  Although I didn't name these waffles, they are honestly the best I've ever had.  Not that I'm a big waffle aficionado or anything, but I spent a lot of time looking for the perfect waffle recipe after we got married.  We received a really nice waffle iron as a gift, and I was determined to find a really nice recipe to go with it.
It took five years to find the recipe I was looking for.  I wanted crisp waffles with a just slightly creamy middle.  I wanted something that would hold up to syrup and butter, something that would freeze well and something that didn't have an "eggy" taste.   This was it.
This recipe makes twice as many as we need for our little family, but I throw the rest in the freezer and my daughter loves to  eat them for breakfast during the week – you can just nuke them in the microwave for a bit or break them into triangles and pop them in the toaster.  EASY, and – you know I'm going to say it – much better than the frozen waffles you buy at the grocery store.  Not only are they way cheaper, you control the ingredients and don't have to worry about what you're feeding your family.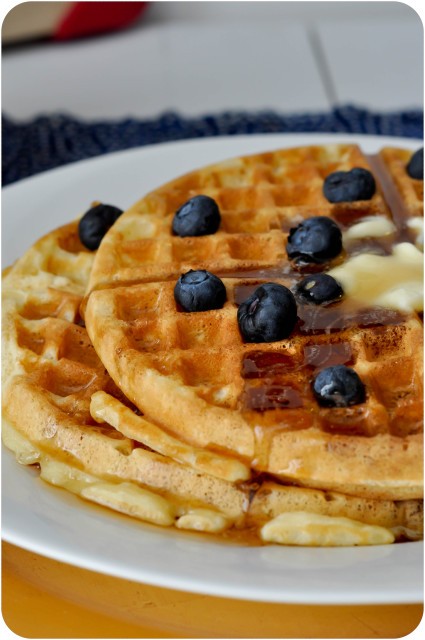 My youngest, Mia, loves to help me make these.  The second she hears me pull the waffle iron out of the pantry, she's pulling her stool up next to me at the counter and looking for her whisk.  I have to admit that even though everything in a 10-foot radius is covered in flour when we're done, I really love that she wants to help me in the kitchen.
I should also make mention of the fact that she loves to wear my old t-shirts to bed.  I think it's kind of adorable.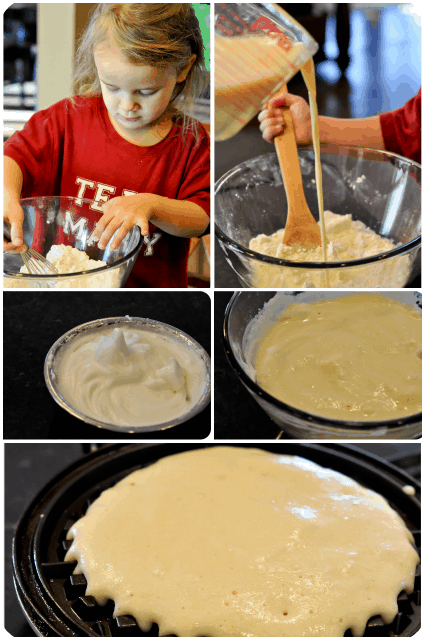 You can see that the batter for these is very light and almost has a foamy appearance – which is thanks to the egg whites.  It keeps the batter light and fluffy, which in turn makes your waffles light and fluffy.   We've topped our waffles with everything you can think of, but good old fashioned maple syrup and butter seems to always win out.  Occasionally we'll use honey instead of syrup, and during the summer we love garden fresh berries and fresh whipped cream.
Nothing.  Better.
The batter for these really takes less than 10 minutes to throw together, and that's only because you have to beat the egg whites.   So next time you get a craving for waffles, give these a try.
Enjoy!
The Greatest Waffle Recipe Ever
The greatest waffle recipe ever! These waffles are slightly crisp on the outside and warm and creamy on the inside. Delicious with a pat of butter, warm maple syrup and a hot cup of coffee. These make an amazing weekend breakfast! Enjoy! Recipe source:
Serious Eats
Serves:
8 medium sized waffles
Ingredients
1 and ¾ cups all-purpose flour
1 teaspoon baking powder
¼ teaspoon salt
2 egg yolks
1¾ cups milk
½ cup canola oil
1 teaspoon vanilla
2 egg whites
Instructions
In a medium sized bowl, combine dry ingredients: flour, baking powder and salt. Whisk together and set aside.
In a large measuring cup or small bowl, combine wet ingredients: egg YOLKS, milk, canola oil and vanilla. Save egg whites for next step. Whisk to combine and set aside.
In a mixing bowl, beat egg whites until stiff peaks form.
Heat your waffle iron to desired temperature. We use a medium-high setting.
Pour wet ingredient mixture into the dry ingredient mixture and stir/whisk to combine. Mixture will be slightly lumpy.
Carefully fold the egg white mixture into the batter. Take care not to deflate the egg whites, but fold them together until the batter is light and fluffy.
Spoon batter on to waffle iron.
Serve and enjoy!
89
leave a comment your way - using facebook or disqus: