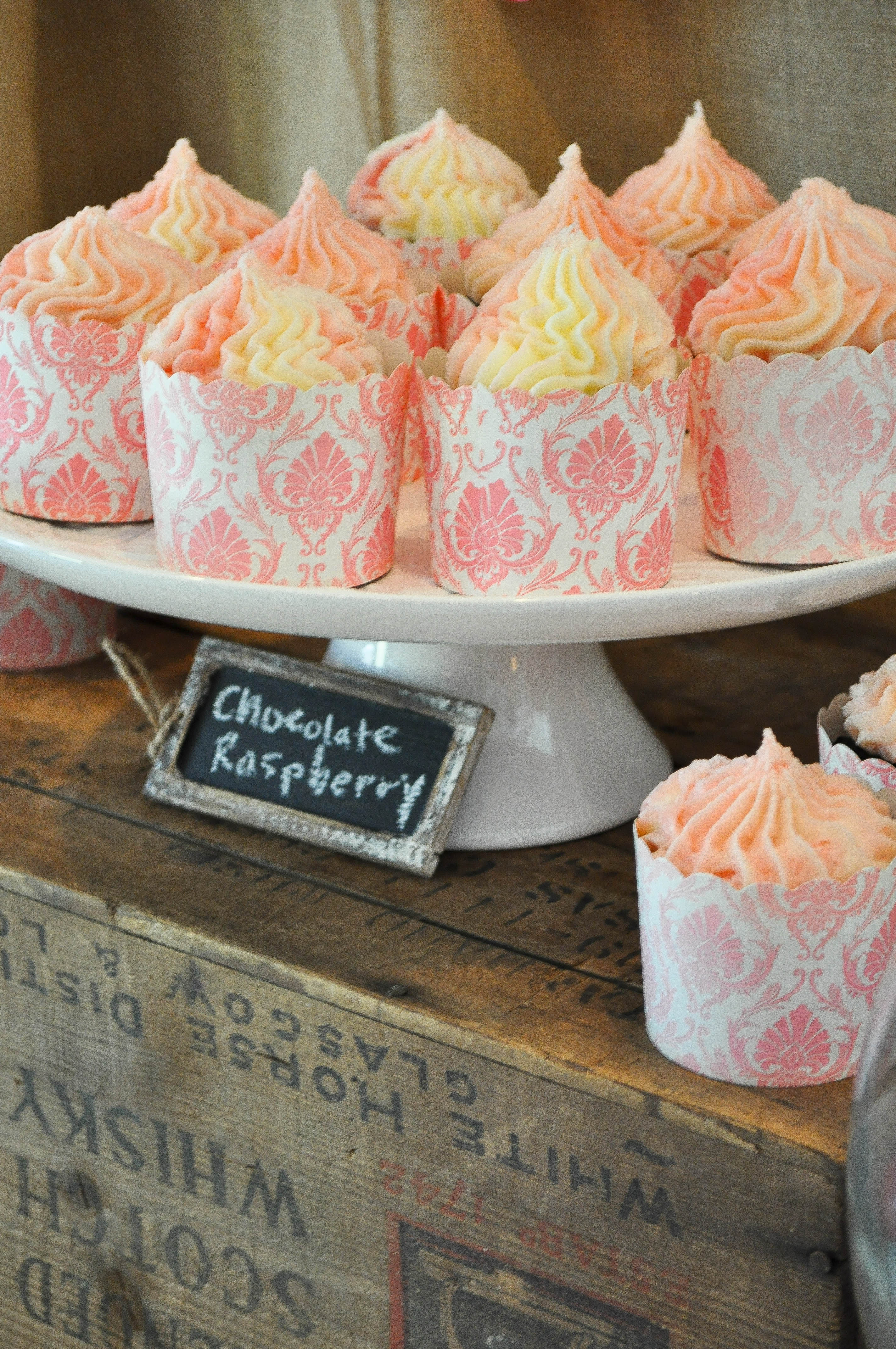 Last weekend my sisters and I hosted a bridal shower for my soon-to-be sister-in-law, Abbey.  Since it was a late afternoon, Sunday shower with impending bad weather, we kept the menu light and desserts simple.  The theme was "From Miss to Mrs" and it turned out to be an adorable celebration!
For decorations, we knew we wanted to start with burlap and build from there.  I built an 8-foot tall by 5-foot wide frame from PVC pipe to hold my burlap fabric (about 6 yards of it) and secured it with safety pins.  The burlap ribbon held the banner together and was also secured with safety pins to the backdrop.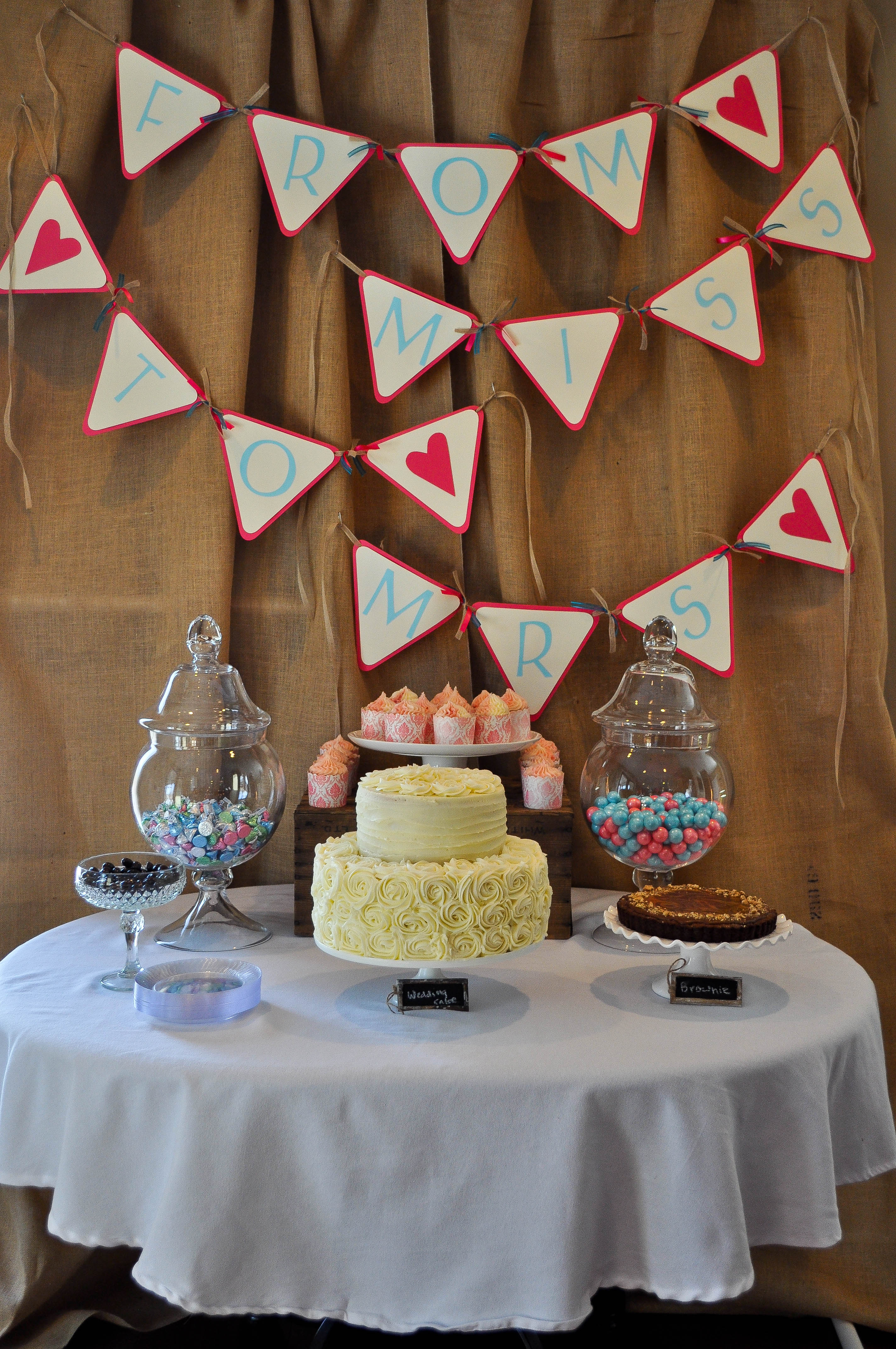 Bright white table cloths and a simple antique box kept things very simple and clean and neat for a dessert table.  We filled the glass urns with matching candy and I made a miniature version of the couple's wedding cake.  A brownie tart and chocolate raspberry cupcakes in adorable baking cups from Sweet! Baking Supply rounded out the table.  The original plan called for an additional dessert to compliment and balance out the brownie tart, but when I realized how big my "mini" wedding cake was becoming, the extra dessert got forfeited.
The "wedding cake" is a 2-layer, 12-inch bottom, topped with a 2-layer, 8 inch top.  I used my favorite White-Almond Sour Cream Cake recipe, which I quadrupled to make enough. The frosting is my favorite vanilla butter cream – and I had to make two and a half batches of that.
The cake was huge.  And heavy. I'm pretty sure it weighed more than my three-year-old.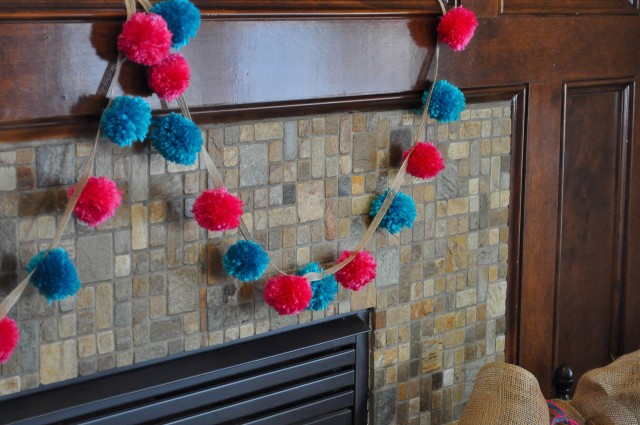 We made 24 yarn poms inspired by Martha Stewart  which were originally supposed to be cupcake garnishes, but I didn't like how they looked with the baking cups, so they became an adorable, whimsical garland.  We carried the burlap and yarn theme throughout the decor, from the front door sign (which I of course forgot to take pictures of) to the mason-jar vases and silverware jars.
The cute little chalkboards and the big glass urns (as well as the burlap ribbon) came from Save-On Crafts.com  which is one of my favorite places to shop for off-the-wall party and decorating supplies.  The prices are fabulous and they always seem to have what I'm looking for.
As far as the meal goes, (another missing picture – ugh) we served a delish, deli-style chicken salad with grapes and celery to be served on croissants, a big seasonal fruit-salad, a veggie tray and my sister-in-law's famous pasta salad. One of my favorite things from the buffet that we set up was the additional of crisp white buffet plates  from Bed Bath & Beyond.  We presented them in a tall stack,  alternating with bright pink cloth napkins from World Market.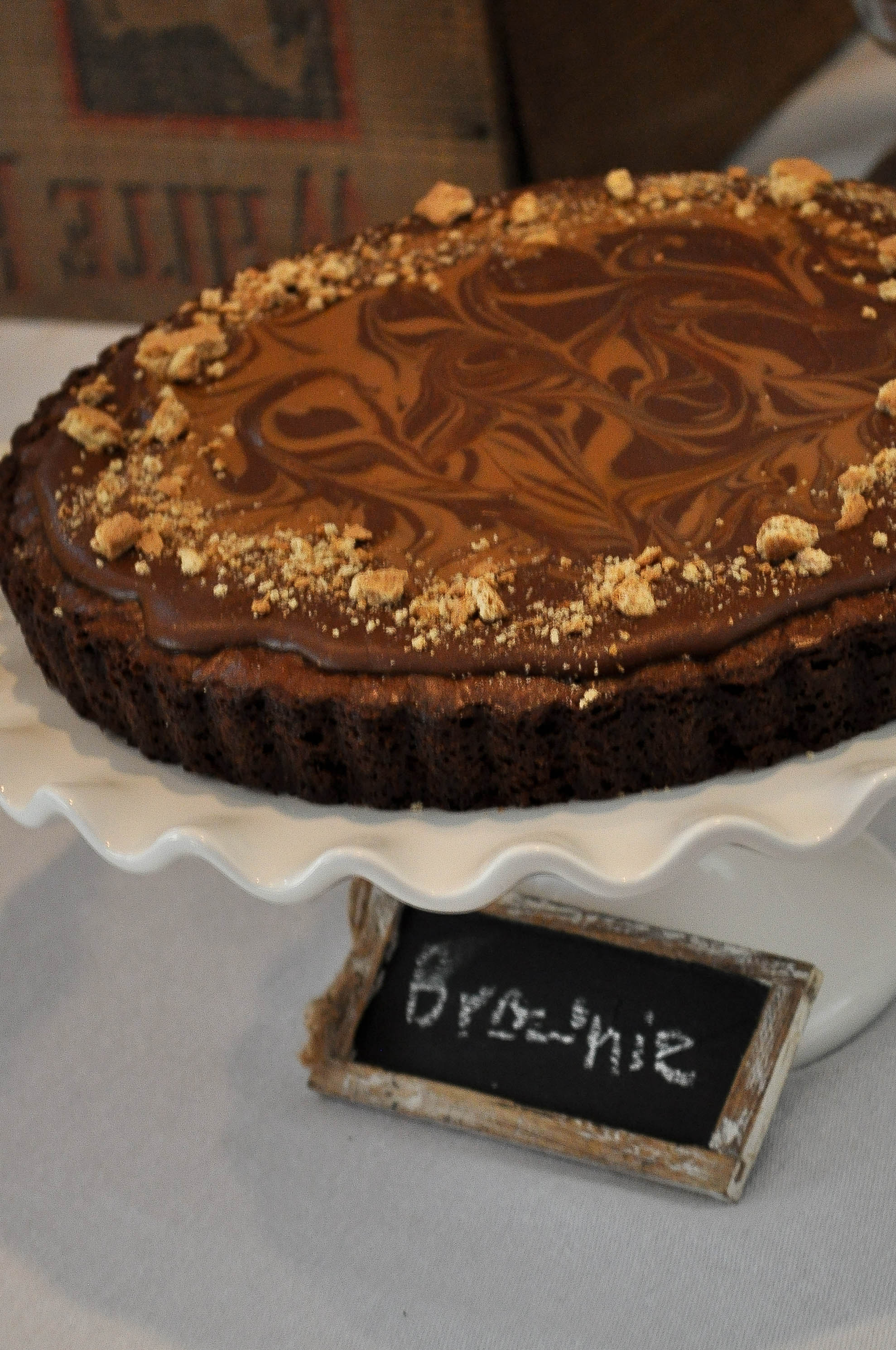 The brownie tart was an exact replica of last-week's blog post, except that I replaced the white chocolate biscoff ganache with a dark chocolate biscoff ganache.  Still worked, still delicious and a perfect party desert!
The chocolate raspberry cupcakes were just adorable in their perfect baking cups.  I love this particular baking cup because it's a bit bigger than the normal size, and the cupcakes really baked nicely in them.  The swirly frosting matched the pink cups perfectly, and they were just adorably shabby-chic!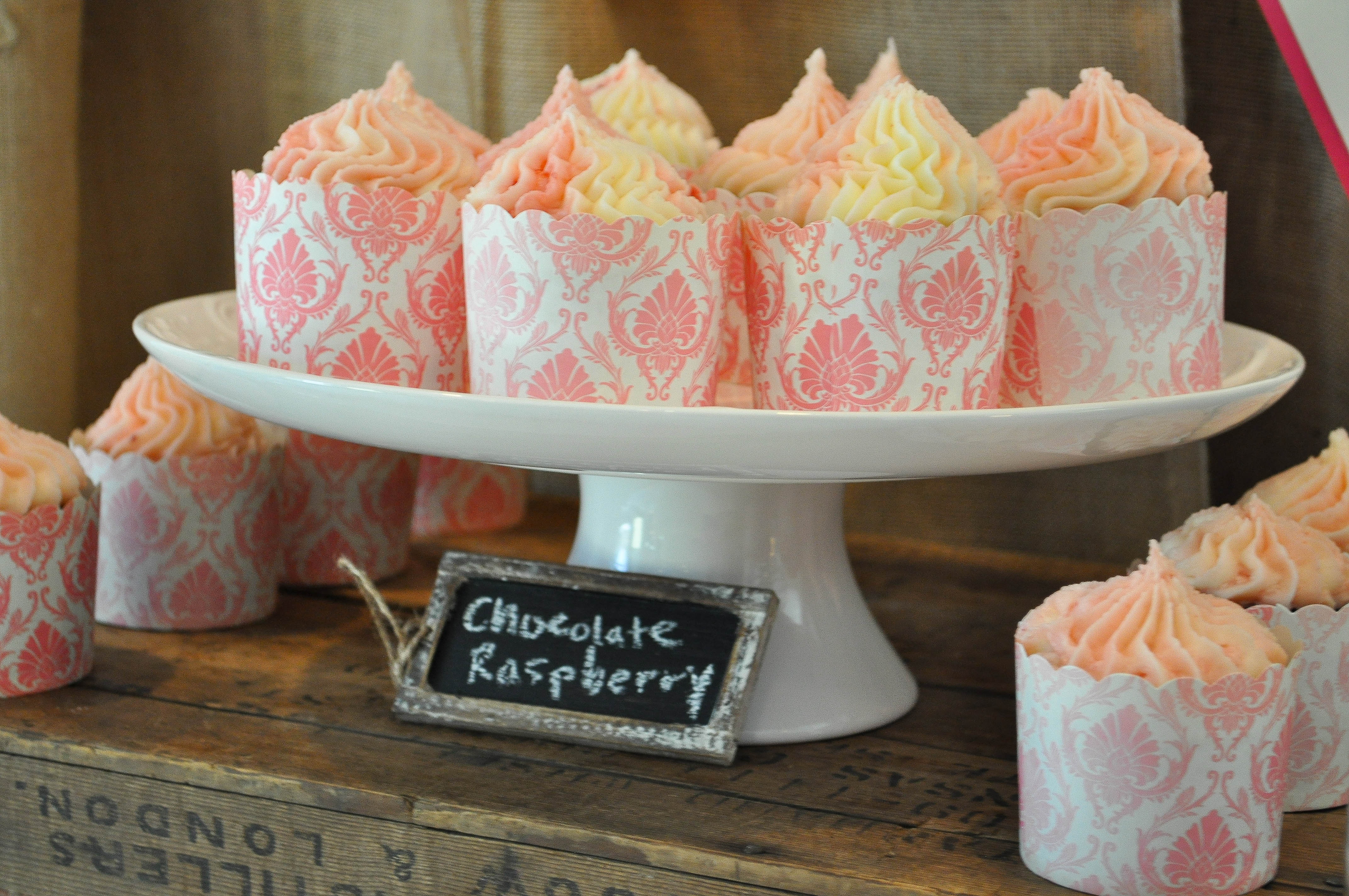 The cupcakes are one of my tried-and-true favorite chocolate cupcake recipes, dense and chocolatey enough to take on the raspberry filing.  Simply swirling a bit of the leftover filling into vanilla butter cream lightens up the frosting and brings it all together.  Delish.
Fresh flowers can be difficult to find in Kansas in the middle of February, but a simple bouquet of white mums from our local warehouse store saved the day.  I love to use mason jars for everything, especially rustic vases!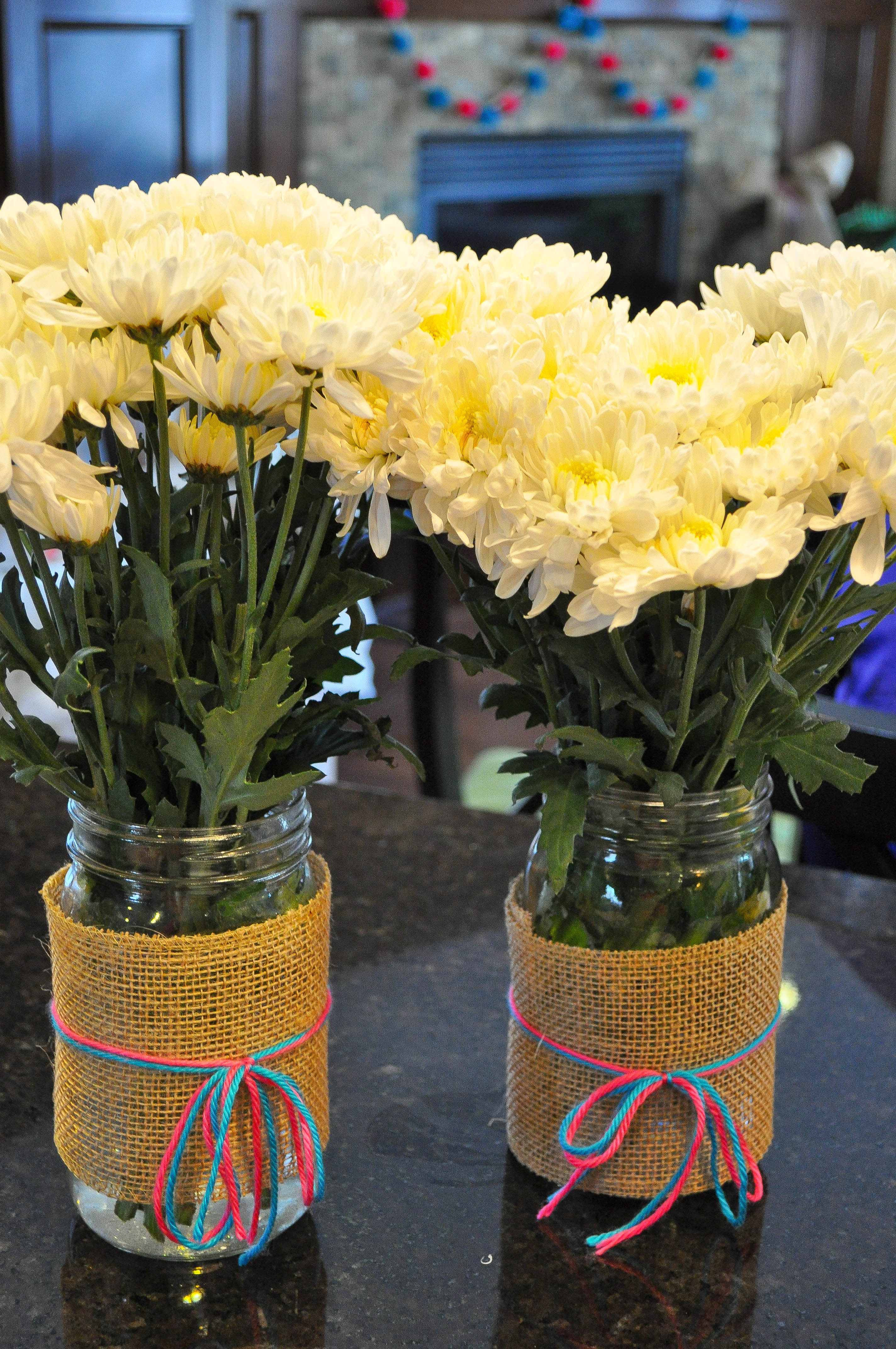 I hope you enjoyed a look into our bridal shower – it was such a busy day that my pictures were definitely lacking, but hopefully you get the idea. Enjoy the cupcake recipe, and make sure you head over and like my Facebook page for more behind-the-scenes at Lemon Sugar!
Enjoy!
Chocolate Raspberry Cupcakes & A Bridal Shower
These perfect, dark chocolate cupcakes are injected with a tart raspberry filling and topped with a raspberry-swirled butter cream. Enjoy! Recipe source: Cupcakes adapted from Cooks Illustrated, Frosting is LS Original.
Ingredients
Cupcakes:
6 ounces bittersweet chocolate, chopped fine
⅔ cup (2 oz) Dutch-processed cocoa
1 and ½ cups hot coffee
1 and ½ cups (8.25 ounces) bread flour
1 and ½ cups (10.5 ounces) granulated sugar
1 teaspoon salt
1 teaspoon baking soda
¾ cup vegetable oil
4 large eggs
4 teaspoons white vinegar
2 teaspoons vanilla extract
Raspberry filling:
1 and ½ to 2 cups frozen raspberries
1 Tablespoon plus 1 teaspoon cornstarch
2 Tablespoons lemon juice (fresh or bottled)
¼ cup sugar
Raspberry Swirl Butter Cream:
2 cups (4 sticks) unsalted butter, at room temperature
2 pounds (about 7.5 cups) confectioner's sugar
½ teaspoon salt
1 teaspoon clear vanilla extract
½ cup heavy cream
½ cup leftover raspberry filling (recipe above)
Instructions
For cupcakes:
Preheat oven to 350 degrees F.
Line standard-size muffin pan with paper liners.
Place chocolate and cocoa in medium bowl, and pour hot coffee over mixture and whisk until smooth.
Set in refrigerator to cool completely, about 20 minutes.
Whisk flour, sugar, salt, and baking soda together in medium bowl; set aside.
Whisk oil, eggs, vinegar, and vanilla into cooled chocolate-cocoa mixture until smooth.
Add flour mixture and whisk until smooth.
Divide batter evenly among muffin pan cups.
Bake until cupcakes are set and just firm to touch, 17 to 19 minutes.
Cool cupcakes in muffin pan on wire rack until cool enough to handle, about 10 minutes.
Carefully lift each cupcake from muffin pan and set on wire rack.
Cool to room temperature before frosting, about 1 hour.
Raspberry filling;
Combine all ingredients over medium-low heat and stir until thickened and beginning to boil.
Set aside to cool completely before using.
Hold back ½ cup of filling for frosting, then place the rest in a small piping bag with a small round tip.
Carefully inject piping tip into each cupcake, and squeeze a small amount of filling into each one. Do not overfill.
Raspberry Swirl Butter Cream:
In the bowl of a stand mixer, beat butter until light, fluffy and smooth.
Add confectioners sugar, cream and vanilla. Beat until mixture comes together, then beat 5 minutes more until light and fluffy. If too thin, add additional confectioner's sugar, if too thick, add additional heavy cream until desired consistency is achieved.
Remove mixing bowl from stand, and spoon raspberry filling into butter cream. Swirl together slightly with a spoon, taking care not to over mix.
Place frosting in piping bag, and frost cupcakes as desired.
Enjoy!
0
leave a comment your way - using facebook or disqus: