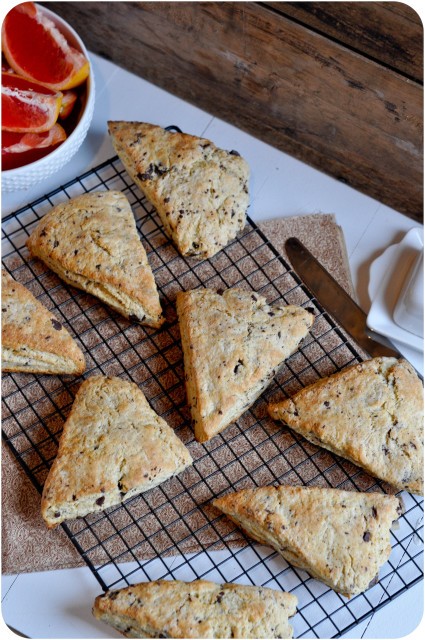 Many years ago, my husband (then boyfriend) went to London with his family.  I stayed home in Kansas and sulked for ten days…not just because I missed him, but also because he was going to London, without me.
I played house-sitter, dog-sitter and cat-sitter at his parents house, and talked to him via Instant Message at night.  And I was jealous.  Then, as a welcome home gift, I bought them all a big fancy chocolate cake and a nice bottle of dessert wine – but their flight home was delayed so long that the cake went bad and they came home to a big old rotten chocolate cake on their counter top.  Nothing screams welcome home from your trip abroad! quite like a stinky cake in your kitchen.  Sigh.
Anyway, one of the many things he raved about while in London were their pastries and scones.  He even brought me a bag of scones to try – of course after one delayed and one missed flight on an already lengthy trip home, lets just say they weren't the freshest scones I've ever had.  Nonetheless, since then he's compared every scone he's ever had to those magical scones from England.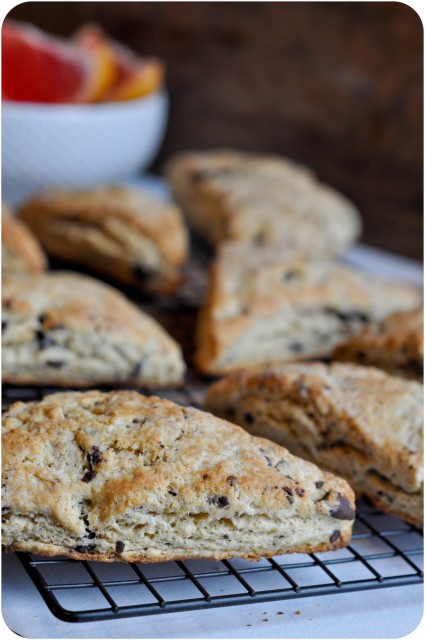 I've spent many years trying to replicate those elusive biscuits, and so far I haven't really had much luck. Of course, I'm starting to think that they've become one of those things that you remember tasting better than it actually did…but either way, London-like or not, these little scones are pretty darn tasty.  They're soft, slightly flaky and a tad bit crumbly, and dotted with shaved chocolate pieces.  With a bit of whipped butter and a cup of tea?  It's like breakfast in London without the jet-lag.  Win.
Do you have a favorite scone recipe?  Or have you been to England and had their infamous scones?  Are they as amazing as my husband makes them out to be?  Leave me a comment below and let me know.
Enjoy!
Chocolate Chip Scones
These lovely scones are both light and flaky and decadent. Perfect for a morning on the go with a nice cup of hot tea. Enjoy! Recipe source: Adapted from King Arthur Flour
Ingredients
2 and ¾ cups all-purpose organic flour
⅓ cup sugar
¾ teaspoon kosher salt
1 Tablepsoon baking powder
½ cup (1 stick) very cold unsalted butter, grated or cubed
2 ounces grated or chopped semi-sweet chocolate pieces
2 eggs
2 teaspoons good quality vanilla extract
½ cup half and half
Instructions
Preheat oven to 425 degrees F.
Prepare a large cookie sheet with parchment paper or a silpat mat.
In a large bowl, whisk together dry ingredients.
Using a box grater, grate cold butter completely and add to dry ingredients.
Use a pastry cutter to cut the butter into the flour.
Chop chocolate, and add to dry ingredients. Stir to combine.
In a small bowl, combine eggs, vanilla and half and half. Whisk to combine.
Pour wet ingredients into dry ingredients and stir until dough comes together. If necessary, add more half and half a bit at a time. Dough should not be too sticky.
Pour dough on to floured surface, and pat into a large square approximately ⅔ inch thick.
Use a pizza cutter to cut into 4 smaller squares, then cut each square diagonally into a triangle for 8 total pieces.
Place on cookie sheet and bake for 12-15 minutes or until just golden brown.
Enjoy warm or store in an airtight container.
Notes
If you'd like glazed scones, combine 1 and ½ cups powdered sugar with 3 Tablespoons heavy cream or half and half plus 1 teaspoon vanilla extract. Stir to combine. Add more cream to desired consistency. Pour glaze over hot scones.
0
leave a comment your way - using facebook or disqus: