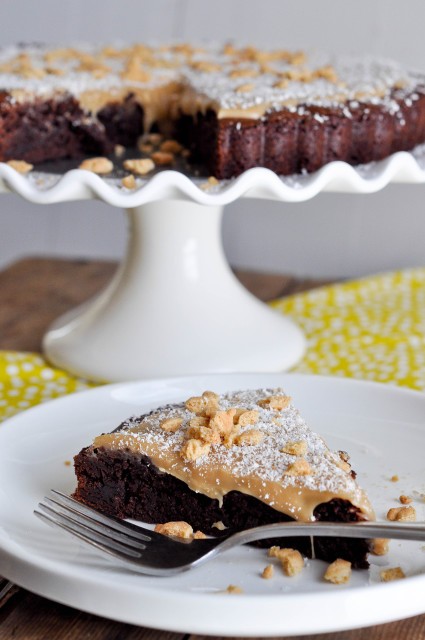 A week or so ago, I received a promotional shipment from Biscoff…a CASE of their cookie spread!  After I got my face out of the first jar of it – I mean seriously, it's amazing, on a spoon, right out of the jar – I decided I really needed to figure out how to bake with it, and STAT.  Otherwise, my diet for the week was looking bleak.
The spread is very much like a peanut butter consistency, so my immediate thought was some sort of butter cream or ganache – a quick look in my pantry revealed a few extra boxes of white chocolate, so this Which Chocolate Biscoff Ganache was born.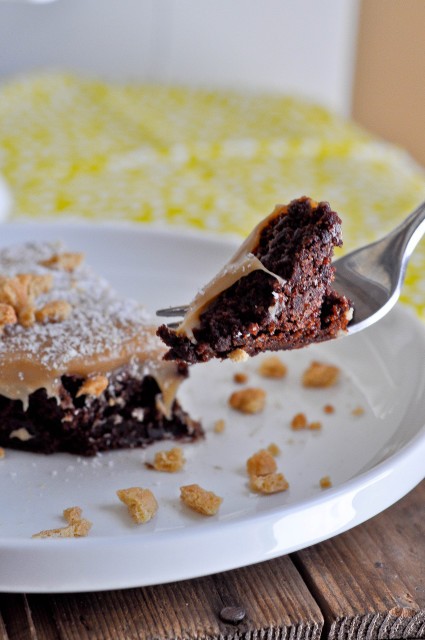 The ganache is very rich, but I've gotta tell you, it is the perfect topping for my Amazing Brownies.  I halved the recipe and baked them in a tart pan (because doesn't everything taste better when it's been baked in a tart pan??)  A sprinkle of grated chocolate and some crushed Biscoff cookies for garnish makes this dessert fancy enough for entertaining, but it's so quick that it's perfect for a weeknight treat, too.  If you don't have time to whip up a homemade brownie recipe, you can use an 8×8 brownie mix for a little shortcut.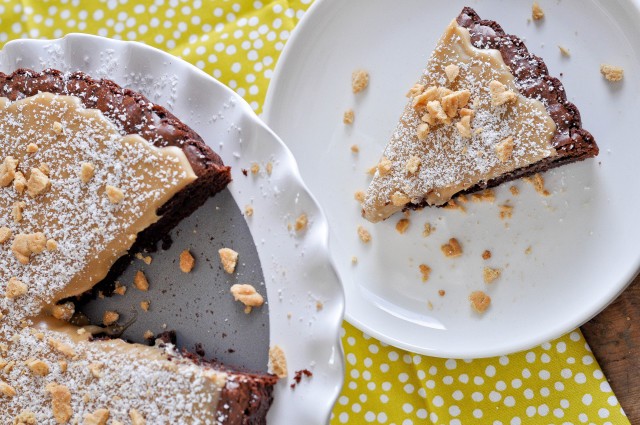 I've found that ganache is really much simpler when made in the microwave – while it's not a big deal to make it on the stove top, it's really very easy this way, too.  I pour my cream into a medium-sized glass bowl and nuke it for just a minute or so, until the cream is very hot but not quite boiling.  Immediately pour the chocolate into the hot cream and let it sit for a minute – once the heat begins to melt the chocolate, just stir constantly for a couple of minutes and you'll have a beautiful, smooth ganache with half the effort, and half the dishes.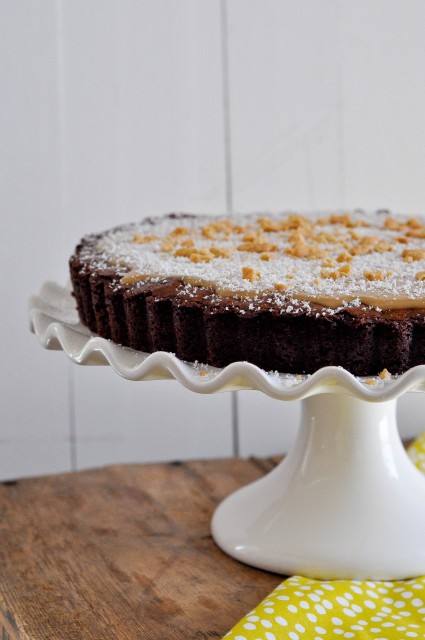 I hope you enjoy the recipe!  Thank you again, for coming by my page and taking a few minutes to check out what's going on in my kitchen.  I can't tell you all enough how much I appreciate you!
The best way I know how to thank you all for your continued support is to again sponsor a fabulous giveaway for my readers.  Since a lot of the recipes I feature here at Lemon Sugar utilize a stand mixer, I thought I'd give you all another opportunity to win one!  I'm offering a 5-quart KitchenAid Mixer in your choice of colors. You can find the entry form down at the bottom of this post.  Good luck, and thanks again for stopping by today!  ♥
Brownie Tart with White Chocolate Biscoff Ganache
This easy brownie tart topped with a creamy Biscoff cookie-butter ganache is perfect for entertaining or just a weeknight dessert. Enjoy! Recipe source: Lemon Sugar original. Brownie recipe adapted from My Baking Addiction
Ingredients
1 brownie mix, 8x8 size (or use half of this recipe)
6 ounces white chocolate, chopped
½ cup heavy cream
½ cup Biscoff Spread
2 Biscoff Cookies, crumbled for garnish (optional)
Grated white chocolate for garnish (optional)
Instructions
Prepare tart pan with a generous application of cooking spray.
Prepare brownies according to package or recipe directions.
Cool brownies completely.
In a medium sized bowl, heat cream in microwave until steaming hot but not boiling (about 1 minute)
Pour chopped white chocolate into hot cream, and allow to sit for 1 minute.
Gently stir chocolate until it begins to melt.
Add Biscoff Spread, and stir until chocolate is completely melted and smooth.
Allow to cool for 3 minutes, then pour over cooled brownie.
Garnish with crumbled Biscoff cookies and grated white chocolate, if desired.
Enjoy!
a Rafflecopter giveaway
0
leave a comment your way - using facebook or disqus: