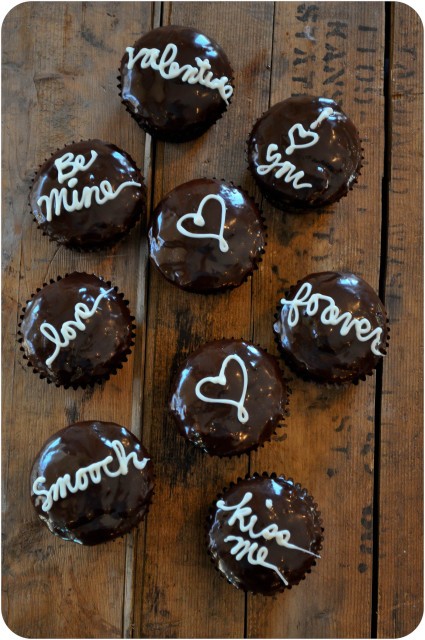 Wizard of Oz.  The Grinch Stole Christmas.  Wizard of Oz.  The Grinch Stole Christmas.  WIZARD OF OZ WIZARD OF OZ WIZARD OF OZ.
My three year old is on a kick. She only wants to watch WIZARD OF OZ and THE GRINCH STOLE CHRISTMAS.
Over and over and over.  And over.  And over.
She doesn't really even watch them.  She insists that I start the movies and then she walks away and plays.  If I attempt to turn them off, she screams.  And cries.  You guys, she's not even watching them.  She's usually in the other room playing with her baby dolls.  Or drawing.  Or coloring.  You know that song that the "Whos" sing in The Grinch?  This one:
Cute little song, right?  Not the nine bazillionth time.  Nope.  Not one little bit. Know what else isn't cute anymore?  This:
I needed some serious kitchen therapy.  So, at nap time, I hid the Kindle (what she watches her movies on lately) and turned off the TV.  And then, I made these.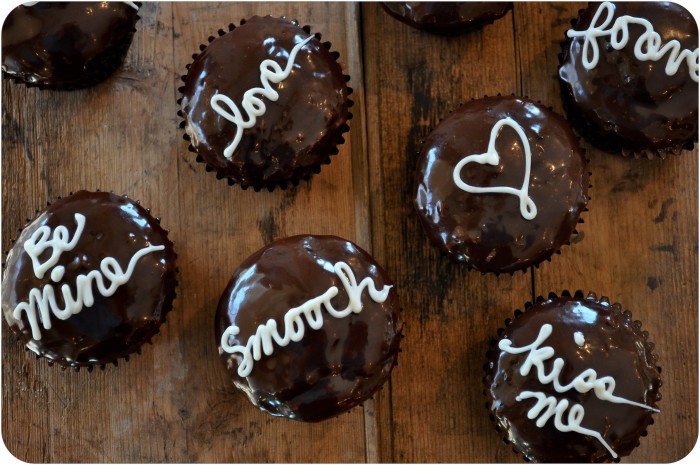 For two lovely, quiet hours I made cupcakes.  I baked, I glazed, I decorated, in perfect silence.  It was fabulous.  Incidentally, these cupcakes are also fabulous.
I've made Martha Stewart's one-bowl chocolate cupcakes many times before.  They're great because they are sturdy enough to stand up to frosting, but they're not heavy and dense, either.  Normally I'd use a semi-sweet or dark chocolate for my glaze, but today I felt like milk chocolate – total win.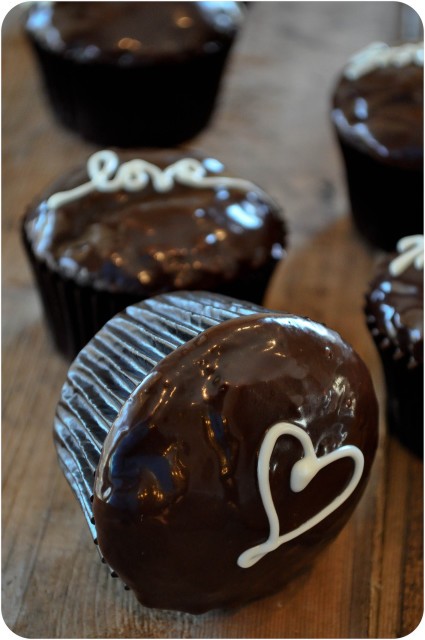 I will say that this ganache recipe was stickier than I'd like – next time I'll probably just use the recipe from my Fauxstess cupcakes – it's much easier to work with, and isn't quite as shiny and glossy.  Normally, shiny and glossy is a good thing for ganache, but today it was kind of a pain in the neck.
You are definitely going to want to invest in a small piping bag and a super-small writing tip for these.  I used a small tip, but probably should've gone one smaller – it's pretty difficult to write small enough to fit the longer words and phrases on top of a tiny little cupcake.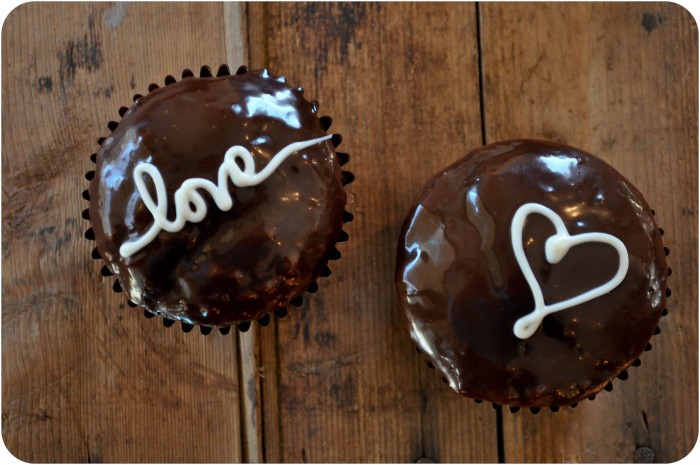 My favorite cupcakes?  The Love cupcake and the ♥ cupcake.  Simple and easy, and way cute…perfect for Valentine's Day!
And seriously, don't tell Mia where I hid the Kindle.  It's not going to be pretty when she wakes up.
Hope you love these!
Valentine Love Letter Cupcakes
These adorable chocolate cupcakes are topped with a decadent chocolate glaze and adorned with love notes - perfect for your Valentine! Recipe source:
Martha Stewart
Ingredients
For Cupcakes:
¾ cup unsweetened cocoa powder
1½ cups all-purpose flour
1½ cups sugar
1½ teaspoons baking soda
¾ teaspoon baking powder
¾ teaspoon salt
2 large eggs
¾ cup warm water
¾ cup buttermilk
3 tablespoons safflower oil (I used canola instead)
1 teaspoon pure vanilla extract
For glaze:
⅔ cup heavy cream
8 ounces chopped chocolate (I used milk chocolate today)
2 Tablespoons light corn syrup
For writing decoration:
4 ounces melted white chocolate
Instructions
For cupcakes:
Preheat oven to 350 degrees.
Line standard muffin tins with paper liners; set aside.
Sift together cocoa powder, flour, sugar, baking soda, baking powder, and salt into a large bowl.
Add eggs, warm water, buttermilk, oil, and vanilla, and mix until smooth, about 3 minutes. Scrape down the sides and bottom of bowl to assure batter is well mixed.
Divide batter evenly among muffin cups, filling each ⅔ full.
Bake until tops spring back when touched, about 20 minutes, rotating pan once if needed. Transfer to a wire rack; let cool completely.
For glaze:
Heat cream in a small saucepan over medium heat until steaming hot but not boiling.
Place chocolate and corn syrup in a small bowl.
Pour hot cream over chocolate mixture, and stir until smooth. Use immediately.
For decoration:
Dip tops of each cupcake in chocolate glaze, letting excess drip off.
Let stand until set, about 30 minutes.
Fit a pastry bag with the smallest plain round tip.
Fill bag with melted white chocolate, and use to write on cupcakes.
Decorated cupcakes will keep, covered, for up to 2 days.
0
leave a comment your way - using facebook or disqus: