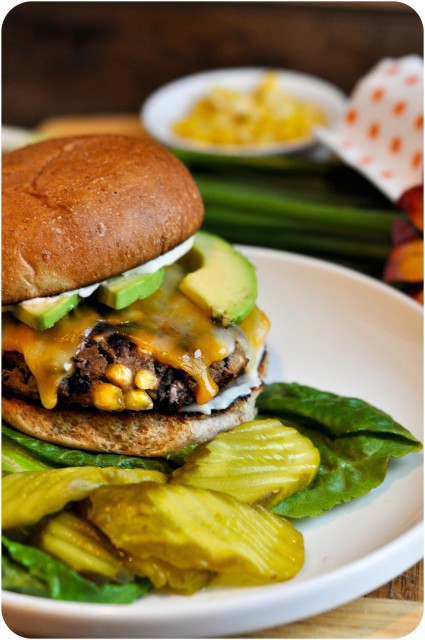 I'm pretty sure I'm driving everyone in my life crazy right now.  I've been on a meatless, vegetarian diet-kick for several weeks.  I have my reasons, and I really don't know where this new lifestyle will lead me.  I'm not even sure if it is a lifestyle yet.  Maybe it's just a phase.
Either way, I'm from Kansas.  I can FEEL people rolling their eyes at me when I turn down meat dishes.  But that's okay.  Because I get to eat things like this spicy black bean burger and it makes me perfectly happy.  Giddy, in fact.
Seriously…giddy.
I'm that girl.
I'm also the girl who got mad at her husband last night because she went into the pantry to gather ingredients to make this spicy black bean yumminess and discovered there were no more black beans.  Guess who ate them?  He did.  Guess who didn't tell me he ate all the black beans when he knows full well that I'm obsessed with spicy black bean burgers right now?  He didn't.
That's why I got mad at him.
He loves me.  Really.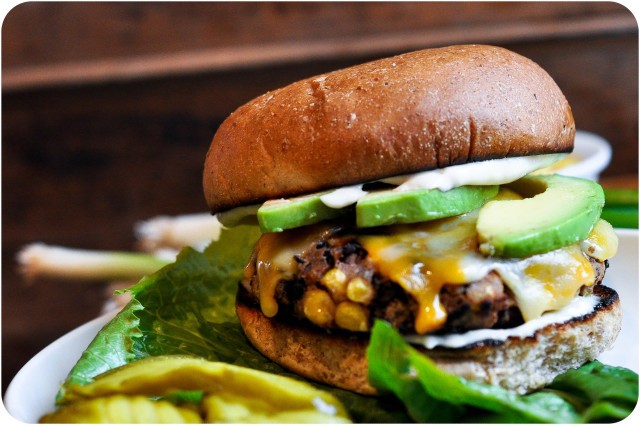 So, these burgers are way easy.  They take just a few minutes to throw together, form into patties and saute in a non-stick skillet.  You can add or omit ingredients as you see fit – sometimes I replace some of the breadcrumbs with flax seed, sometimes I add green chilies or roasted red peppers.  Sometimes I like them extra spicy and throw and extra jalapeno in there.  You want to keep the mixture relatively dry so it forms nice patties, so keep that in mind when you go experimenting.
The spicy horseradish mayo is the perfect topping, and is best SLATHERED all over your buttered, toasted buns.  You could even replace the mayo with Greek yogurt if you're trying to be extra healthy.  Whole wheat, organic buns are just hearty enough to stand up to all of this goodness, and of course, what's a burger without melty cheddar cheese?
Do it.  Even your biggest meat eaters will love this one.
Enjoy!
Spicy Black Bean Veggie Burgers
Spicy black burgers are not only full of hearty flavor, they're also good for you! Perfect for a weeknight meal, these can be made start to finish in just about 30 minutes. Enjoy!
Ingredients
For burger patty:
2 (15 ounce) cans black beans, rinsed and drained
1 jalapeno, seeds removed
2 eggs
2-3 Tablespoons tomato paste
½ cup bread crumbs
½ cup corn kernels (defrosted and drained if using canned or frozen)
1 teaspoon dried, minced onions
2 green onion stalks, chopped
½ teaspoon ground cumin
½ teaspoon garlic powder
1 teaspoon kosher salt
½ teaspoon black pepper
several dashes of hot sauce, to taste
For horseradish mayo:
½ cup mayonnaise
2 teaspoons creamy horseradish
2 dashes hot sauce (to taste)
For assembly:
6 hamburger buns
6 slices cheddar cheese
Sliced avocado
Instructions
For burgers:
In a large bowl, pour rinsed and drained black beans and mash with a potato masher until ¾ of the beans are smashed.
Add chopped jalapenos, tomato paste minced onion, cumin, salt, pepper, hot sauce, green onions and corn kernels. Mix well.
Add egg and bread crumbs. Stir until mixture comes together.
Form into six patties.
Heat a non-stick skillet to medium heat. If desired, drizzle some olive oil on to the hot pan.
Cook patties three at a time, for 3-4 minutes on each side.
After flipping, add sliced cheddar cheese to top of burgers. Tent a piece of aluminum foil over the pan to encourage melting.
Cook remaining three burgers. Store burgers in a warm oven or under foil until ready to eat so they remain warm.
Horseradish mayo
Stir together creamy horseradish, hot sauce and mayo until smooth. Taste, and add additional horseradish or hot sauce if desired.
Assembly:
Butter each side of hamburger buns. Grill the buns on the heated skillet until just toasted.
Spread horseradish mayo on each side of the bun.
Top with burger. Top with lettuce, tomato, avocado, red onion or other ingredients as desired.
Enjoy!
0
leave a comment your way - using facebook or disqus: