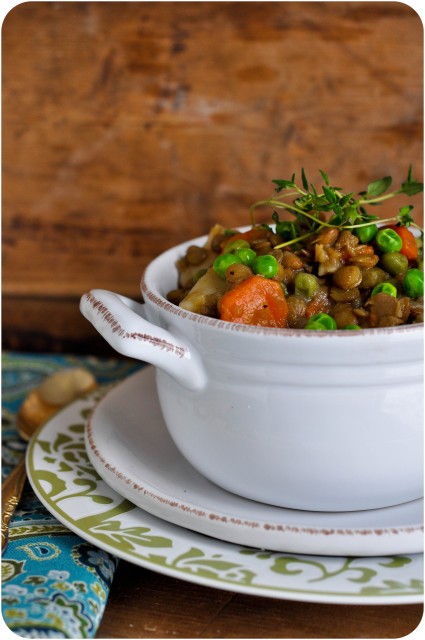 Do you know what's awesome?
Lentils.
Do you know what's more awesome?  Lentils in a thick stew with sautéed carrots, onions, celery & potatoes.
This dish is one of my very favorite things to ever come out of my kitchen.  It's not much to look at – stews never are – but the mirepoix (the aromatic base of the stew made from carrots, onions, and celery) is a fantastic foundation for this stew.  I added some potatoes and sweet peas and this was better than the best beef stew I've ever had.  Minus the beef, of course.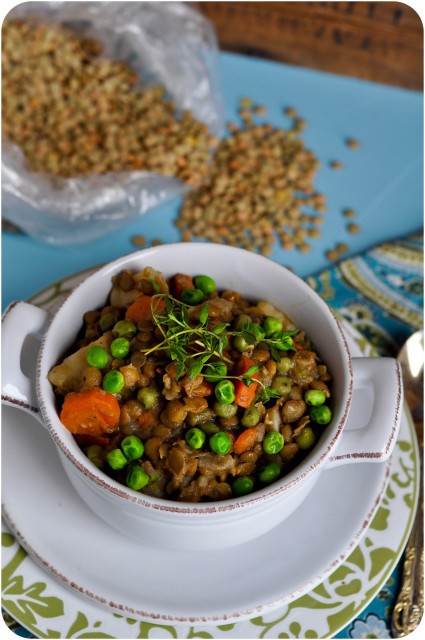 Have you ever had lentils?  If not, please go out and buy some right away.  They are SO, SO good for you.  They're part of the legume family, packed with fiber and protein and have even been called one of the five healthiest foods on the planet.
Plus, they're yummy.  And, they're healthy.  AND, my three-year-old loves them.  Win, win, win.
Oh, did I mention that they are super inexpensive, too?  I bought four pounds of them for just under five dollars – and this recipe uses just under a pound of them.  Am I making my case for them yet?  Go out and buy them, now!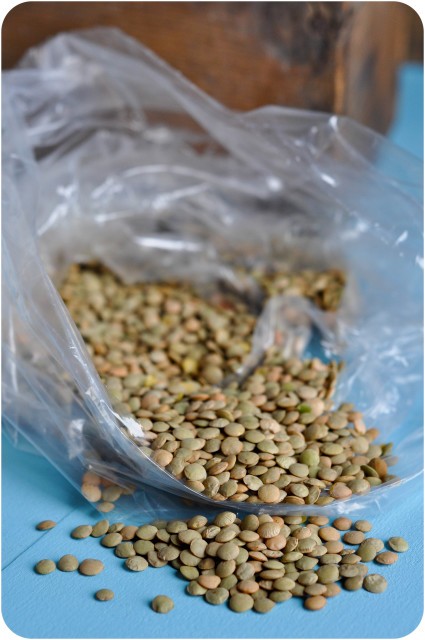 You can get this meal on the table in just about an hour with only a few minutes of hands-on time.  Paired with a nice crusty bread, it's a perfect weeknight meal.  If you aren't into the stew thing, you could add some extra vegetable stock and thin it out to a soup consistency.  If you aren't into the lentil thing, it's just because you haven't tried this recipe yet.  For reals.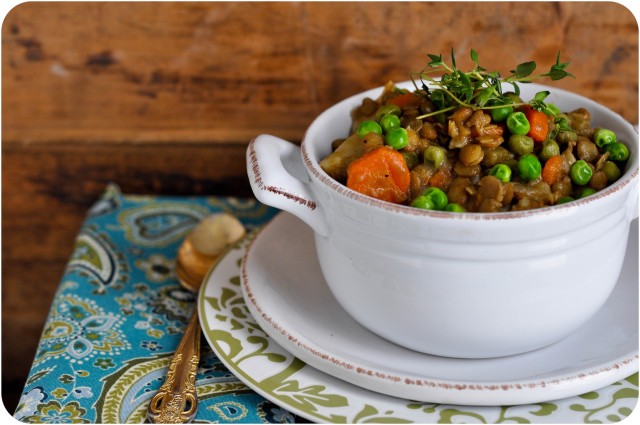 Give 'em a go and let me know what you think.
Enjoy!
Lentil & Vegetable Stew
Hearty and healthy lentil soup will warm you up without the guilt of traditional comfort food. Best served with a crusty bread and a warm evening! Enjoy! Recipe source: Lemon Sugar original
Ingredients
2 cups dry lentils, washed
2 large carrots, chopped
1 large russet potato, chopped
2 yellow onions, chopped
2 ribs celery, chopped
1 cup frozen peas
8 cups vegetable (or beef or chicken) stock, low sodium
3 Tablespoons olive oil
3 Tablespoons unsalted butter
½ teaspoon garlic powder
¼ teaspoon paprika
1 teaspoon kosher salt
1 teaspoon black pepper
Instructions
Chop carrots, onion, celery and potato into ½ inch pieces. All vegetables should be cut into similar sized pieces so they cook evenly.
Wash and drain lentils.
In a large dutch oven, heat olive oil and butter until butter melts.
Saute onions, celery, carrots and potatoes until onions are soft and translucent, about 5 minutes.
Add lentils, vegetable stock, salt, pepper, garlic powder and paprika.
Simmer for 30-45 minutes or until lentils are tender. Add additional stock or water if needed.
Once lentils are tender, add frozen peas and simmer 5 minutes more.
Serve with crusty, buttered bread.
Enjoy!
0
leave a comment your way - using facebook or disqus: