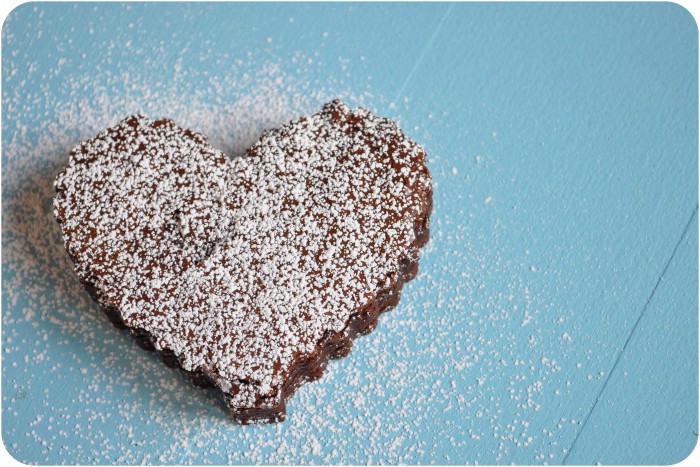 Brownies have to be one of my all-time favorite deserts.  I mean, for one thing, they're chocolate.  They're sweet, soft, and are just begging for a scoop of vanilla ice cream or a tall glass of cold milk.  There's just not much better than that.
Unless you're one of those people who don't like chocolate.  If that's the case, I can't imagine how you landed on my little blog – but anyway, have you had your head checked lately?  You don't like chocolate?   Are you sure?  Are you just saying that for attention?  😉
I kid, I kid.
Kind of.
Not really.  Seriously, get your head checked.  It must be broken.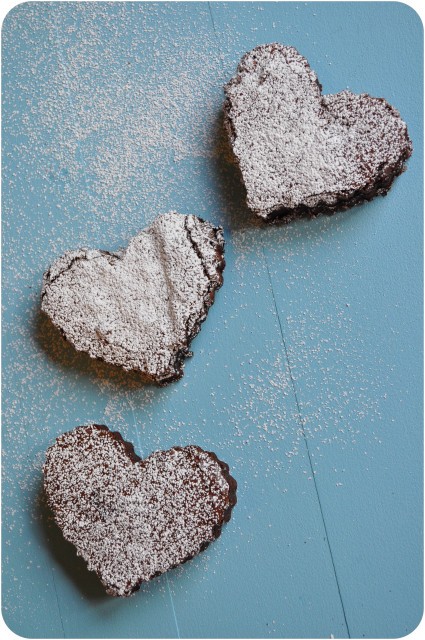 My dear husband and I have been spending the first week of the new year on a juice detox.  We've had nothing but fresh, organic, raw fruit and vegetable juice.  For a week.
A week is a long time in raw-fruit and veggie land.
But now we're back, and I'm sad to say that I didn't learn much from my little fast except that brownies always sound way better than spinach-kale-apple-carrot juice.
I'm not bad-mouthing my juice detox.  For reals, I'm not.  I'm just really, really happy about these brownies.  Even though I just had a teeny-tiny bite, I'm still really, really happy to have them in my life…and if these are the reward for a week of juice detoxing, well – sign me up for another week.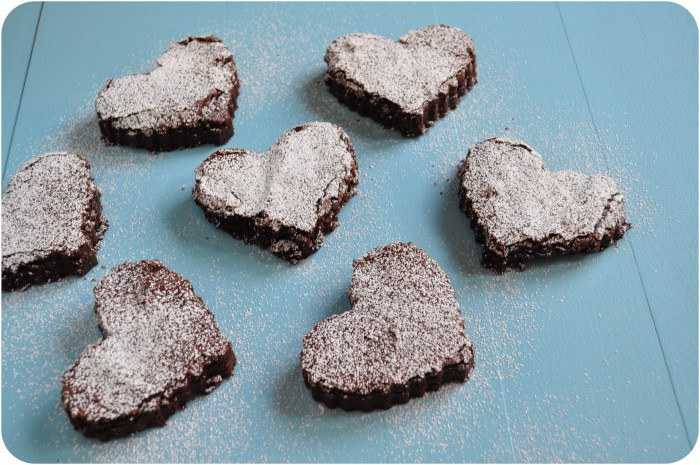 Here's the other thing about these little guys:  they're so, so easy.  If you can melt butter and stir stuff together, you can do this.  It's just a matter of melting the butter and chocolate together and then stirring it all in a big bowl.  EASY.  No harder than making it from a box, and they taste a gajillion times better.
You could easily halve the recipe if you don't have a half-sheet pan, just use a 9×13 pan instead.   If you don't want to cut out hearts, no biggie, just cut them into regular brownie squares.  Because I was going to use a cookie cutter, I omitted the walnuts from this recipe, but nuts would be a welcome addition to this recipe.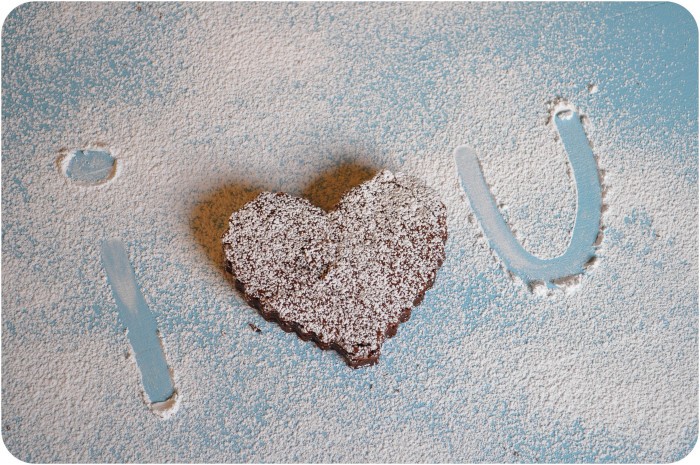 And, the name?  Why, "I Love You" Brownies?  'Because they are the perfect little treat to tell someone you love them – and they'll know you mean it.  They're perfect Valentine's Day goodies, too.  And pretty much anyone you give them to will love you forever!
Enjoy!
I Love You Brownies
Serves:
10 large hearts, or 48 small brownies
Ingredients
8 ounces bittersweet chocolate, chopped
8 ounces semi-sweet chocolate, chopped
2 cups (4 sticks/32 Tbs) unsalted butter, softened
4 teaspoons vanilla extract
8 eggs at room temperature
5 cups sugar
1 teaspoon salt
2 cups all-purpose flour
2 cups chopped walnuts (optional)
Instructions
Preheat oven to 350 degrees (F).
Prepare a half sheet pan by lining with parchment paper and spray with cooking spray.
In a medium sized, heavy bottomed sauce pan, melt butter over low-medium heat.
Add chopped chocolate to melted butter. Stir constantly until chocolate is melted.
Remove from heat, and allow chocolate to cool slightly.
Meanwhile, whisk together vanilla, eggs, sugar and salt in a large bowl.
Add the chocolate, and stir to combine completely.
Add flour, and fold together until just combined.
If using, fold in walnuts.
Pour batter in prepared pan.
Bake 45-55 minutes or until top looks dry and cake tester comes out just clean. Don't over bake.
Let brownies cool completely.
Using a large heart cookie cutter (about 3"), cut hearts out and remove from sheet pan.
Using a fine mesh strainer, liberally dust with powdered sugar.
Enjoy!
0
leave a comment your way - using facebook or disqus: