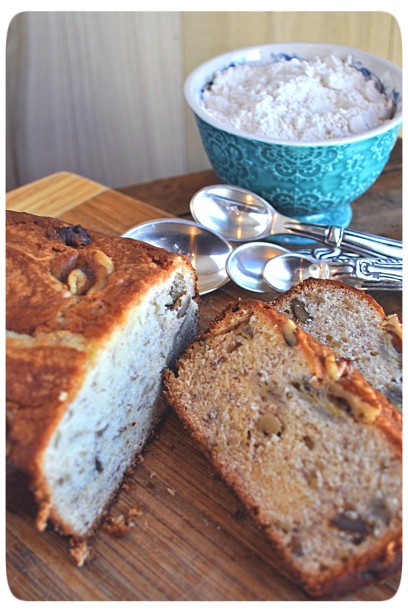 I have to say that I'm a bit relieved that the holiday season is over.  The last six weeks have been a total blur.  Shopping, parties, planning, cleaning, baking, wrapping (oh, the wrapping…).
I'm ready for a nice, quiet, boring month.  I'm ready to get back to our normal schedules, normal nap and bed times, and normal food.
Except that we just received a Cuisinart Juicer for Christmas.  So if normal food consists of apple/carrot/ginger juice, we're golden…but don't you worry, I'm sure you'll hear more about our juicing adventures soon.  I have to say, I'm pretty excited about all of the fruits and veggies in my kitchen right now!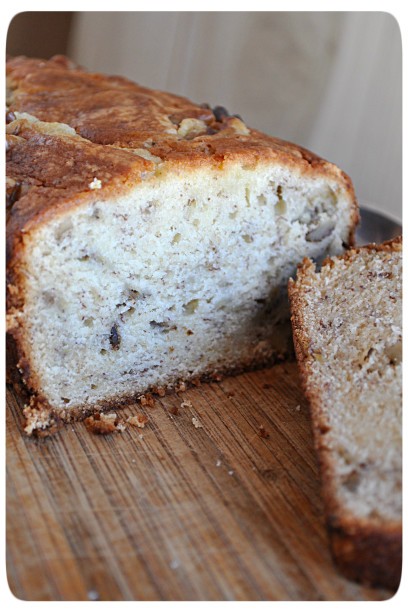 Since we have so much produce in the house, we were unable to eat of the bananas we bought before they started to turn, which around here just means one thing – banana bread!  I can't believe I've never shared my favorite recipe with you all.  If you love banana bread, this one is a treat.  It's very cakey, slightly dense but tender and soft.  I like to leave my bananas a little bit chunky so you can see them throughout the bread.  Sometimes I add a pinch of cinnamon or mini chocolate chips, and sometimes I top it with a little bit of an orange-zest glaze, but today I'm leaving it in its natural state.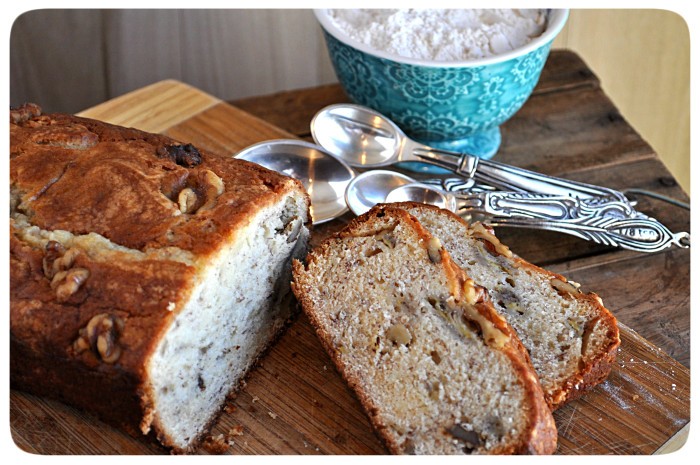 For all of my friends out there who say they can't bake?  YOU can bake this.  It's an easy, 10 minute prep.  Make sure you have fresh baking soda and fresh baking powder (it really does make a huge difference) and you can have some fresh-baked goodies in no time.
Enjoy!
Cream Cheese Banana Nut Bread
This easy quick bread has a great banana flavor. With the tender, cake-like crumb and the generous amount of banana and nuts, this is sure to become a family favorite. Recipe source:
Southern Living via Sugar & Spice by Celeste
Ingredients
¾ cup (1 and ½ sticks) unsalted butter, softened
8 ounces cream cheese, softened
2 cups sugar
2 large eggs at room temperature
3 cups all-purpose flour
½ teaspoon baking powder
½ teaspoon baking soda
½ teaspoon salt
1½ cups mashed bananas (about 4 medium bananas)
1 cup roughly chopped pecans or walnuts, toasted
1 teaspoon vanilla extract
Instructions
Preheat oven to 350 degrees (F).
Prepare two 8x4 loaf pans with cooking spray, and set aside.
In a small bowl, combine flour, baking powder, baking soda and salt.
In a large bowl, (or stand mixer), beat together butter and cream cheese until well combined and light and fluffy.
Add sugar and vanilla, and beat until just combined.
Add eggs one at a time, beating to combine after each addition.
Add flour addition, and beat until just combined. Don't over beat.
Add bananas and nuts. Stir to combine.
Divide batter into two loaf pans.
Bake on a middle rack for 55-75 minutes or until a cake tester comes out mostly clean. You might have to cover the tops with foil at the 45 minute mark to prevent over-browning.
Cool on a wire rack in the pans for 10 minutes.
Remove from pans and allow to cool for 30 minutes before serving.
To store, wrap loaves tightly in plastic wrap and keep at room temperature for up to 3 days.
Enjoy!
Oh, wait?  You want to know the winner for the KitchenAid stand mixer?
Congrats to Leesa Christopher!  Leesa, look for an email from me and please reply with your choice of color.  Thanks to everyone who entered, and stay tuned for another giveaway around Valentine's Day.  ♥
1
leave a comment your way - using facebook or disqus: