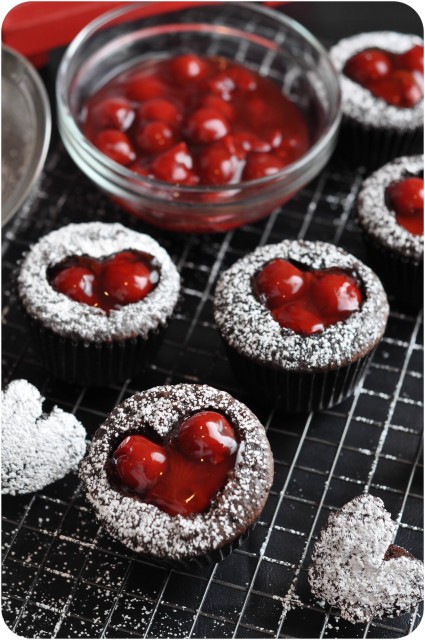 I think this might be the last Valentine's Day treat on the blog this year.  I think I'm ready for the next holiday.
Okay.  Actually, I'm really just saying that to convince myself that I'm over the treats because I'm starting my second juice fast in a couple of days.
Don't get me wrong, I love juicing.  Maybe I'll do a little blog series on it soon.  It's interesting, the juice is pretty tasty and it's way healthy and good for you…but clearly, there are no cupcakes involved.  And did you know that wine is NOT considered juice?  Can someone explain that to me?  I mean, wine is made from grapes, yes?  Uh, haven't the juice people ever heard of GRAPE JUICE?  I'll let you know when I get to the bottom of this mystery.
Seriously though, I actually have a couple of Valentine's recipes that I'm dying to share with you, so next week while I'm juicing, I'll also be baking up a storm (wine-free, apparently) and torturing myself.  'Cause I love you guys.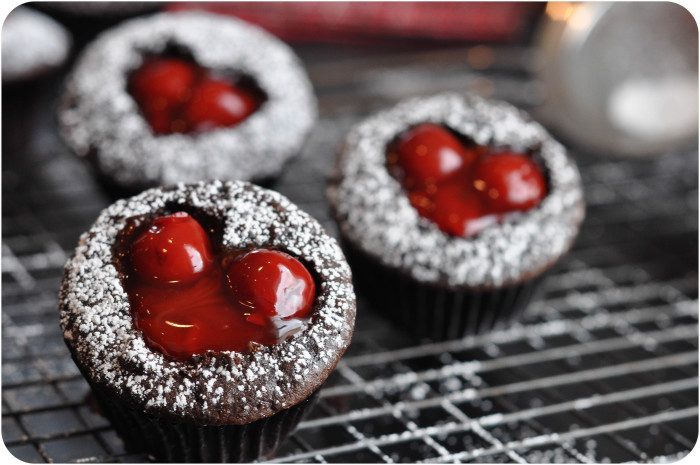 So, these cupcakes – they're my cupcake interpretation of a cherry cordial candy.  Dark chocolate cake filled with dark chocolate ganache and cherry cordial cream, then topped with cherries.  Because it's nearly Valentine's Day, I went with a heart cut-out, but for a non-heart holiday, you can just cut a circle shape.  Cute either way.  I just used a knife and cut the tops out by hand, but if you have a small heart cookie cutter, that would definitely save you some time.
Ideally, you'd make the ganache the day before so you can allow it to thicken in the refrigerator overnight, but it's not necessary.  I used a piping bag to fill the hearts with chocolate, and then spooned copious amounts of the cordial cream over the chocolate.  The cream kind of soaks into the cupcake and makes it ultra-moist, which is definitely a good thing.
Make sure you use dark chocolate.  Cherry cordials are best with a dark or semi-sweet chocolate to offset the sweetness of the cherries, so the darker the chocolate the better.  Homemade cherry pie filling is ideal for the topping, but store bought definitely works, too.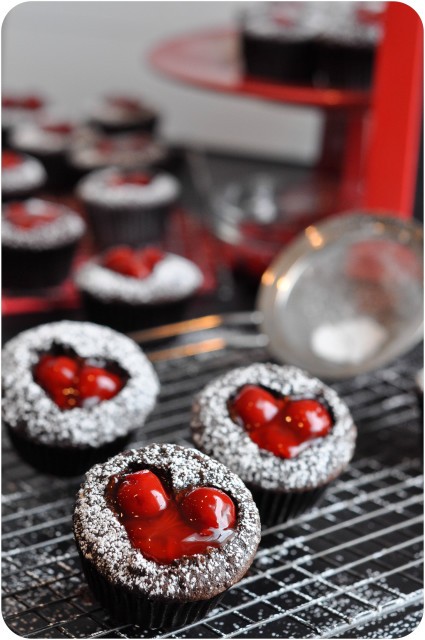 Before you fill them, sprinkle them with a liberal flurry of confectioners sugar.  'Cause it's pretty.
Hope you love them.  Scroll down and leave me a comment so I know you were here!  I ♥ comments!
Enjoy!
Cherry Cordial Cupcakes
The cupcake version of a traditional Valentine's Day candy - the cherry cordial! Dark chocolate cake filled with dark chocolate ganache, cordial cream and topped with sweet cherries. Enjoy!
Ingredients
Cupcakes:
2 cups sugar
1 and ¾ cups all-purpose flour
¾ cup dark cocoa powder
1 and ½ teaspoon baking powder
1 and ½ teaspoon baking soda
1 teaspoon of salt
2 eggs
1 cup buttermilk
1 teaspoon vanilla extract
½ cup vegetable oil
⅔ cup of boiling water
Dark Chocolate Ganache Filling:
8 ounces dark chocolate, chopped
⅔ cup heavy cream
2 Tablespoons light corn syrup
Cordial Cream Filling:
½ cup confectioners sugar
4 Tablespoons heavy cream
1 teaspoon maraschino cherry syrup (optional)
Cherry Filling
Instructions
Cupcakes:
Preheat oven to 350.
Prepare two 12-cup cupcake tins with paper liners. Set aside.
In the bowl of your electric mixer whisk together your dry ingredients.
Add buttermilk, oil, eggs, vanilla and beat on medium/low speed for 2 minutes.
Stir in boiling water by hand.
Fill cupcake papers ½ to ⅔ full, and bake for 18-22 minutes or until a cake tester comes out clean. Do not overbake.
Remove from pans immediately and allow to cool completely on a wire rack before filling.
Ganache filling:
In a small glass bowl, heat cream and corn syrup in microwave until steaming hot but not boiling, about 60 seconds.
Pour chopped chocolate into hot cream, and allow to sit for 60 seconds.
Stir until chocolate is completely melted and smooth.
Refrigerate ganache for 24 hours or until thickened (optional)
Cordial cream:
Combine milk, cherry syrup and confectioners sugar in a small bowl, and stir until well combined and smooth.
Assembly:
Cut a 1-inch deep well out of the top of each cupcake. You can use a small cookie cutter or a sharp paring knife.
Sprinkle confectioners sugar over the top of each cupcake.
Spoon or pipe a dallop of cooled ganache into each well.
Spoon a generous spoonful of cordial cream over the chocolate.
Spoon 1-3 cherries and glaze on the top of each well.
Store in an airtight container for up to 3 days, refrigerated if possible.
Enjoy!
Notes
Prep time excludes ganache chill time.
4
leave a comment your way - using facebook or disqus: