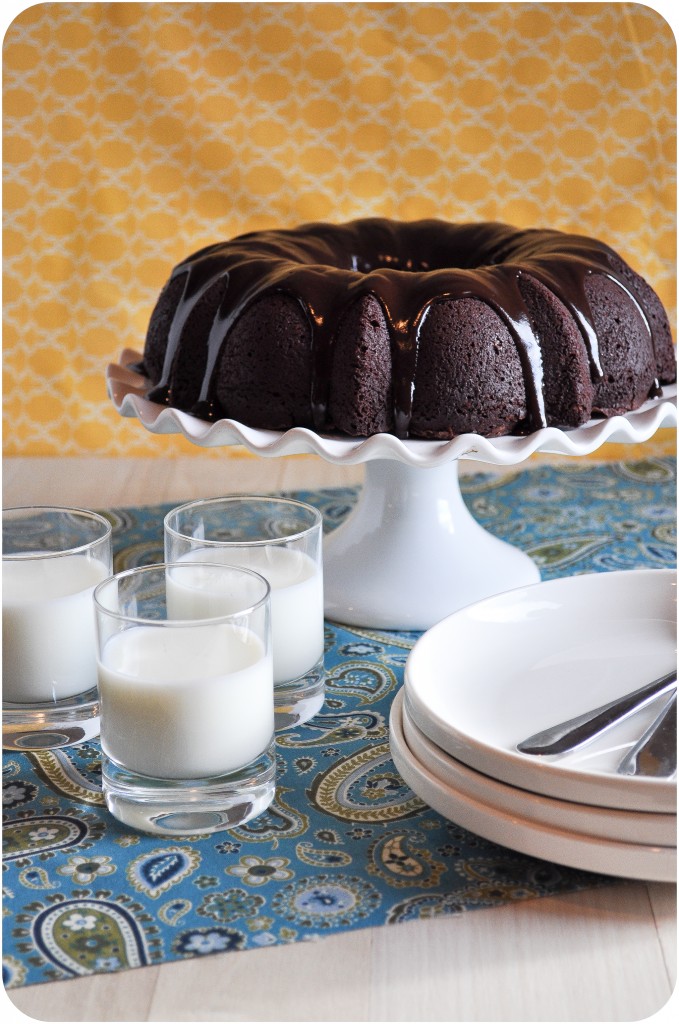 I think I've met my chocolate match.  As you probably know by now, I am a definite chocolate fan.  I prefer the chocolate version of almost everything (except ice-cream – that has to be vanilla or mint) and I will never, ever turn down a piece of good chocolate cake.
But this cake?  I got two bites in and I needed some milk.  It's so rich, dense and over-the-top chocolatey that even I couldn't go all-in. Not to worry, a glass of cold milk and I was back in the game, but holy cow.  Chocolate overload.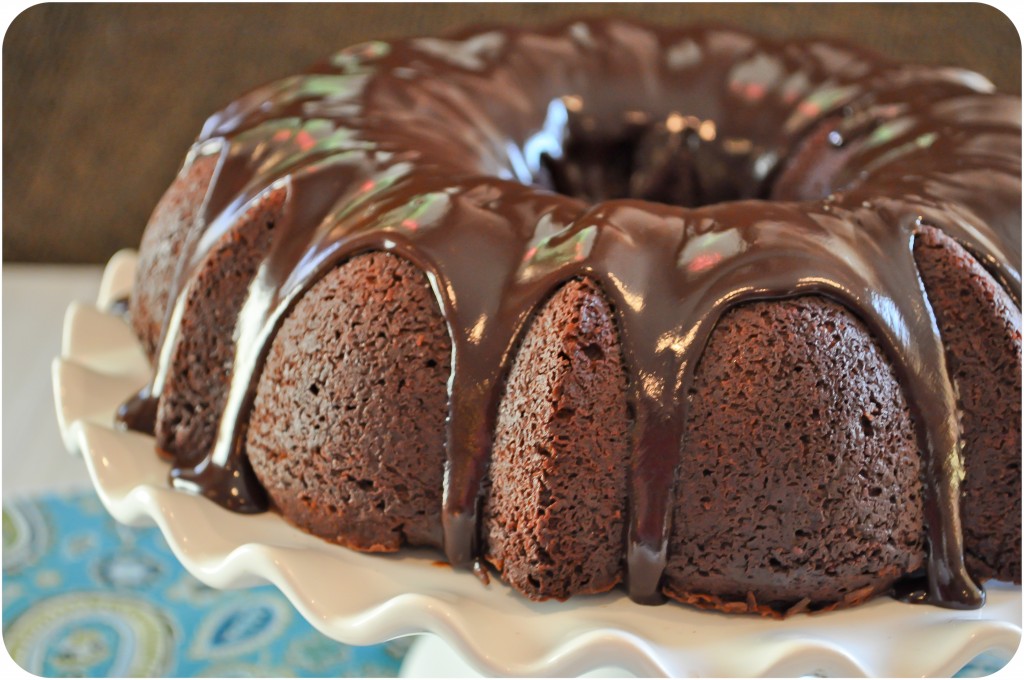 I've been reading about this cake for many years now in the Cook's Holiday Baking magazine, but it's just one of those recipes that kept falling through the cracks and never made the cut.
I will not overlook it again – this is a show-stopper and deserves priority attention.  Plus, it's way easy and Cook's offers a no-fail tip to prevent your bundt cake from sticking – which has always been my hesitation in whipping up bundt cakes in the past.  That awful moment when you flip your beautiful cake onto a plate just to have half of it break off and remain in the pan has practically reduced me to tears more times that I can count…
The trick is to create a paste with equal portions of melted butter and either flour or cocoa powder, and then generously brush every single crevice of the bundt pan with the paste – and it worked like a charm.  It came out perfectly.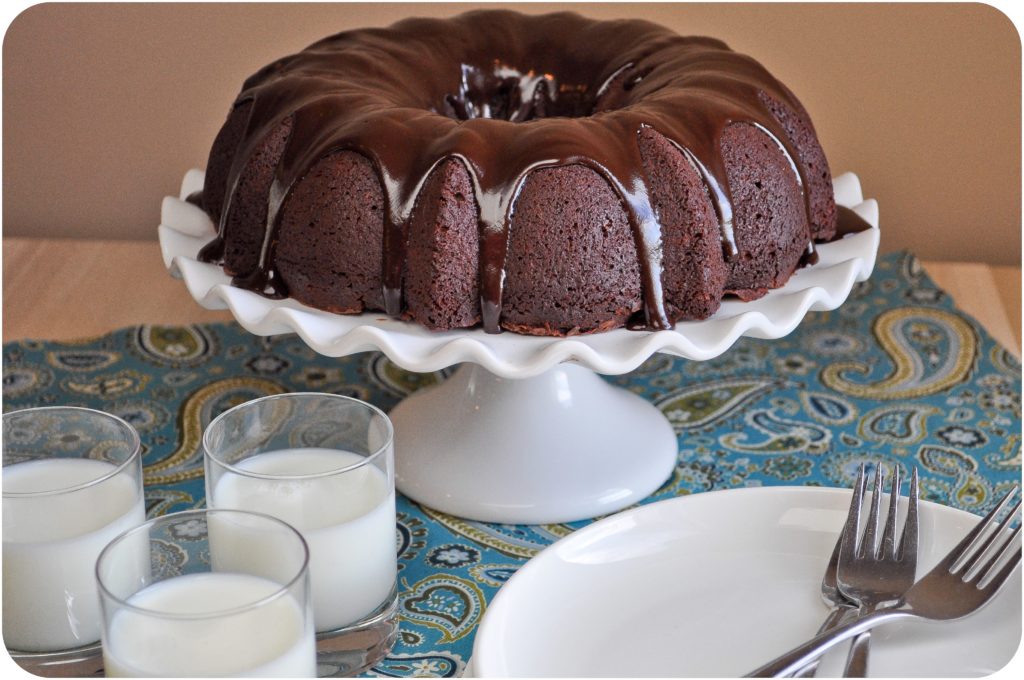 Apparently, this is a classic cake from the 1960's that used to require the addition of a now-extinct Pillsbury frosting mix.  Cook's made it their mission to replicate the beloved recipe and even though I've never had the original version, this is definitely a winner.  The name comes from the molten "tunnel" of fudgy-chocolate that circles the inner portion of the cake.  Then it's topped with an amazing fudge ganache, that I seriously could've eaten with a spoon.
I do admit that I replaced the bittersweet chocolate with semi-sweet chocolate – mostly because I didn't have enough bittersweet chocolate in the pantry today – and it was still awesome.  It's probably a smidge sweeter than intended,  but a little extra sweetness can't hurt, right?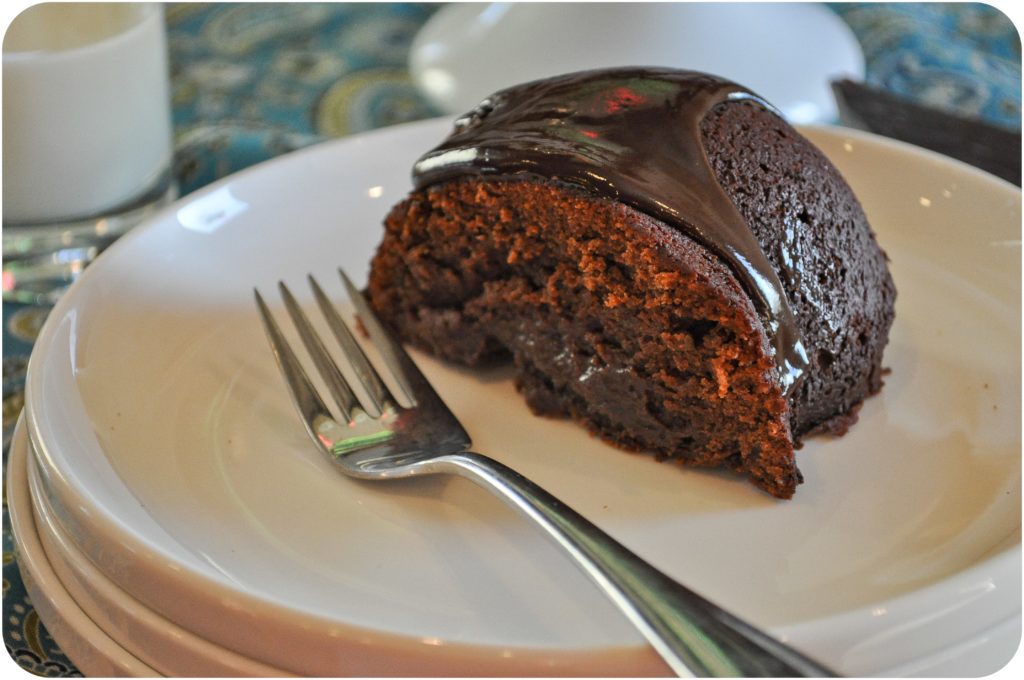 Hope you love it.  I'd love to hear from you, so please feel free to leave a comment below!  And as always, I invite you to Pin this recipe on Pinterest and share with your friends on Twitter and Facebook.
Enjoy!
Tunnel of Fudge Cake
A classic bundt cake for the serious chocolate lover, this cake is best served with vanilla ice cream and a tall glass of cold milk! Enjoy!
Ingredients
To prepare the bundt pan:
2 tablespoons Dutch-processed cocoa powder
2 tablespoons unsalted butter, melted
Cake Ingredients:
½ cup boiling water
2 ounces semi-sweet chocolate, chopped
2 cups (10 ounces) all-purpose flour
¾ cup (2 and ¼ ounces) Dutch-processed cocoa powder
2 cups (8 ounces) confectioners sugar
1 teaspoon salt
5 large eggs at room temperature
1 tablespoon vanilla extract
1 cup (7 ounces) granulated sugar
¾ cup packed (5 and ¼ ounces) brown sugar
20 tablespoons (2 and ½ sticks) unsalted butter at room temperature
For the glaze:
¾ cup heavy cream
¼ cup light corn syrup
8 ounces semi-sweet chocolate, finely chopped
½ teaspoon vanilla extract
Instructions
Preheat oven to 350 degrees (F).
In a small bowl, combine 2 tablespoons of melted butter with 2 tablespoons cocoa powder. Whisk or stir until smooth. Use a pastry brush to generously coat the inside of a 12-cup bundt pan. Set aside.
In a small bowl, pour boiling water over chopped chocolate. Allow to sit for one minute, then stir together to combine. Set aside.
In the bowl of a stand mixer, cream together brown sugar, white sugar and butter until light and fluffy, about 2 minutes. Scrape the sides of the bowl as needed.
Meanwhile, in a medium bowl, whisk together flour, confectioners sugar, cocoa powder and salt. Set aside. In a measuring cup, beat eggs lightly, and add vanilla.
Add egg mixture to the butter mixture. Beat on low until just combined.
Add chocolate mixture, and beat until just combined.
Scrape bowl, then slowly add the flour mixture. Beat until just combined, taking care not to over-mix.
Pour batter into prepared bundt pan.
Bake for 45 minutes, or until cake begins to pull away from sides of pan.
Cool on a wire rack for 90 minutes. Carefully invert on to serving platter.
To prepare glaze:
In a small, heavy bottomed saucepan, heat heavy cream and syrup until just bubbling.
Remove from heat, and stir in chocolate.
Continue stirring until all of the chocolate is melted, then add vanilla and stir to combine.
Allow to cool for about 30 minutes, then pour over top of cake.
Reserve extra fudge sauce for serving if desired.
Stir in an air-tight container for up to three days.
Recipe Source:  Cook's Holiday Baking, 2012
2
leave a comment your way - using facebook or disqus: