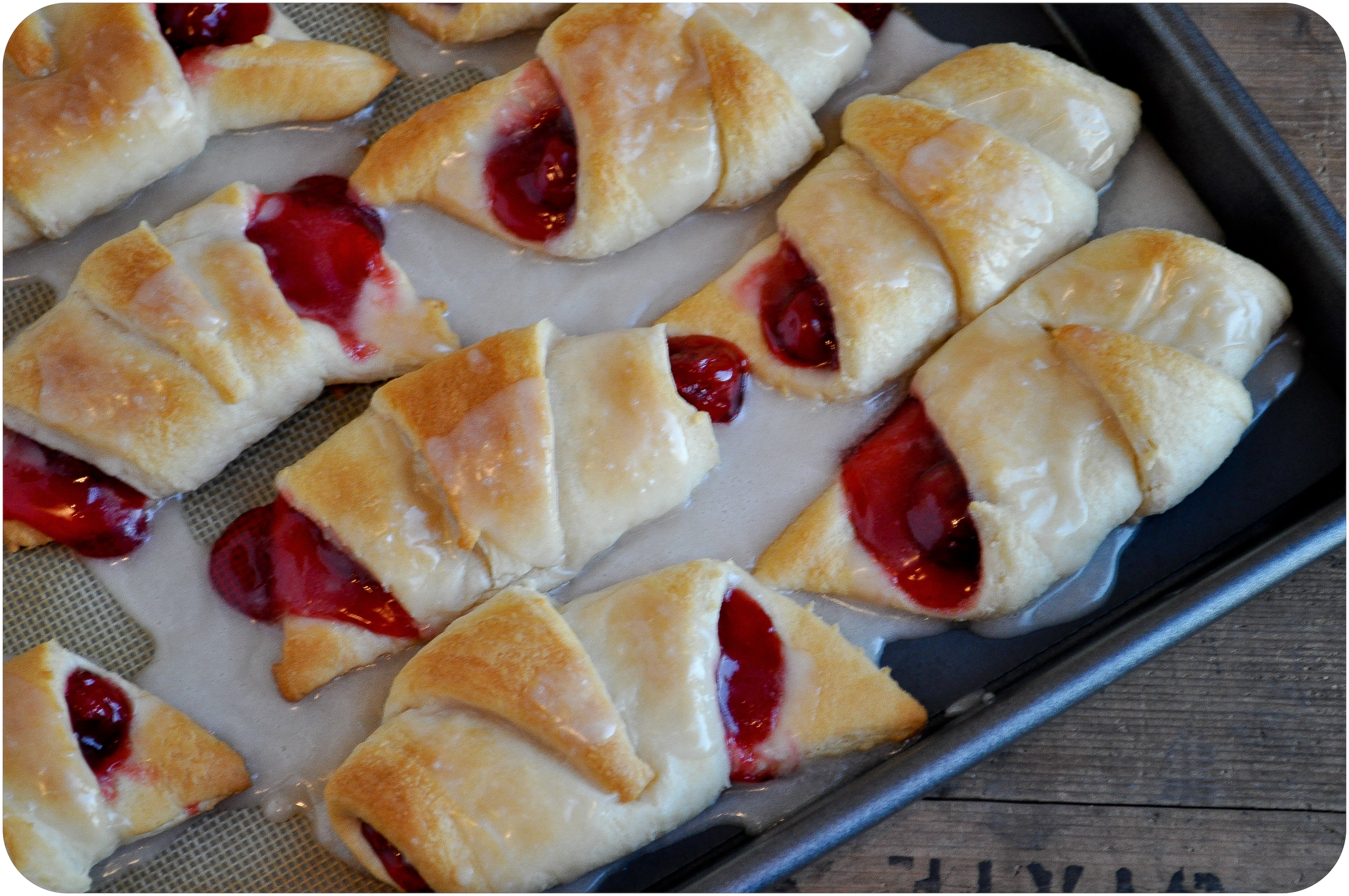 Ok, you caught me.
As you know, I'm usually a pretty big advocate for home cooking with organic and non-processed ingredients.  But sometimes, I make exceptions.  I know, you can buy these in a convenient little box, straight from your grocery store.  You can assemble, bake and eat them in under 30 minutes, but my version is just a little bit better.
Yes, I used crescent rolls from a can.  But I used a homemade, canned cherry pie filling and my own glaze, so we'll just say that these are semi-homemade.  And just semi-processed.
But, they're authentically tasty and worth making exceptions for.
Someone please validate me.  Tell me it's okay.  Canned crescent rolls have their place, don't they?  And everything in moderation – even highly processed convenience foods?  Sigh.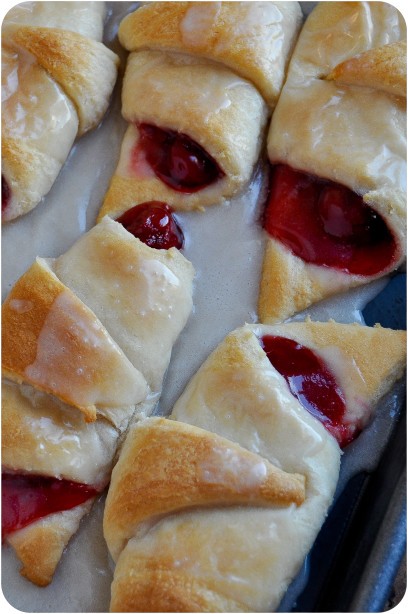 And, while I'm confessing my processed-food sins, I should just probably go ahead and admit that we've eaten these twice in the past week.  I always stock up on crescent rolls during the holidays, because let's face it – there are just too many Pinterest recipes out there that start with crescent rolls.  And they all look amazing…
If you don't have any homemade cherry pie filling, the canned grocery-store version would be fine.  Just try to buy organic if you can find it, to make me feel better.   And go ahead and make some extra glaze while you're at it…
Hope you love these!
Easy Cherry Turnovers
These sweet little breakfast pastries are not only easy to make, but they're the perfect blend of buttery pastry dough, tart cherries and sweet, creamy glaze. Enjoy!
Serves:
16 crescent rolls
Ingredients
2 cans store-bought crescent rolls
1-1.5 cups cherry pie filling
1 cup confectioners sugar
2 Tablespoons heavy cream (or milk or half & half)
¼ teaspoon vanilla extract
Instructions
Preheat oven to temperature specified on crescent roll package. (Ours was 375 degrees F).
Prepare a large baking sheet with parchment paper or a silpat mat.
Unroll the crescent roll dough and separate the triangles.
Place a heaping tablespoon or so of cherry pie filling at the wide end of each crescent roll, and gently roll it up.
Place on baking sheet, and bake according to package directions, 10-12 minutes or until golden brown.
While baking, prepare the glaze.
Combine confectioners sugar, cream and vanilla in a small bowl and whisk until smooth.
The glaze should be thin enough to coat and run off a spoon, so add more sugar or liquid as needed to achieve desired consistency.
Generously pour glaze over hot rolls, and enjoy warm.
255
leave a comment your way - using facebook or disqus: