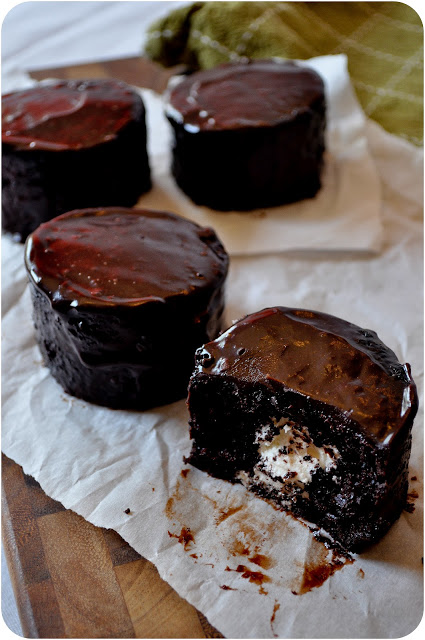 Me and my big ideas, right?  Sometimes, there's a reason that desserts are mass-produced in huge factories with their fancy ding-dong shaping machines and magical ding-dong dipping pools full of chocolate.  They probably even have their own version of Oompa-Loompas, perfectly injecting each one with just the right amount of marshmallow cream.
I just have little old me.  And a three-year-old helper – who happens to love marshmallow cream – and ALWAYS, ALWAYS manages to drop a spoon, beater or spatula dipped in the stuff on the floor.  But, before it hits the floor, it bounces off the counter top, the bar stool, her leg, her foot, the kitchen island and the dog.
Ok, in all honesty, these really weren't that hard.  They were just super time consuming and tedious. You start by baking two cakes, then allowing them to cool completely.  Then, you have to use a biscuit cutter to shape the rounds, cut cones out of the bottom of each one, fill them with cream, replace the cone and then, the hard part.  Frosting them.
It seems like you should just be able to spoon ganache over the top and let it run down.  Doesn't work.  A pastry brush works, but it picks up all of the crumbs from the cake.  So, I used my small offset spatula and hand frosted each one.
That was fun.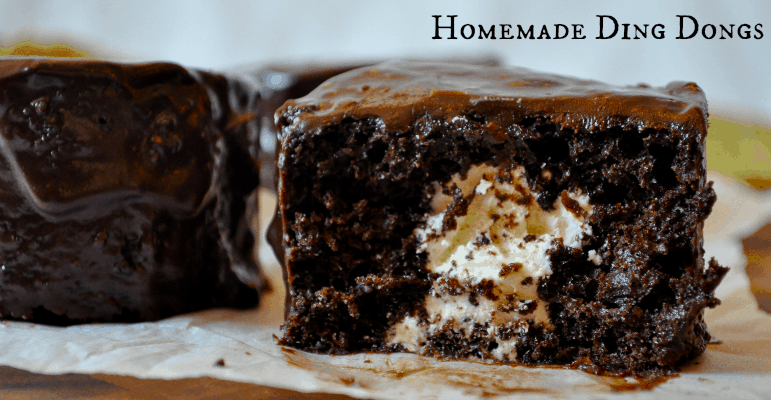 Actually, it was a little bit fun.  But I'm one of THOSE people who enjoy things like that.
Next time, I'll make a ganache that hardens completely.  This one stayed pretty soft and they were a bit of a mess to eat.  I might also frost them first and then inject the filling from the bottom after they've set up.
Live and learn. But all in all?  Worth it.  The cake is spongy and uber-moist, and the chocolate ganache cuts the sweetness of the cream filling.
Give them a try, I know you'll love them.
Enjoy!

Homemade Ding Dongs
Ingredients
Cake Ingredients:
• 1 and ⅔ cups all-purpose flour
• 1 cup unsweetened cocoa powder
• 2 cups sugar
• 1 and ⅓ teaspoon baking soda
• ½ teaspoon baking powder
• 1 teaspoon salt
• 2 ounces semi-sweet chocolate, chopped
• 1 cup hot, brewed coffee
• 2 eggs
• ½ cup vegetable oil
• 1 cup buttermilk
• ½ teaspoon vanilla extract
Marshmallow Filling Ingredients:
• 7 oz marshmallow creme/fluff
• 3 and ½ cups confectioners sugar
• 1 teaspoon vanilla extract
• 12 Tablespoons unsalted butter, room temperature
• 3 Tablespoons heavy whipping cream
Ganache Ingredients:
• 12 ounces semi-sweet chocolate
• 1 cup heavy cream
• 1 Tablespoon unsalted butter, room temperature
Instructions
Cake Directions:
Preheat oven to 300 degrees (F). Prepare two 9-inch round cake pans by spraying with cooking spray, then lining with parchment, then spraying parchment with cooking spray. Set aside.
Chop chocolate into small pieces and place into a small bowl. Brew coffee, then pour hot coffee over chocolate. Whisk to combine, stir until the chocolate is melted. Set aside.
In a large bowl, sift together dry ingredients: flour, sugar, cocoa powder, baking powder, baking soda and salt. Set aside.
In another large bowl, using an electric mixer, beat eggs until pale yellow. Add oil, buttermilk, vanilla and chocolate/coffee mixture. Beat to combine.
Pour dry mixture into wet mixture and beat until just combined. Don't over-mix. Evenly divide batter between the two cake pans (I use a kitchen scale to be precise) and bake for 40-60 minutes or until a cake tester comes out clean. The original recipe suggests 60 minutes, but mine was ready at 45 minutes.
Cool cakes in their pans on wire racks until completely cooled. Run a knife around the edge of the pan and release the cake.
Marshmallow Filling Directions:
In a medium bowl, combine all ingredients. Use a hand mixer to beat for two minutes or until mixture is light and fluffy.
Ganache Directions:
In the microwave, heat cream in a medium glass bowl until steaming but not boiling. Pour chocolate into hot cream, and allow to sit for 1-2 minutes. Stir chocolate with a small whisk or fork until smooth. Add butter and stir until melted.
Assembly directions:
Using a two-inch biscuit cutter, carefully cut seven rounds out of each cake. Place rounds upside on a large baking sheet lined with parchment paper.
Using a sharp knife, carefully cut out a cone of cake from the bottom of each round. DO NOT discard these cones; you will need to replace them after filling.
Carefully fill each cake with a spoonful of marshmallow topping. Replace the cone.
To "glue" the cone back in place, spoon a small amount of ganache on to each cake, and spread into a thin layer on the top of the cake only. Place cakes into refrigerator for 15 minutes to slightly harden the ganache.
Remove cakes from the refrigerator. Using a small offset spatula, spoon or pastry brush, coat the top and sides of each cake with a generous layer of ganache. I found the offset spatula to be the easiest method.
Return cakes to the refrigerator and allow to sit until the ganache is completely hardened.
Enjoy!
1
leave a comment your way - using facebook or disqus: