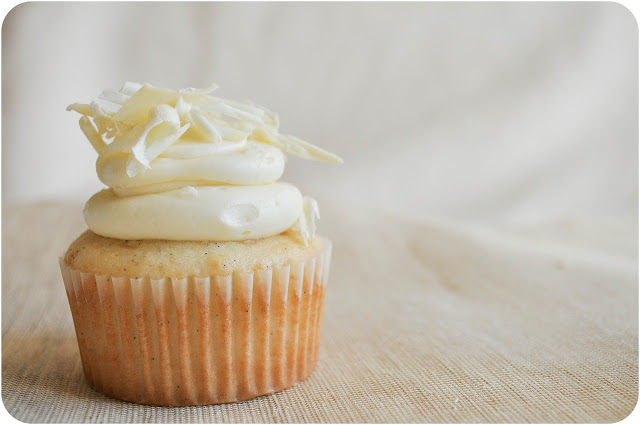 I just looked over the top of my laptop at my husband, who's sitting on the couch next to me, and said "I don't have any wittiness for my blog post."  He just looked at me funny.
You guys don't care about wittiness, do you?  You care about cupcakes.  I knew it.  You're just using me.
See?  No wittiness.  I'm not even sure I'm spelling that right.  Wittiness?  Witty-ness?  Wittyness?  My spell checker likes wittiness, so we'll go with it.
Have you ever said a word so many times that it loses all meaning?
Wow.
I'm not sure what's with the writer's block tonight.  It might be a result of the recent time change due to Daylight Savings over the weekend.  It might be my little sassy six year old who is draining every ounce of patience from me right now.  It could be my messier-than-normal house, or maybe the piles of laundry that just won't go away.  I think I need a vacation…
I just looked over my laptop again at my husband and told him I needed a vacation.  No response.
So, back to cupcakes it is.
Since I'm all out of wittiness, I guess it's a good thing that I have a spectacular cupcake to share with you.  This is a white chocolate & marshmallow filled vanilla bean cupcake, topped with white chocolate buttercream.  It's kind of phenomenal.
You can see that I really added a lot of vanilla bean to this cupcake, because I wanted a strong vanilla flavor to stand up to the white chocolate.  I love it when you can see the specks of vanilla in a recipe, too.  So pretty.
The white chocolate buttercream was super creamy and silky.  This recipe made just enough for 24 piped cupcakes, but if you just flat-frost them with a knife, you can probably halve the recipe with no problem.
I did shave some white chocolate to use as a garnish, which I think is really cute but as far as taste goes, not really necessary for the recipe. So, unless you're really fancy or using these for entertaining, feel free to skip that step.
Since I made these for a friend, I put together a quick cupcake topper to match the theme of her party.  This is just card stock punched from a scalloped craft paper punch, and glued to lollipop sticks.  Quick & easy!
I would try to make these the day you need them if possible.  Otherwise, store them in the refrigerator or a cool place, and bring them to room temperature about 30 minutes before you have to serve them.  White cake is always better fresh, if you ask me.
Don't forget to follow Lemon Sugar on Facebook, Twitter or Google+, especially if you want to follow my wittiness outside of my blog posts.
Enjoy this one!

White Chocolate & Vanilla Bean Cupcakes
Yield:  24 standard cupcakes
Prep Time:  30 minutes ♦ Bake Time:  20 minutes ♦ Total Time:  1 hour 15 minutes
White Chocolate & Vanilla Bean Cupcakes Ingredients:
1 cup (2 sticks/16 Tbs) unsalted butter at room temperature
1 and 1/3 cup sugar
6 large eggs, room temperature
2 teaspoons vanilla extract
Sees from 2 small or 1 large vanilla bean
Zest of 1 large lemon (I omitted this)
3 cups all purpose flour
3 teaspoons baking powder
1/2 teaspoon salt
1/2 cup milk
Preheat oven to 350 degrees F.  Prepare cupcake tins with liners.
In the bowl of your stand mixer, beat butter and sugar until pale in color and fluffy, about 5 minutes.  Add the eggs one at a time, beating well after each addition.  Add vanilla bean and vanilla extract.
In a separate bowl, whisk together lemon zest (if using), four, baking powder and salt.  Measure out milk and set aside.
Add 1/3 of the flour mixture to the batter, and beat just until combined.  Add half of the milk and beat until combined.  Add half of the remaining flour, beat to combine.  Add the rest of the milk.  Beat to combine, and add the rest of the flour.  Beat to combine.  During the process, scrape the bowl as needed.
Fill cupcake papers 1/2 to 2/3 full, and bake 17-20 minutes or until cake tester comes out clean.  Don't overbake.
Cool on a wire rack for 2 minutes, then remove from pan and cool completely before frosting.  Prepare cupcakes for filling using the cone method.