There's something wrong with this picture.  Right now, I'm hanging out in my living room while my kids are napping.  For some reason, the movie Twister is playing on my television.  I'm wearing my oldest, most comfortable yoga pants and my hair is in a ponytail.  There's a basket of freshly laundered kitchen towels staring at me, begging to be folded before they become a wrinkly mess.
And I'm writing about champagne cupcakes.  Such is my life, I suppose.
Here's the thing, though.  These look fancy, sound fancy and taste fancy, but they're really quite easy to make.  Yoga-pants-and-ponytail easy.  Folding-laundry-and-watching-bad-movies easy.
My sister gave me the idea for these, and while researching recipes for the perfect champagne cupcake, I came across and even EASIER way to make these.  Buy a white cake mix.  Replace the water with champagne.  Follow the rest of the recipe according to box directions.  Done.  Now, I haven't tried it yet, but I'd be curious how they came out if anyone tries it.  (I suppose I should also take this opportunity to formally apologize to my sister for not saving her one of these.  Sorry, Mimi.  I'll make them again.)
I should also note that my husband dubbed these his "favorite white cake I've ever made."  Given the number of desserts he's taste-tested over the years, I guess that's saying something!
The great thing about these cupcakes is that, with the exception of champagne, all of the ingredients are pantry staples.  No cake flour, no random extracts or flavoring…even if you aren't a frequent baker, you should have most of these items already in your kitchen.
Of course, this is coming from the person who has six pounds of butter in my freezer.  You know, just in case.
I do have just a couple of tips for you.  Keep the champagne at room temperature.  And, while you're at it, get your butter and eggs to room temperature as well.  This makes everything mix together much more easily, which is a good thing because you don't want to over mix this batter.  If you over mix the batter, you'll lose the fizz from the champagne, which is what keeps them light and moist.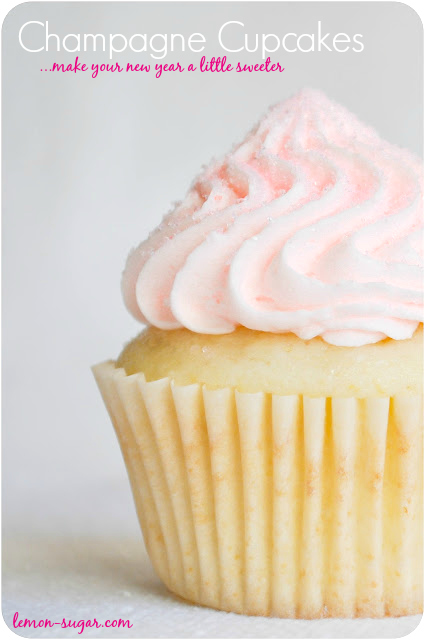 The champagne flavor isn't terribly strong, in fact I'd say it's pretty mild.  I even went so far as to brush the finished cupcakes with a champagne and sugar reduction to kick it up a notch.  It seemed to work.  I'm not a big champagne aficionado, but I'm sure if you use a strong-flavored bottle of bubbly, it would change the taste.  I just used a sweet Brut for these.
Hope you like them.   When you get a chance, find your yoga pants and your favorite bad movie, and enjoy!
Champagne Cupcakes
A beautiful, delicious and festive cupcake fit for any special occasion! Recipe source: Adapted from Culinary Serendipity
Serves:
Approx 20 cupcakes
Ingredients
Cupcake Ingredients:
2 and ¾ cups all-purpose flour
3 teaspoons baking powder
1 teaspoon salt
⅔ cup butter
1 and ½ cups sugar
¾ cup sweet champagne
6 egg whites
Champagne Buttercream Ingredients*:
2 cups (4 sticks) unsalted butter, room temperature
6 and 1.2 cups powdered/confectioners sugar
1 teaspoon vanilla extract
6 Tablespoons champagne, room temperature
Food coloring, if desired. (I used 2 drops of red gel color.)
Champagne Reduction Ingredients
½ cup champagne
½ cup sugar
Instructions
Cupcake Directions:
Preheat oven to 350 degrees F.
Prepare a cupcake pan with liners.
In the bowl of a stand mixer, cream together butter and sugar until light and fluffy, about 5 minutes.
Meanwhile, in large bowl, whisk together flour, baking powder and salt.
Measure out champagne.
In another large bowl, beat the egg whites until stiff peaks form. Set aside.
Add one-third of the flour mixture to the butter and sugar.
Beat until just combined, then add half of the champagne. Beat until just combined.
Add half of the remaining flour. Beat until just combined.
Add the rest of the champagne. Beat until just combined, then add the rest of the flour, and again beat until just combined.
Remove the bowl from the stand mixer.
Using a gentle hand, fold in one-third of the egg whites into the batter.
Once incorporated, fold in the remaining egg whites. Do not over mix.
Fill the cupcake liners half full.
Bake for 18-20 minutes or until a cake tester comes out clean.
Remove from the cupcake tins as soon as you can, and allow to cool completely on a wire rack.
Champagne Reduction Directions:
Combine sugar and champagne in a small, heavy-bottomed saucepan.
Over medium heat, stir until the sugar dissolves.
Allow to cool slightly, then generously brush the tops of the cupcakes with the syrup.
Champagne Frosting Directions:
In the bowl of a stand mixer, using the paddle attachment, beat together powdered sugar and butter.
Once combined, beat on medium-high for 2-3 minutes.
Add vanilla and champagne, and beat on medium for another minute.
Add food coloring if desired, then beat until light and fluffy.
*Note: you can reduce the amount of frosting by half if you are flat-frosting your cupcakes. If you are piping the frosting, use the quantities above.
Frost cupcakes as desired.
1
leave a comment your way - using facebook or disqus: