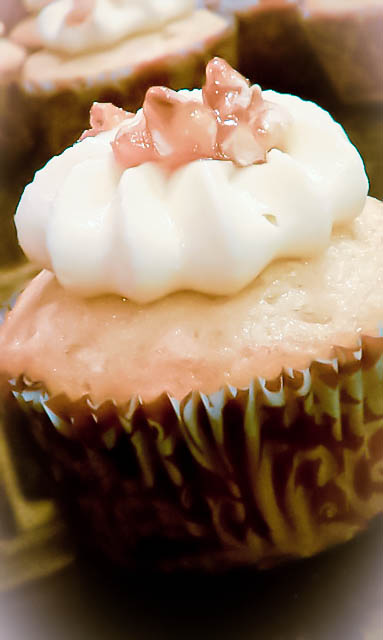 Bananas wasting away in my fruit bowl + Marscapone cheese and walnuts in the fridge = DELISH concoction by yours truly.  I love banana bread, but my girls eat bananas like they're going out of style, so we never have any left to make treats with.  This week, however, they left me with nearly a full bunch of bananas to play with.  YAY!  Furthermore, my husband has training tomorrow so he has lots of hungry guys to feed these to.  Bonus.
These are wonderful muffins.  They're light, not too sweet and have flecks of YELLOW in them.  They aren't that awful brown stringy texture that most banana breads take on.  I wanted a cream cheese frosting but I thought that would be too much for a breakfast treat, so I experimented with a marscapone cheese and honey frosting, topped with some quick candied walnuts.  This worked.  The honey blends really well with the banana flavor and the marscapone is creamy but not too sweet.  Amazeballs.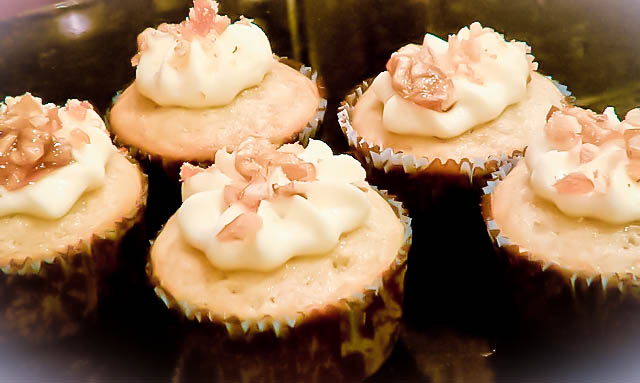 I would definitely store these in the fridge until 30 minutes before you dig in.  The frosting is delicate and won't crust like buttercream.  I'd also suggest crushing the heck out of your candied walnuts and then sprinkling them over the top as a garnish instead of trying to garnish with whole walnuts.  They just get too hard and are harder to eat – even if they are prettier.  Finally, I'd recommend a high-quality cupcake liner because these will stick a little.  You can spray your papers with cooking spray, but that might affect the texture of your "crust" in an adverse way.
Enjoy!
Muffin Ingredients:
1/2 cup butter or margarine, softened
1 1/2 cups sugar
2 eggs
1 cup mashed bananas  (I used about 3 1/2 bananas)
4 tablespoons buttermilk
1 teaspoon vanilla
1 3/4 cups flour
1 teaspoon baking powder
1/2 teaspoon salt
1/4 teaspoon baking soda
In a large bowl, cream butter and sugar together. Add eggs, bananas, buttermilk, and vanilla until the batter is well mixed. Add in the flour, baking powder, salt, and soda. Mix until well combined. Divide batter into cupcake pans and bake at 350 degrees for 20-25 minutes or until a toothpick comes out clean.  Remove from tins  immediately and let cool COMPLETELY before frosting.
Marscapone and Honey Frosting Ingredients:
6 ounces room temperature cream cheese
1 cup Marscapone Cheese, room temperature
3/4 cup room temperature butter (I actually used margarine because I'm out of butter!!)
7-8 Tablespoons Honey
1/2 cup Baker's Sugar
2 Tablespoons Whipping Cream
Combine all ingredients in bowl of stand mixer.  Using paddle attachment, beat until smooth and fluffy.  Put into piping bag and refrigerate for 15-20 minutes or until ready to frost.  I don't recommend a lot of frosting for these muffins because although it's a light frosting, it's still very rich.
Candied Walnuts Ingredients:
1 cup white sugar
1/2 cup walnut pieces
In a nonstick frying pan over medium high heat, stir sugar constantly until it becomes an amber syrup.  Keep the sugar moving and take care not to burn it.  Once it turns, immediately add walnuts and turn off heat.  Stir walnuts quickly to coat and pour onto a parchment-paper lined cookie sheet.  Separate slightly with two forks, working quickly before mixture hardens.  Let it sit for 10-15 minutes, then break into pieces and put into a plastic baggie – place the baggie between two dish towels and use rolling pin to crush the mixture into a crumbly powder.
Sprinkle over frosting, and enjoy!
Recipe adapted from One Ordinary Day
0
leave a comment your way - using facebook or disqus: