One of my favorite things to make in the summertime is my skillet apple pie – the apple pie filling is made on the stove top in a skillet, then covered with pie crust and baked in the oven.  I had some frozen pie crust in the freezer that I needed to use, so a little brainstorming brought me to this recipe – and voila!  Apple Pie Cupcakes!  Perfect portion sizes for everyone without the hassle of cutting into and trying to serve a pie…and a bonus that there's lots of crust for everyone – my favorite part! Such an easy recipe and so, so yummy!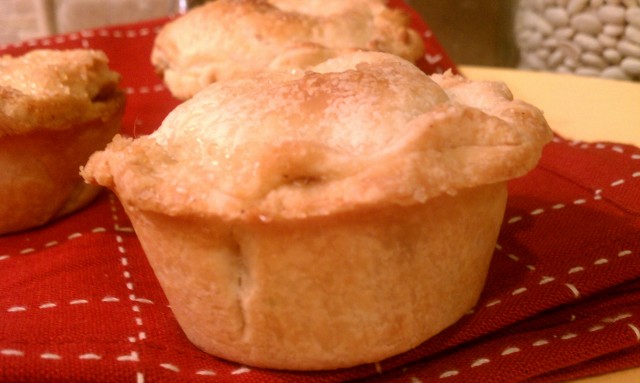 Next time I make these, I'll definitely use homemade pie crust, but the frozen stuff works in a pinch.   I made the pie filling on the stove top so the apples would be tender enough for the short baking time and it worked like a charm.  A couple of notes – use every other pocket on your muffin tin, if you try to use all of them your crust will overlap and bake together.  This means that you can get 6 apple pies per 12-tin pan.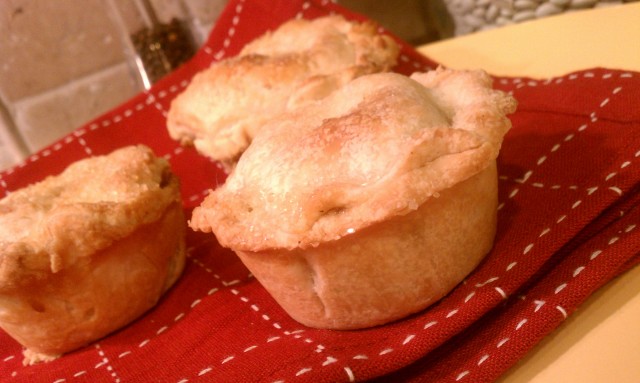 In my opinion, apple pie MUST be served warm with a scoop of vanilla ice cream.  Doesn't get any better than that!  Hope you enjoy this one, we sure did!
Yields 11-12 cupcakes.
Ingredients:
Crust:
Two boxes of frozen or refrigerated pie crust (4 pie crust rounds)
Filling:
6-7 Medium Apples, cored, peeled and chopped into 1/2″ bits  (in a pinch, you can use 2 cans of apple pie filling in place of the fresh apples.)
1 cup packed brown sugar
2 sticks butter, unsalted
1 teaspoon salt
2 teaspoons cinnamon
1 teaspoon vanilla
Topping:
1 egg white, lightly beaten
3 tablespoons course sugar, such as turbinado
Directions:
Peel and chop your apples, and put aside.  Lightly beat the egg white and set aside.
Preheat oven according to temperature on pie crust box.  Unroll defrosted pie crust.  Using a cup or bowl as a pastry cutter, cut 4″ rounds for 10 cupcake bottoms.  Then, cut 3″ rounds 10 cupcake tops.  If you have extra dough, continue with one bottom and one top until you run out of dough.
Spray the muffin tins with nonstick cooking spray, and be liberal.  You don't want these to stick!  Place the larger (4″) round in every other muffin tin, taking care NOT to tear the dough.  If the filling leaks through the bottom of the crust, you won't be able to remove the cupcakes from the tins without doing major damage!  Make sure your dough comes up and over the rim of the muffin tin so the top crust will have something to adhere to.  Once the bottom crusts are all in place, turn your attention to the filling.
In a large skillet over medium-high heat, melt two sticks of butter.  Once melted, add the brown sugar, cinnamon, vanilla and salt and stir constantly until combined.  Add the apples and reduce heat to medium-low.  Cook apples until tender but not soggy – careful when testing them, the sugar mixture is VERY hot!
Once the apples begin to get tender, CAREFULLY fill each pie crust to the top of the tin, you want them to be full.  Cover each pastry with the top dough, and use a fork to seal the edges.  Once sealed, gently push the edges back down into the muffin tins so they don't burn.
Brush the top of each cupcake with the egg white, and sprinkle with sugar.  Cut a small slit in the top of the pie to help vent while cooking.
Bake for approximately 25-30 minutes, or until crust is golden brown.  If the edges of the cupcakes get too brown, drop a piece of foil over them to slow the process and allow the rest of the pie to finish baking.
Remove from oven and immediately use a long fork or butter knife to remove cupcakes from tins.  Cool on cooling rack, serve with ice cream, and enjoy!
0
leave a comment your way - using facebook or disqus: