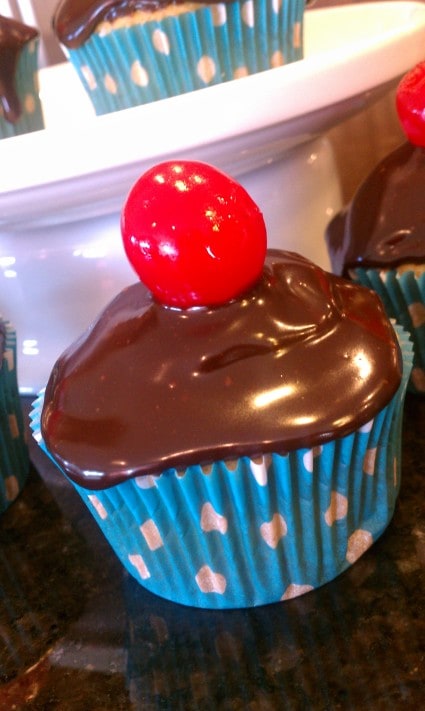 I've never really had a real Boston Cream Pie.  I've had the grocery store version, you know – the kind that come with a plastic casing to keep the pudding from oozing out?  They always seem like they should be wonderful, but I've never been impressed.
I have to admit that I didn't make the pastry-cream filling for these, I just used a boxed pudding mix.  I have big plans for the first time I make pastry-cream – those will be special occasion cupcakes!  Nonetheless, these fit the bill and you'll believe you're eating a big piece of Boston Cream Pie when you bite in to these.
The cake is a moist but firm yellow cake, and like I said, they're filled with vanilla pudding.  The frosting is my usual dark chocolate ganache, and they're topped with a big maraschino cherry.  Yum!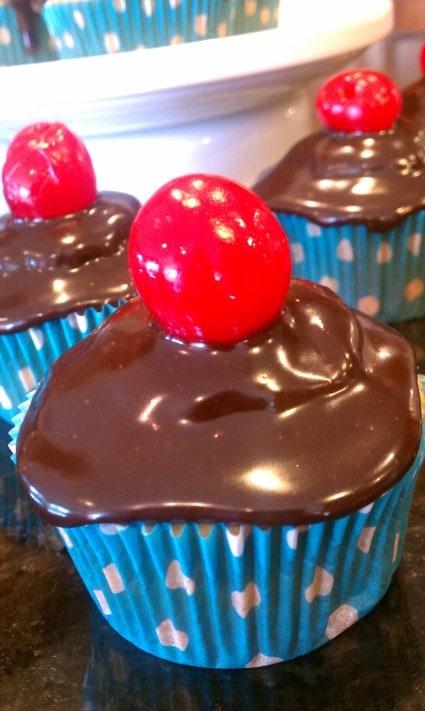 These really went together pretty quickly, especially because I used boxed pudding.  I spent about an hour and a half in the kitchen making these, and most of it was spent frosting – really not too bad.  I had some "help" frosting these, my 21 month old was not a happy camper so these aren't as pretty as I'd hoped, but c'est la vie. 
Enjoy!
Cake Ingredients:
2 sticks unsalted butter
2 cups sugar
2 1/2 cups flour
1 tablespoon baking powder
1 teaspoon salt
4 eggs at room temperature
1 teaspoon vanilla extract
1 cup milk
Cake Directions:
Preheat the oven to 350 degrees. Prepare cupcake pans.
Melt butter and let it cool to room temperature.
Combine the sugar, flour, baking powder and salt in the large bowl of a stand mixer. (A stand mixer is preferable for this recipe, though a hand-held electric mixer may be used.) On medium speed, add the butter, incorporating in several additions. Beat for about 2 minutes, or until combined; the texture should resemble cornmeal.
In a separate bowl, combine the eggs, vanilla extract and milk. Add to the flour-butter mixture in two batches (scraping the bowl once), and beat on medium speed for 2 minutes, or until smooth.
Fill cupcake liners 2/3-3/4 full. Bake for 18-22minutes, or until a toothpick inserted into the middle of the cake comes out clean. Cool cupcakes completely.  Use the cone method to prepare the cupcakes completely.
Filling Ingredients:
Boxed pudding, milk.  I know – FAIL. 
Still tastes good, though.  =)
Filling Directions:
Prepare pudding per instructions on box.  Cook and Serve or Instant will work, your choice.  Make sure pudding is properly cooled and thickened before filling cupcakes.  Spoon a generous teaspoon full of pudding into cupcake, and replace cone before frosting.
Ganache Ingredients:
2/3 cup heavy cream
1 bag (12-13 oz) dark chocolate chips
2 tablespoons unsalted butter, cubed
Ganache Directions:
Bring a saucepan 1/2 full of water to a rolling boil.  Place a glass bowl over the boiling water so that it does not touch the water.  Pour your cream into the bowl and heat the cream until it's steaming hot but not boiling.  Stir your chocolate into the cream and whisk or stir until it's very smooth.  Add the butter and stir until butter is melted and chocolate is smooth and shiny.  Frost cucpakes once ganache has cooled slightly.
Place a big red cherry on top.


Enjoy!!
0
leave a comment your way - using facebook or disqus: