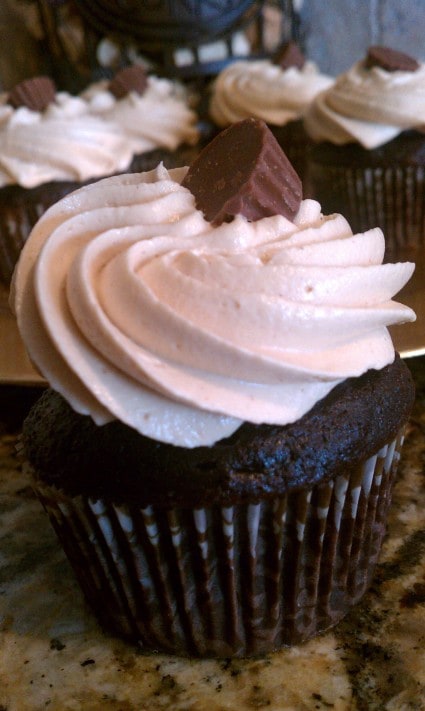 It's funny where my cupcake inspiration comes from sometimes.  These particular cupcakes were born when I found a bag of mini Reece's Peanut Butter cups at the grocery store last week.  I thought, "Oh – those are cute, they'd be a good cupcake garnish!"  I then spent all of last week trying to find the perfect peanut butter cupcake recipe to hold my cute little garnish.  I'm sick, I know.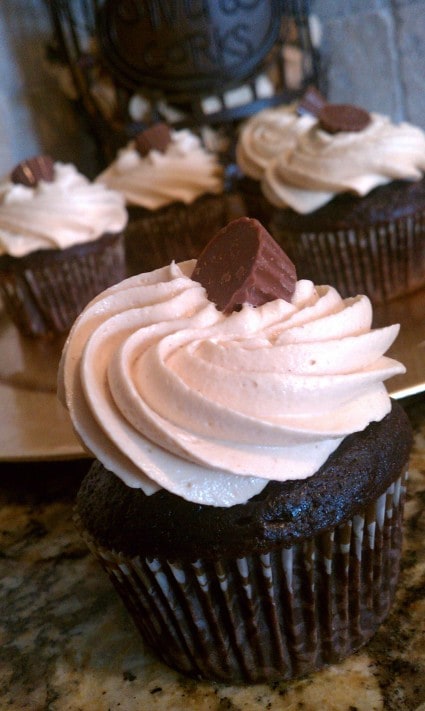 I decided on this recipe for a couple of reasons.  First, it's easy.  The chocolate cake starts with a box cake mix, which I happened to have on hand.  I'm out of dutch-process cocoa, so until I can make a run to Williams Sonoma or Dean & Deluca, my homemade chocolate cake recipes are limited to the Hershey's recipe, which I've made like three times in the past two weeks.  So – a modified box mix sounded WONDERFUL today!   Secondly, it's filled with a rich, dulce de leche and peanut butter filling.  Um, hello?  YUM!  This frosting recipe is my own, after tasting the filling I knew I wanted it to be light and not over the top peanut-buttery.  I think I succeeded!
These were really very easy and mostly used ingredients that I had on hand.  You can make your own dulce de leche, but I bought mine at the store, so that's really the only thing I had to run out for.
Make these, now.  Thank me later.
Enjoy!

Cake ingredients:
1 box mix, chocolate fudge.  I used Duncan Heinz
1 cup flour
1 cup sugar
3/4 tsp salt
1 1/3 cups water
2 tablespoons vegetable oil
2 teaspoons vanilla extract
1 cup sour cream
3 extra large eggs at room temperature
Preheat oven to 325 degrees, and prepare two cupcake tins with liners.  In a large bowl, whisk together dry ingredients (cake mix, flour, sugar, salt) until well blended.  Add wet ingredients (water, oil, vanilla, eggs and sour cream) and beat 2 minutes, scraping bowl occasionally.
Fill liners 3/4 full (I use an ice-cream scoop) and bake for 18-22 minutes or until a toothpick comes out dry.  Do not over bake.  As soon as possible, remove from cupcake tins and let cool completely on a wire rack.
Once cooled, prepare cupcakes for filling using the cone method.    Fill with Dulce De Leche filling, below.
Replace cones to prepare for frosting.
Filling Ingredients:
1 cup Dulce De Leche (can be found in Spanish/Mexican food section at most grocery stores, in a can)
1/2 cup whipping/heavy cream
2/3 cup creamy peanut butter
In a small sauce pan over low heat, combine dulce de leche, peanut butter and cream until combined and smooth.  Set aside and let cool slightly.  Once manageable, use a pastry bag to fill cupcakes.  Once cupcakes are filled, replace cone.
Frosting Ingredients:
2 sticks unsalted, room temperature butter
1 1/2 cups creamy peanut butter
2 cups powdered/confectioners sugar
2 tsp vanilla extract
2/3 cup heavy/whipping cream
1/2 teaspoon kosher salt
In bowl of stand mixer, combine all ingredients using paddle attachment.  Whip until smooth, light and fluffy.  If it's too soft for piping, you might need to place it in the refrigerator for 5 minutes to firm up.  Place in pastry bag and frost cupcakes.  Garnish with a mini-peanut butter cup candy.
ENJOY!
 Frosting and Filling Recipes adapted from Smells Like Home
0
leave a comment your way - using facebook or disqus: