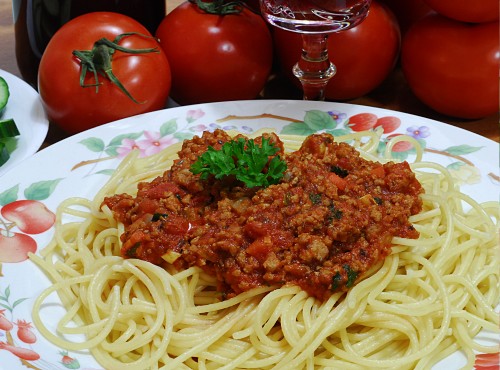 Ahhhh…spaghetti.  I love it.  I could live on it.  I think I came to appreciate spaghetti my sophomore year in college, when I was on my own in an apartment for the first time.  I actually went to the grocery store and bought a box of Kraft Spaghetti.  Noodles, sauce, everything all in a box.  It didn't take long to realize that it was nothing like the spaghetti I grew up with and that I was going to have to figure out how to make it myself.  I played with recipes for years before I got it right – my husband loves this spaghetti so I've named it for him.  =)  This is by no means a healthy spaghetti recipe – it's very flavorful and rich.  You can take some of the guilt away by halving the margarine, omitting the cream and draining the meat or going marinara.


My Dad (aka Big Ralph) is quite the vegetable gardener and we are lucky that he provides us with tons of fresh veggies and even cans them for us so we can make it through the winter months with a pantry full of goodness.  This being said, I always have a couple of dozen of jars of canned tomatoes on hand and while I reccommend them for this recipe, you can still make a great sauce with a grocery store version.


This is best served with a huge loaf of buttered, crusty bread and parmesan cheese on top.  But if you TRULY want to enjoy it, =) add some canned or frozen corn as a topping to your spaghetti.  LOVE.  ♥  Something about the sweetness of the corn with the tomato sauce is just fantastic.  But hey – sound too strange for you?  Just omit the corn!!

Sauce Ingredients:
1 lb ground beef
2 TBS dried Italian seasoning
1 TBS Garlic Powder w/parsley
1 medium or large onion, finely chopped
2 TBS EVOO
1 stick of margarine (I didn't say this was healthy…)
2 tsp black pepper
Approximately 1/2 cup grated parmesan cheese,
1 large jar/can tomato sauce (like Hunt's), or blended canned tomatoes.  (No chunky tomatoes for my kids or hubby)
1/2 cup heavy cream
To cure thin sauce:  1 small can tomato paste


Pasta Ingredients:
1 lb spaghetti noodles of your choice.  (I love Barilla pasta!)
Salt, for pasta
1/2 stick margarine for finished noodles – may substitute olive oil or real butter as well.


Corn Ingredients:
Canned or frozen sweet corn – I prefer white/yellow niblits
1/2 cup sugar  (I know, not healthy…)
1/2 stick margarine  (stop judging)


Directions:  In a large pan, bring water to a boil and cook pasta as directed on the packaging.  Meanwhile, in a large, heavy bottom or cast-iron stock pot over medium-high heat, combine olive oil and chopped onions.  Cook until onions start to wilt and become transparent.  Add pre-thawed ground beef and black pepper and cook until browned.  For you health nuts out there, you may drain the grease off your meat at this point, but if you don't the flavor of the sauce is much better.  I usually use a 94% lean beef so I typically don't have much grease anyway. 


Once the meat is browned, add the tomato sauce, cream, italian seasoning and garlic powder.  Let simmer for 10-15 minutes, stirring occasionally.  Add 1 stick of margarine and parmesan cheese and let simmer 10-15 minutes more.  If your sauce is too thin, you can add tomato paste to thicken it up, but this will alter your flavor a bit – I recommend adding an additional 1/2 teaspoon of both italian seasoning and garlic powder if you use tomato paste. 


Drain pasta noodles and add 1/2 stick of margarine to drained noodles – toss to coat.
For (optional) corn:  Cook canned or frozen corn in sauce pan per directions on packaging.  However, add 1/2 stick of margarine and 1/2 cup of white sugar and cook until boiling, remove from heat.  Drain before adding to spaghetti.


For assmebly, add heaping pile of noodles topped with a heavy sprinkling of corn.  Top with spaghetti sauce and parmesan cheese.  Tear a big hunk of crusty bread and enjoy!!


Recipe by EM
0
leave a comment your way - using facebook or disqus: