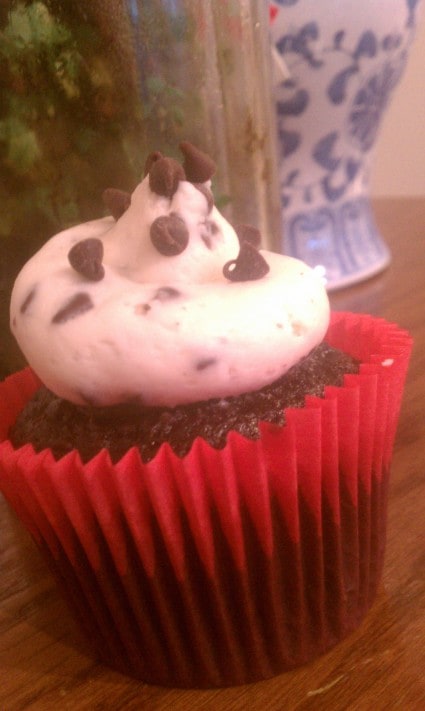 This cupcake was a creation of mine that was born out of the need to clean out my pantry.  I had several almost-empty boxes, bags and bottles of pantry items, and their replacements were crowding things.  So, what to do but make some goodies?  I didn't really have an excuse for these except that Mom made Sunday dinner and my brother and his girlfriend were going to be there – which means more people to eat and fewer leftovers! 
I knew I needed to make a chocolate cake because I had leftover cocoa and I had just enough dark chocolate to make ganache – plus some whipping cream and a small bag of mini-chips…so, this is what you get – a dark chocolate cake and a whipped dark chocolate ganache filling.  I thought about a dark chocolate frosting but I simply ran out of the good stuff to make it happen, so I just did a simple buttercream with a sprinkling of of mini chocolate chips.  While I was making them, the Oscar's red-carpet was on, thus the name "Black Tie" cupcakes.  I know, I'm clever.
I used the straight round pastry tip to frost these after a failed attempt with the star tip…turns out the mini chips clog things up with a star tip so I went to plan B.  I think these are a simple but decadent recipe – I hope you enjoy!
(This recipe makes 12 cupcakes.  I doubled it and got 23 cupcakes.)
Cake Ingredients:
1/4 cup(s) Unsweetened Cocoa
1 1/8 cup(s) all-purpose flour
1 1/4 teaspoon(s) baking soda
1/4 teaspoon(s) salt
1 large egg
1/2 cup(s) firmly packed light brown sugar
1/2 cup(s) granulated white sugar
5/8 cup(s) whole milk
1/3 cup(s) strong brewed coffee or espresso
1/2 cup(s) (or 1 stick) unsalted butter
Cake Directions:
Preheat the oven to 350°F. Line 12 cupcake molds or muffin tins with paper liners or spray with nonstick spray. To make the cupcakes, sift together the flour, cocoa, baking soda and salt. In a medium bowl, whisk together the egg, brown sugar, and white sugar. Whisk in the milk, coffee, and melted butter. Whisk in the dry ingredients. Divide the batter evenly among the cupcake molds, filling them about three-quarters full.
Bake for 15 minutes, or until a tester inserted in the middle of the cupcakes comes out clean. Do not over bake these cupcakes!!  Cool for 10 minutes. Using a small spatula or knife, remove the cupcakes from the pan. Continue to cool on a wire rack to room temperature.  Use the cone method to prepare the cupcakes for filling.
Ganache Ingredients:
4 oz bittersweet chocolate – chips or finely chopped
1/3 cup(s) heavy whipping cream
1 tablespoon butter
Ganache Directions:
Bring a saucepan 1/2 full of water to a rolling boil.  Place a glass bowl over the boiling water so that it does not touch the water.  Pour your cream into the bowl and heat the cream until it's steaming hot but not boiling.  Stir your chocolate into the cream and whisk or stir until it's very smooth.  Add the butter and stir until butter is melted and chocolate is smooth and shiny.  Place ganache in refrigerator and cool it until the ganache is starting to harden and is very thick, you don't want it too hard or too soft before filling – you want a VERY thick but stir-able consistency.  Spoon a teaspoon full of ganache into each cupcake and replace the cone for frosting.
Frosting Ingredients:
2 1/2 sticks of softened unsalted butter
2 1/2 cups of sifted powdered/confectioners sugar
2 teaspoons vanilla extract
1/8 teaspoon salt
2 tablespoons heavy cream
4-6 oz mini chocolate chips (hold back a few for garnish)
Frosting Directions:
In the large bowl of a stand mixer, beat the softened butter until light and fluffy.  Add the confectioners sugar and and mix until lightly combined.  Scrape the bowl and add vanilla and cream and beat mixture until very smooth and fluffy, about 3-4 minutes.  Add chocolate chips and stir in mixer until chips are evenly distributed.  Use a large pastry bag with a large round pastry tip for frosting.  Garnish with additional chips if desired.

0
leave a comment your way - using facebook or disqus: