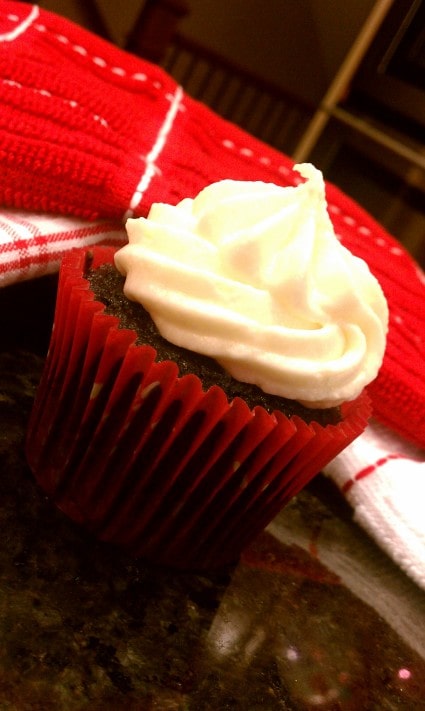 Happy Valentines Day!  This is just a quick update to post one of the goodies I sent with my husband to work today.  I made the Fauxstess Cupcakes again, and some Red Velvet Whoopee Pies (which I'll post next time I make them, I didn't get any pictures) but these were a creation of mine that I felt deserving of a blog post.  So, here we go!
These are a fudgy chocolate cake, filled with a silky strawberry filling and topped with a basic cream cheese frosting.  The flavors all kind of meld together and it really worked, it reminded me of a chocolate covered cherry, er…except with strawberry instead of cherry, so really not the same but you get the idea.  This isn't a traditional cupcake filling by any means.  This filling kind of blends into the cake, and makes the inside of the cupcake a yummy, super-moist bite of strawberry flavored fudge.  It's amazing.
Unfortunately I didn't save the pretty ones for pictures, so this one will have to do.  I finally got my new pastry tips in the mail last week and I've been having lots of fun with them.  This was a straight star tip, and I didn't get the hang of it until a few cupcakes in.  I found that the prettiest way to use this one was not to swirl it (like I did in the picture above) but to just push it down and make a star-kiss dollop instead.  Wish I had a picture, they were cute!
Hope you enjoy!
Ingredients:
Cake:
3/4 cups plus 3 tbsp. unsweetened Dutch processed cocoa
1-1/2 cups boiling water
3 extra large eggs
1-1/2 tsp. vanilla
3 cups cake flour, sifted
2 cups light brown sugar
2-1/2 tsp. baking powder
3/4 tsp. baking soda
1/4 tsp. salt
1 cup. unsalted butter, softened
(Or you can always cheat this step and use a box mix, but I don't think it comes out quite as good – Duncan Hines makes a great chocolate fudge cake mix, which is dense enough to use as a filled cake.  Many boxed cake mixes aren't sturdy enough to hold the filling, but this one should work for you.)
Filling:
1 cup strawberry preserves, or strawberry jam
1/8 cup whipping cream
Frosting:
2 sticks (16 Tablespoons) softened unsalted butter
1 8oz package softened cream cheese
2 tsp vanilla
1 box (or 3 cups) powdered sugar
Directions:
Cake:  Preheat oven to 350 degrees.
Pour the boiling water over the cocoa in a medium bowl and stir until well combined, then cool to room temperature. In a separate bowl, mix the eggs, 1/4 of the cooled cocoa mixture, and the vanilla.
In the bowl of a standing mixer, add the rest of the dry ingredients and  mix on low until combined.  Add the butter and the remaining cocoa mixture, then mix until the dry ingredients are incorporated until well moistened.  Beat for an additional 90 seconds, then scrape down the sides.  Add the egg mixture a third at a time, making sure to beat at least 20 seconds after each addition.  Scrape down the sides again.
Fill the cupcake papers with the batter.  They will be full.  Bake in the center of the oven for about 20-25 minutes or until the cupcake springs back when pressed.  When removed from the oven, let sit briefly in the pans, then remove to a rack to cool completely before frosting.
Again, use the cone method to prepare cupcakes for filling.
Filling:  In a medium pan on the stove top, heat strawberry preserves and whipping cream until they begin to boil, whisking or stirring frequently.  Once they come to a boil, remove from heat and fill each cupcake with 1-2 tsp. of filling.  You should not have to cut the tip off the cones before you replace them, this filling should absorb into the cake and won't require the extra room.  Replace the tips and prepare the frosting.
Frosting:  In a stand mixer, beat butter and cream cheese until very smooth and fluffy.  Once combined, add sugar, and vanilla and beat until smooth.  Add to a pastry bag and refrigerate for 5 minutes for easier frosting.
Frost the cupcakes, and enjoy!
0
leave a comment your way - using facebook or disqus: