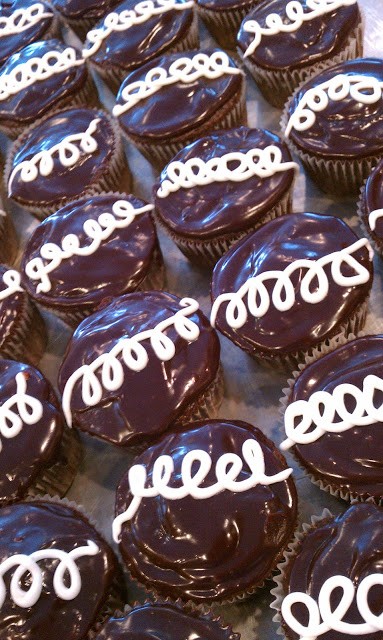 Since I'm in the midst of the lovely Weight Watchers lifestyle, I haven't been baking as much as I would like lately.  Even though I have a pretty strong willpower when it comes to avoiding and ignoring the sweets and treats in my house, I find it better to not even tempt myself.  I'm going to save my baking for special occasions, and especially those that I can bring treats and leave them at someone else's house.
Today I am baking for my brother's 27th birthday…"Biffy" chose Fauxstess cupcakes, so that's what you'll find here today! Mom is making an oatmeal cake too, but I just can't pass up an opportunity to bake…so we'll have oatmeal cake and everyone can take a cupcake home.  Hey, everything in moderation, right?
These are really very easy, which you wouldn't think after reading the recipe and directions.  They do take a few more steps than regular cupcakes, but that's why they're special!  And how cute are they?!?
Ingredients:
Cake:
2 cups all-purpose flour
2 cups sugar
1/2 cup cocoa powder
2 teaspoons baking soda
1 tsp baking powder
1/2 tsp salt
1 cup vegetable oil
2 eggs
2 cups butter milk  (no butter milk?  add 2TBS white vinegar to your milk as a substitute)
2 teaspoons vanilla
Filling:
1.5 7oz jars of marshmallow creme (or 1.5 cups)
3 cups powdered sugar
1 tsp vanilla
12 TBS softened butter
3 TBS whipping/heavy cream, plus an additional 2 tsp for decoration
Ganache Frosting:
1 bag chocolate chips, your choice.  I use semi-sweet
3 TBS softened butter, cut into little chunks
3/4 cup whipping/heavy cream
Directions:
Cake:  Combine dry ingredients (flour, sugar, cocoa, soda, powder and salt) in a large bowl or stand mixer using the whisk attachment.  After combined, add wet ingredients (oil, eggs, butter and vanilla) and beat for 2 minutes on medium speed.   Pour into cupcake lined tins and bake at 350 degrees for 25 minutes.  Remove from oven and let sit in pans for 1 minute, then transfer to cooling rack and let cool completely.
*Tips for cake:  use room temperature eggs and butter.  Scrape bowl until all ingredients are combined.  I would suggest sifting your cocoa powder to avoid lumps.  Fill your cupcake papers only 1/2 or 2/3 full, as this recipe raises a LOT!
Once cool, use the cone method to hollow out the inside of the cupcakes.  SAVE THE cake that you remove, you'll need it after filling the cupcake.  After I cut the cone out, I just put it down right next to the cupcake it came from so it didn't get lost.  😉
Filling:  Easy.  Add softened butter to bowl and beat until smooth and fluffy.  You don't want lumps in your butter for this filling!!  When smooth, add remaining ingredients (marshmallow, sugar, vanilla and 3TBS of the whipping cream.)  Beat until smooth and fluffy.  Once smooth, remove 3/4 to 1 cup of the filling and put it in a small bowl off to the side.  Put the remaining filling into a piping bag – use a BIG tip or no tip at all – I just put the coupler on the end of the pastry bag and call it a day.
To fill:  Use your piping bag to put a big dollop (about a teaspoon of filling) into the hollowed out cake.  Once you've filled all of the cupcakes, you'll need to put the cone back in the cake to cover the filling – you might have to cut the tip off your cone to make it fit back in there.  Try to get the top of the cupcake back to it's original shape, as the ganache frosting leaves little to the imagination.
After you've filled the cupcakes and re-topped them all, it's time to frost them.
Ganache frosting:  Bring a pan of water to a rolling boil.  Put a heat-proof glass bowl on top of the pan, over the boiling water and pour your whipping cream into the bowl.  Bring your whipping cream to a steam, stirring occasionally.  Cream should be hot but not boiling.  Remove from heat.  Add your bag of chocolate chips, and using a whisk, stir until cream and chocolate are smooth.  Once smooth, add your butter and continue to whisk until butter is melted and ganache is smooth and shiny.
To frost:  It seems like dipping the cakes in the ganache would be the easiest, but I found that using the small offset butter knife (that came with my silverware) to be a perfect tool.  Two coats will cover most of your imperfections.  Be generous and try to avoid getting the frosting on the cupcake paper itself.
For swirls:  Remember that cup of filling you put to the side earlier?  This is when you'll add the 2 additional teaspoons of heavy cream to the mix, and stir it briskly with a fork until it's smooth.  Add the mixture to a piping bag with a small (#3 or writing) tip.  Take a practice run before you start swirling, but they don't have to be perfect, these are FAUXSTESS cupcakes!  If you want the real thing, go to the store and get some.
But trust me, these are much better.
After your frosting is done and the swirls are in place, put the cupcakes into the refrigerator for about 20 minutes or until your ganache is set.
And then, enjoy.
Happy Birthday, Biffy.
Recipe from Annie's Eats
0
leave a comment your way - using facebook or disqus: