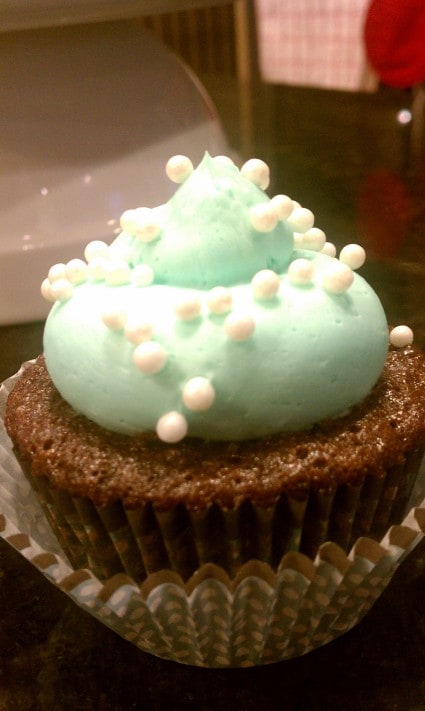 These cupcakes were the result of a little color coordination.  My little sister is expecting a baby boy so I needed a favor for her baby shower.  Our color scheme was brown and blue, so of course I needed brown and blue cupcakes! 


These were good cupcakes, but next time I might switch the cake out to a firmer, taller cake so it will stand up to the filling a little better.  These were actually better after they sat overnight in the refrigerator, so if you use this cake recipe keep that in mind!


These are a chocolate cake with a molten ganache filling, and tinted buttercream frosting.  I used a large round tip for frosting, and store-bought sugar pearls for decoration.  I used gel-icing coloring from Wilton, it uses MUCH less than traditional food coloring, which 1) is better for you and 2) doesn't leave that food-coloring taste behind in your frosting.
Next time I make these, I'll try a new cake recipe and update this posting at that time. 
Enjoy!
Cake:
2 cups all-purpose flour
2 cups sugar
1/2 cup cocoa powder
2 teaspoons baking soda
1 tsp baking powder
1/2 tsp salt
1 cup vegetable oil
2 eggs
2 cups butter milk
2 teaspoons vanilla
Preheat oven to 350 degrees.  In mixer, on low speed, mix together flour, sugar, cocoa powder and salt.  Add oil, eggs, buttermilk and vanilla. Increase speed and beat for 2 minutes, until well combined.  Spoon into paper-lined muffin cups, filling halfway.
Bake for about 25 minutes or until tops are firm and tester comes out clean. Transfer to rack and cool completely.   Prepare cakes for filling and frosting using the cone method.


Filling:
1 small bag (approx 12 oz) milk chocolate chips
12 oz whipping cream


In a double boiler, or saucepan, (or bowl over boiling water) heat whipping cream until steaming.  Do not let it boil, removing it from the heat right before it reaches the boiling stage.  Add chocolate chips and stir/whisk until smooth.  Place ganache in refrigerator until thick, about 2 hours.  Once thickened, fill cupcakes with a generous spoonful of ganache and replace cone for frosting.


Frosting:
20 tbsp. (2 ½ sticks) unsalted butter, softened
2 ½ cups confectioners sugar, sifted1/8 tsp. salt
2 tsp vanilla extract
2 tbsp heavy cream


(This will not make enough frosting to decorate your cupcakes with a pastry tip.   If you're just using a knife to frost them, you'll be fine.  If you're using a pastry bag, you'll want to double the recipe.)


In a stand mixer fitted with the whisk attachment, beat butter at medium-high speed until smooth and fluffy.  Add sugar and salt, beat until sugar is moistened, scraping bowl occasionally.  Add vanilla and heavy cream, and beat until mixture is fully combined and continue to beat until frosting is light and fluffy, about 4 minutes.  Remember to scrape bowl frequently!


Frost cucpakes as desired, and enjoy!
0
leave a comment your way - using facebook or disqus: