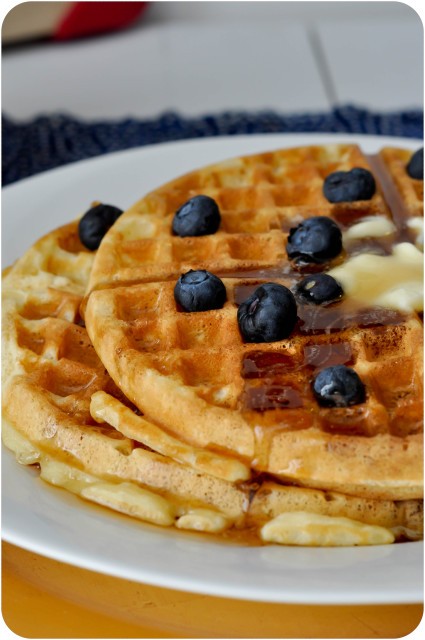 See the updated post, here!
Waffles are one of those things that we never really had growing up.  We had our fair share of pancakes and french toast, but I can only remember having waffles a couple of times in my childhood.  They seemed to be more of a restaurant treat, usually topped with strawberries and whipped cream.  After trying a number of recipes at home, I determined what I DON'T like in a waffle – a heavy, egg-y taste.


These waffles were the result of a google search for the "best waffle recipe ever."  They are awesome – light and fluffy but crisp, and definitely NOT heavy and egg-y.  I turn my waffle-maker up to a medium-high setting, and take them out when they're crisp but not dried out in the middle.
A quick tip – if you are making them for a large group and want to keep them warm, heat your oven to the warm setting (about 170 degrees) and place the finished waffles in a single layer on an ungreased cookie sheet.  They'll stay warm without getting soggy until someone is ready to eat them up.  These will also freeze well, but my little family of four usually doesn't have any leftovers to freeze!!
Enjoy!
1 3/4 cups all-purpose flour
In a medium/large size mixing bowl, stir together flower, baking powder and salt.  No need to sift.  Make a well in the center. 
In another small bowl, beat egg yolks slightly.  Combine with milk and oil. 
In another small bowl, use an electric mixer to beat egg whites until stiff peaks form.  Eggs must be stiff!
Pour the milk, oil and egg mixutre into flour mixture and stir with a fork until just combined.  Some lumps will remain.  Do not over mix.  GENTLY fold in egg whites, leaving a few fluffs of egg white.  Be careful not to over mix as you'll lose the airy texture from your egg whites. 
Cook on waffle iron according to manufacturer's instructions.  These are best cooked (in my opinion) on a medium-high setting until the a medium golden brown.  Serve with warm maple syrup and melted butter, or fruit and whipped cream.  Enjoy!
0
leave a comment your way - using facebook or disqus: